And We're Making Szechuan Pheasant with Cashews.
Dave has hunted and hunted to no avail. He gets all geared up, the dogs howling the whole time, gets in his car, drives up the driveway, and away from our 40 acres and resident Bachelor Rooster Clique (we don't want to shoot our own pheasants), to public management areas that have been hunted every day for the past 2 months. No wonder he doesn't get any. I am ashamed to say that I have not joined him this year yet. Just lazy.
Well, he finally hunted someone else's (non-public) land and got a nice rooster. Buzz got to go along for what will likely be his last hunt, poor guy. But the happy news is that they brought home a bird. I commanded Dave to bone it (HA! Finally he had to do it instead of me.) so that I could quickly make our favorite go-to pheasant recipe. Szechuan Pheasant with Cashews.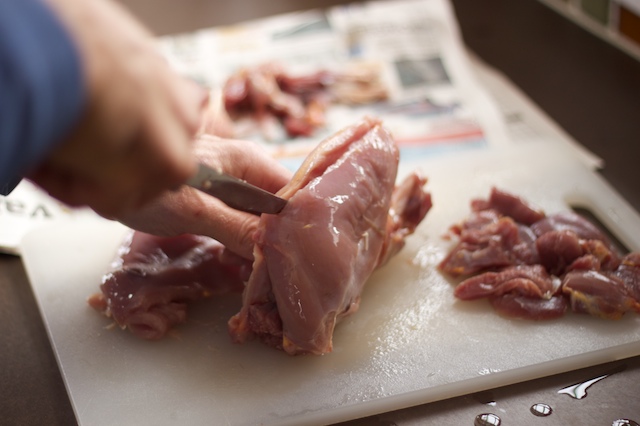 Not sure what makes this szechuan… I think I just called it that one time and now that's what it is known as forever. I adapted it from a mild recipe in the L.L. Bean Wild Game Cookbook and made it more Asian and spicy in nature. I'm no expert in Chinese provinces, however, and I have likely picked the wrong monicker. Oh well, there's no changing the name now.
First, and most sadly for you, you must bone the pheasant. It is tedious — especially the legs. But don't skip them, like I caught Dave trying to do! They are tasty. Just make sure you strip the tendons out. And save everything, as you will be making broth from the bones and scraps. As you bone the bird, cut into large bite size chunks. Rinse and put into a bowl and cover with milk and set aside until you have the broth made and are ready to brown the meat.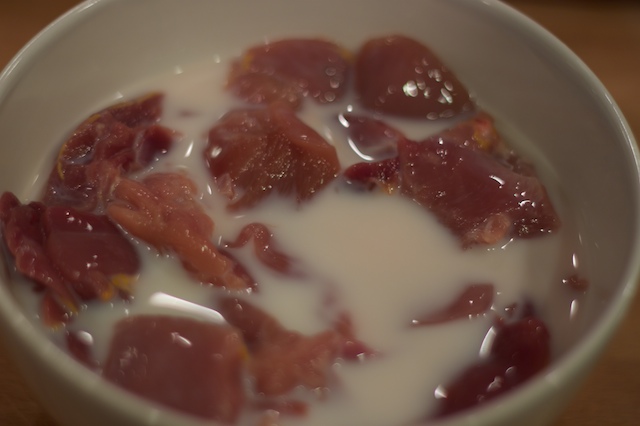 You will also want to serve this over rice. We like it on wild rice. White or brown would be fine, too, but pheasant seems to be made for wild rice. If you choose to go that route, start by soaking the rice for an hour, then rinse and put into a pot. Add enough cold water to cover the rice by an inch, add salt and bring to a boil, then cover and turn down to a simmer and cook until grains have opened up which takes about an hour or more. I make a whole bag of wild rice and freeze it so we have it on hand. Works great.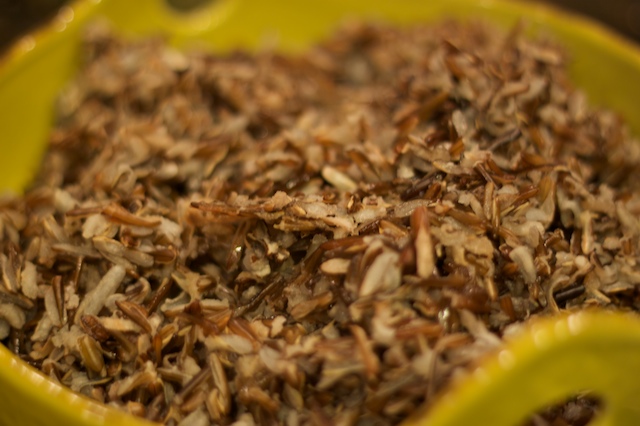 To make the broth, add the boned carcass and any scraps to a medium pot and cover with cold water. Add some whole peppercorns, a bay leaf, a whole clove of garlic, a half a carrot, and simmer on low/med low for about an hour. (sorry, no picture since I boiled the bones along with my turkey and chicken bones that I was making stock with on the same day that I made this)
When the broth is done and you are ready to brown the pheasant, mix 1 cup flour, 1 tsp salt, 1 tsp freshly ground pepper and 1 tsp thyme in a shallow dish. I use a pyrex pie plate.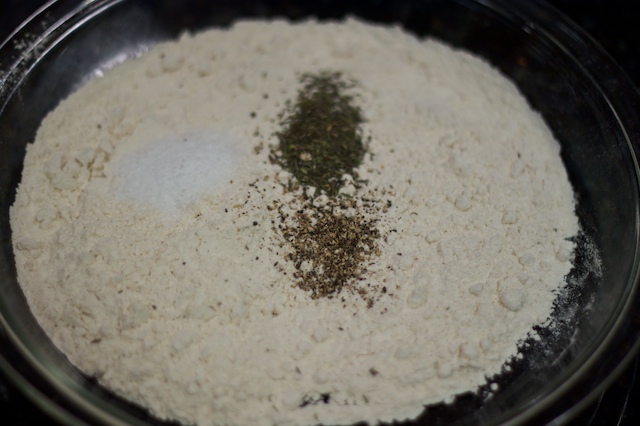 This isn't sounding very szechuan, is it? Well, just go with it. We'll fix that a little later. And don't say I didn't give you fair warning.
Heat a heavy bottomed large pot (like a Le Creuset) over medium high heat. Add 2 tablespoons of oil. Take the pheasant pieces out of the milk and dredge in the flour mixture,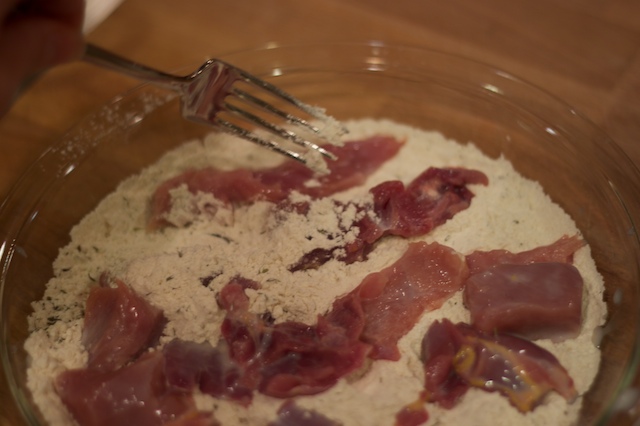 then place into the hot oil.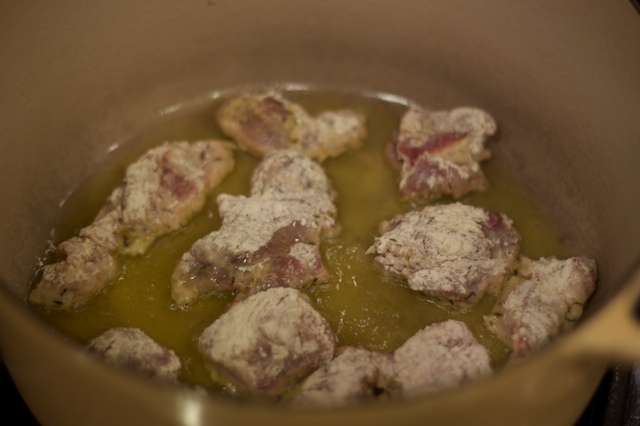 Let sit without moving to obtain a nice brown crust, then flip for a total of 4-5 minutes. Maintain the heat so that you don't blacken the oil and crust that is left on the bottom of the pan. I usually have to do 2 or 3 batches for one pheasant. Add a bit more oil before each batch.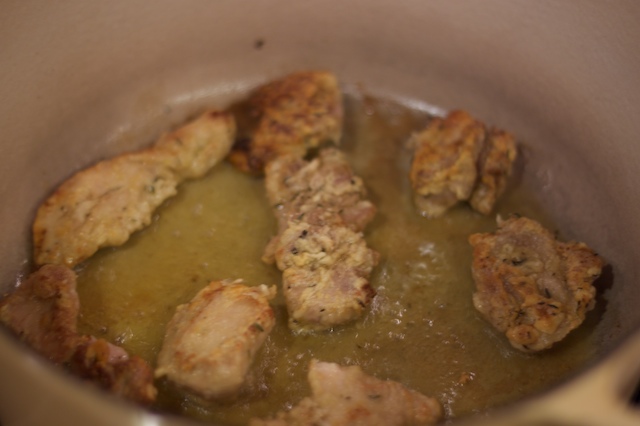 Ideally when you are done, the bottom of your pan will be dark, but not black. And if that is the case, congratulations. You are a better cook than I. I nearly always end up with black. I'm done berating myself for this lack of skill.  But I have learned something about this occurance: don't ignore it! French onion soup, pan sauces, and this recipe will be ruined if you ignore it and continue. Trust me. This much I know.
[Writing this and looking at the pictures, I am left to wondering if I put the pieces of meat closer together if I would have less burning. Anyone?]
So, if you, too, end up with black in your pan at the end of your browning, just give the pan a quick pass in the sink with some hot water and a scrub brush while it's still hot. You don't have to clean it, just get the burnt bits out because they will ruin the flavor of the dish.
And, if you have beautiful browned bits instead of black, be sure to use a wooden spoon as you add the broth to scrape up all the good flavor. But don't leave me a comment, because I don't want to know about it.
ANYWAY…
Strain the broth made from the pheasant bones. You should have about 3 cups.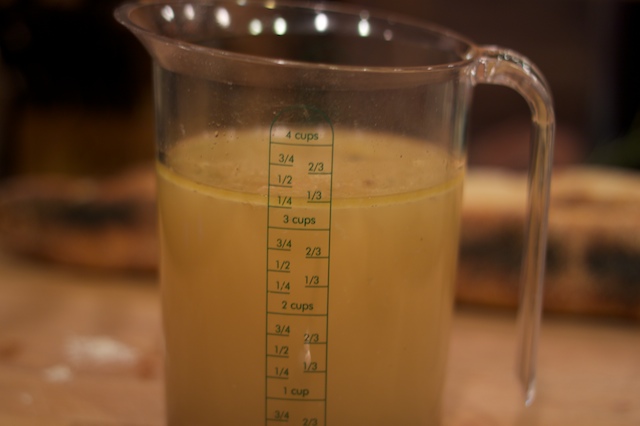 If you have less, add some chicken broth. If you have more, save some or boil it down a bit. Taste it. If it is too weak, add some chicken bouillon to taste. When you have the broth tasting good, add it to the same pot you browned the meat in.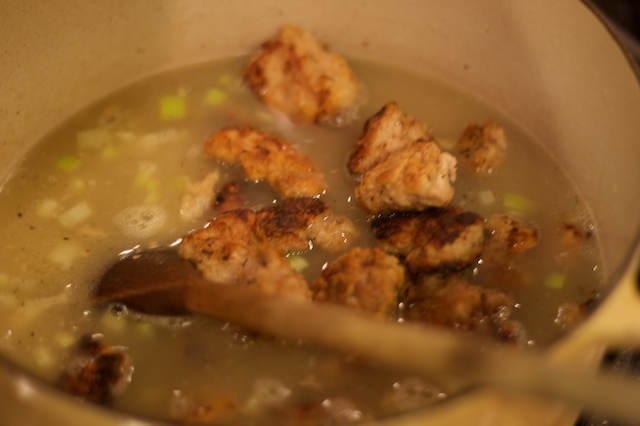 Add the browned pheasant pieces along with 1 tablespoon toasted & crushed coriander (cilantro) seed, whole dried hot peppers (I use 3-4 and break them in half to release some of the heat. This makes the dish about medium/hot heat) and simmer 20 minutes, stirring occasionally. The broth will thicken as it cooks. (I had some extra celery and onion I threw in for these photos, but I don't usually. I was good, but I wouldn't do it if I hadn't had them sitting there already.)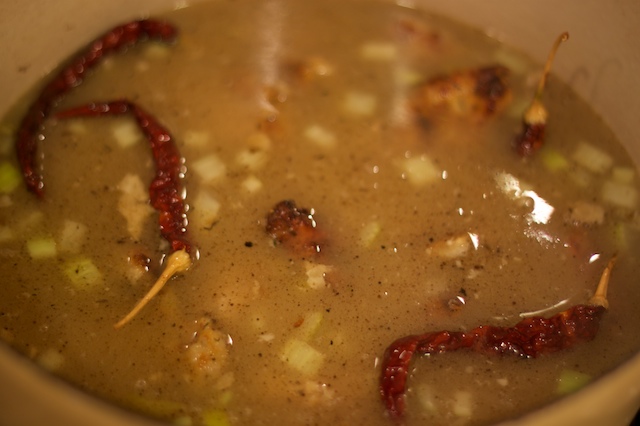 Slice 3 green onions (which of course I did not have on hand) and rough chop about 1/2 cup of cashews. Put hot cooked wild rice on a serving platter, pour the hot pheasant and broth over the rice and sprinkle with scallions and cashews.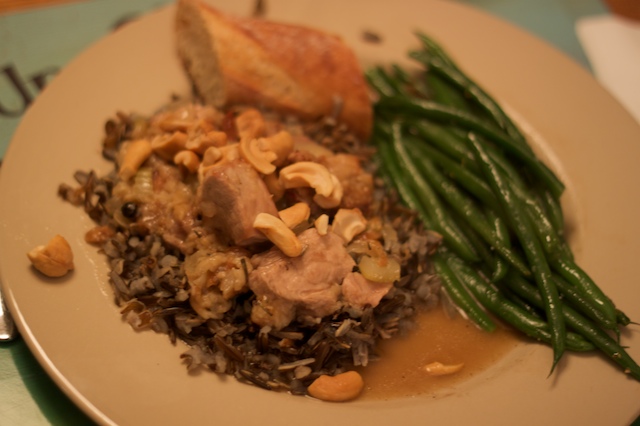 Szechuan? Probably not. But darn good.
Click for recipe: