k. So it's not the Blizzard of '77. It's not even the blizzard of '91. But it's a blizzard all the same. (one of favorite songs of all time: Blizzard of '77)
And I for one can't take it anymore. I know that snow in April isn't all that abnormal. But 12″? 14″? I don't even know anymore what we are on track to get. It doesn't matter. It's a lot of flippin' snow.
I'm not shoveling.
I'm not plowing.
Dang it, I'm not even going to snowshoe with Lola.
I'm done, is all I'm saying. Done.
I opened some wine. Dave is out of town. I'm eating potato chips. I didn't take the damn dog for a walk. The chicken is still out, probably drifted over…
It's chaos, people. It is utter chaos here.
But we still need to eat, don't we? It's been a long time since I posted a recipe. So at least I can do that. Here is what Charlie and I are having tonight. Gourmet as usual.
Easy Weeknight Dinner for When it Snows more than 6″ in April
1 – 2 cups  Cape Cod Reduced Fat Kettle Cooked Potato Chips
1 wedge Cambozola Triple Cream Cheese
2 handfuls of crackers (Triscut or similar)
750 ml Red Wine
1 cup Krusteaz Pancake Mix
5 Eggs
1 cup Diced Ham
1/8c Shredded cheese
About 45 minutes before you are ready to eat, open wine. Pour 1/4 of 750 ml bottle into small glass. Set the rest aside (for now). Open Cambozola cheese and set on plate with crackers. Set aside.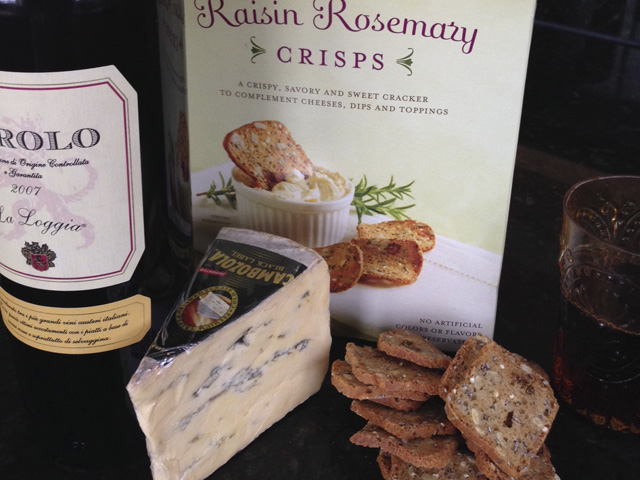 Put griddle on stove. Set 5 eggs on counter. defrost diced ham from Christmas. Haul can of pancake mix out of pantry. Set on counter. Does everything look good? Good. Presentation is everything. If anyone were to show up right now, you'd be looking totally cool. Keep up the good work.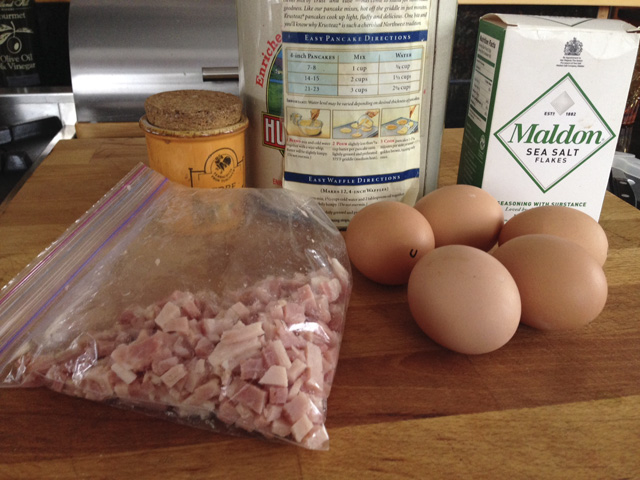 Now take plate of cheese and crackers. Gently place glass of wine on plate. Caress the glass. Does it look good? Is it whispering to you? Don't be worried. That is a good sign. You are doing it right.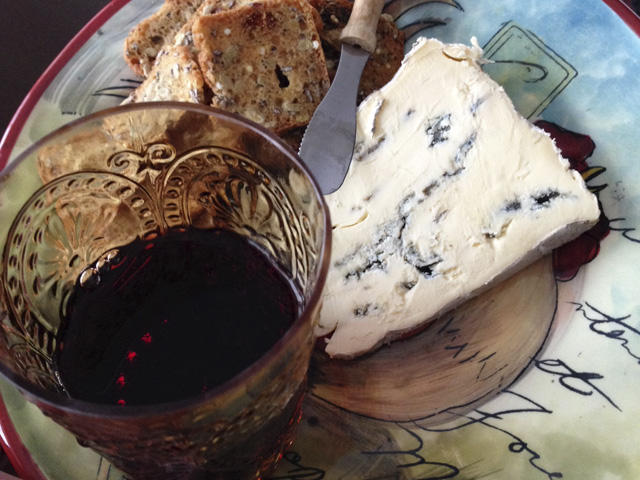 Get laptop and blanket. Hunker down. Eat cheese and crackers*. Drink wine.
If 16 year old son stays upstairs and doesn't ask what's for dinner, you are fine.**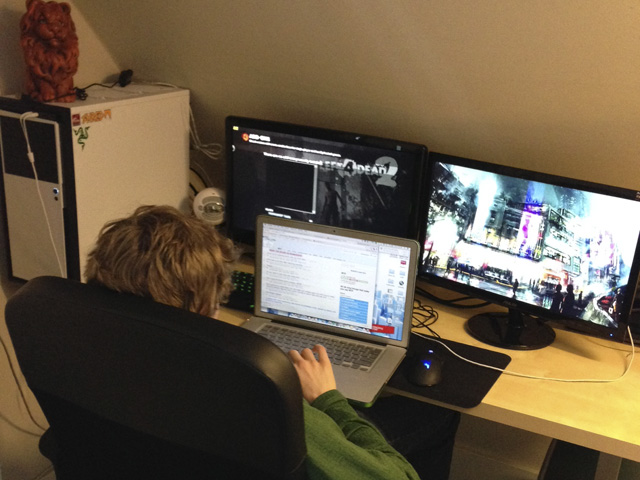 If not. Well then we will just have to cross that bridge when we come to it..
Shit. He just came downstairs. That was a lot sooner than expected. Damn. I gotta go make dinner. Otherwise I coulda kept writing nonsense all night.
OK: this can be salvaged. Pour  another 1/4 of the 750ml into beautiful amber-colored glass. See you soon, all.
*my Trader Joe's Rosemary Raisin crackers were stale. Expiration date: 12/2012. Normally I'd say no biggie, but. These were quite awful.
** Yes. He has three screens going. But even that wasn't enough to save me. Kim & Jen: notice Orangey up in the corner? I wasn't kidding. He loves that circa 1970's lion.
________________
UPDATED. 60 minutes later
________________
Notes:
After 400 ml of the 750 ml red wine, nothing good will happen. You will not have more fun. So put it away.
I don't even like pancakes. I do, however, like the smiley face on the syrup jug.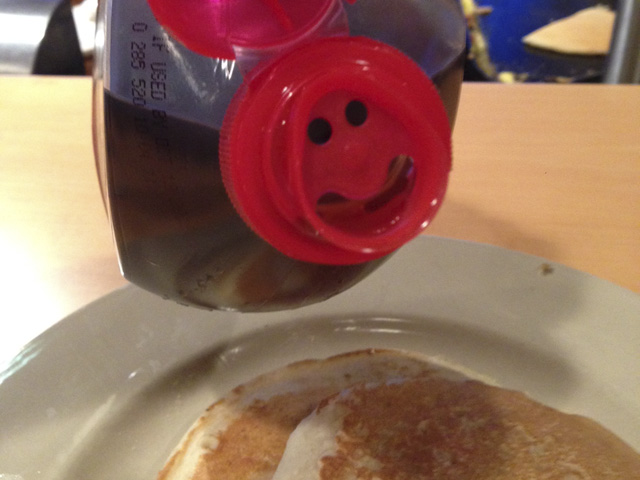 I have never, in my life, made pancakes for dinner. Until tonight.
Pancakes and wine don't taste good together.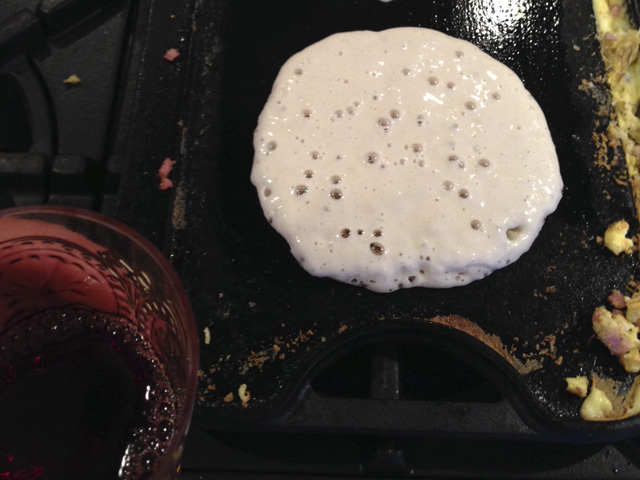 Lola makes it hard to be angry about the snow.
I miss Dave
(Cuz he cleans the kitchen usually)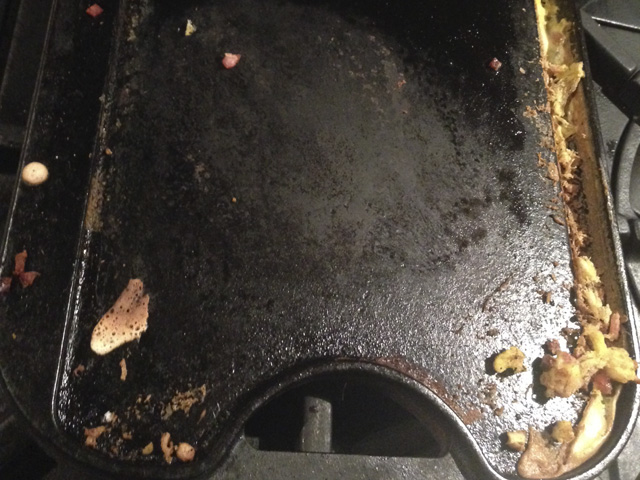 My phone died, or you would have been treated to an endless extravaganza of wonderment. It's your lucky day.
Now really. Good night.