…Or Not.
Remember my nail biting back in late June about whether or not I'd get pumpkins grown in time this year due to my late planting date of June 28th?
Well, thanks –I think– to the hot summer and an unusually late first frost, I did!
I had a few surprises though. This was one of them: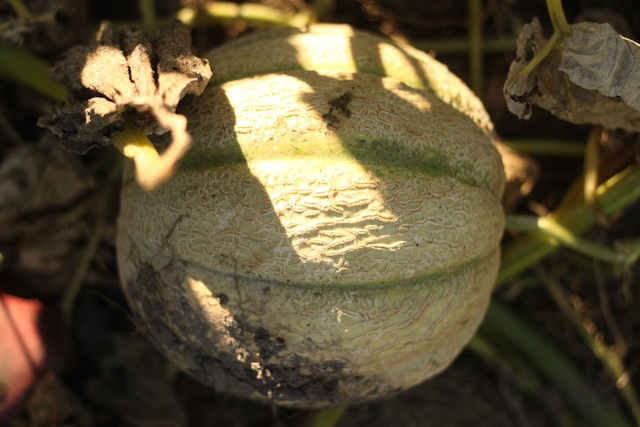 To my knowledge, I did not plant any cantaloupe. I thought I had planted Cinderella pumpkins but never got any of those. It's pretty hard to mistake thin and whimpy cantaloupe seeds for massive Rouge vif d' Etampes seeds — the proper name for the cinderella pumpkin, and my favorite — so that doesn't really make sense. Who knows. Unfortunately, I didn't know about the cantaloupes until last week, since they were completely hidden from view until the frost, and all but one were overripe.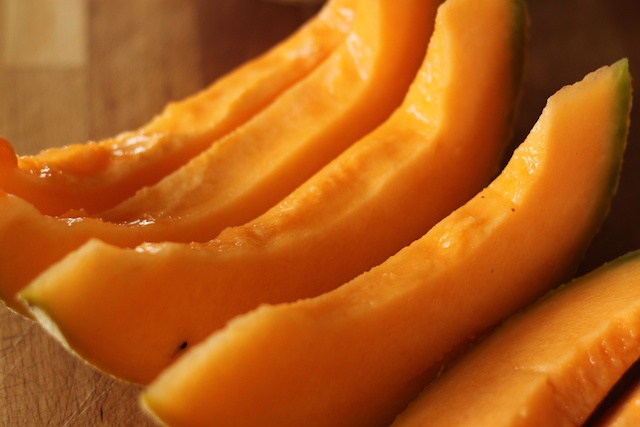 All was not lost, however. I did get enough pumpkins to decorate my front steps: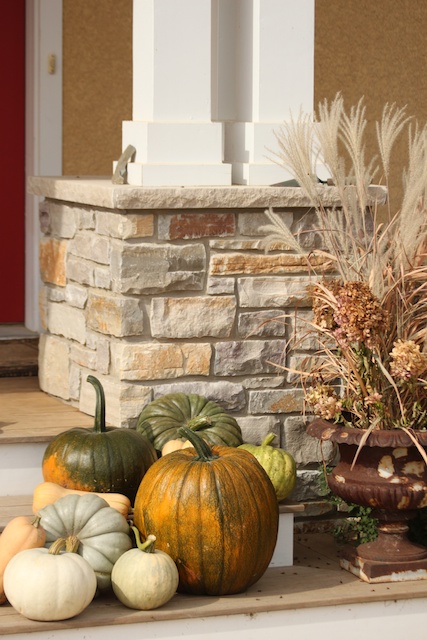 The regular pumpkins — with such cool stems this year — are just starting to turn orange. I like them when they are in that transition period. I wish they would stay this way.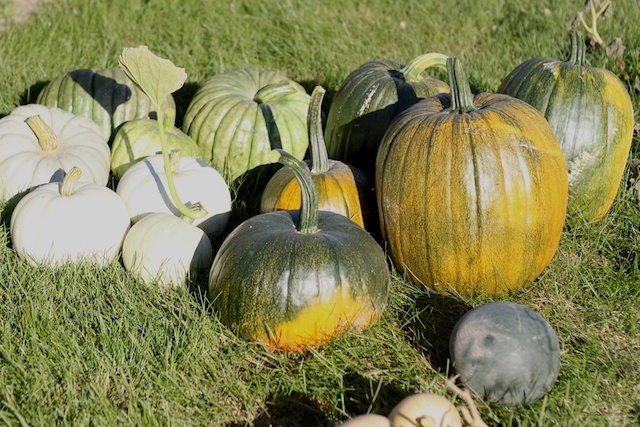 This one is my favorite: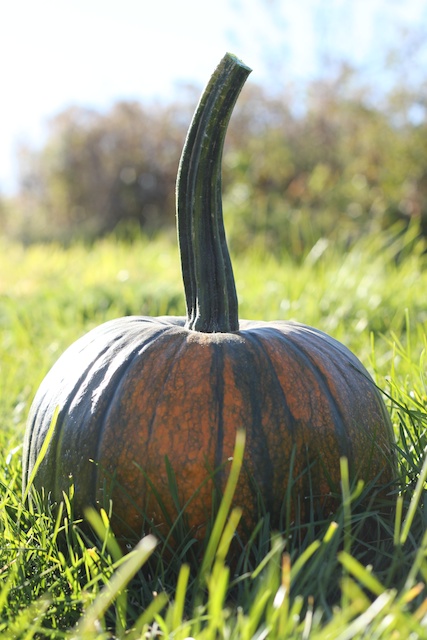 I also got enough butternut squash to keep me happy for a while.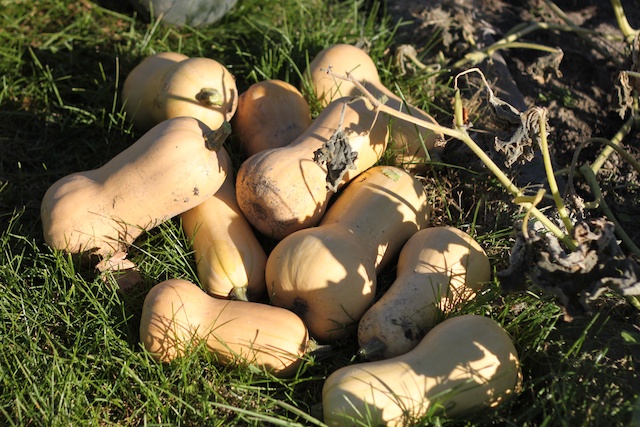 I don't know why, but the three summers prior to this one were horrible for butternut squash. I just couldn't get them to germinate and when they finally did, where overtaken by the more vigorous pumpkins. So, I'm happy with this bunch.
We really only eat the butternut, though we could eat all of them, I think. Every year I vow to finally try one of the pale green "Sweetmeat" squash that I grow only because they are so pretty (the gray-green one in the the photos above). They are supposed to be delicious.
The problem is, I get very befuddled about what to do with giant squash. We tend to be a bit single-minded in our squash consumption (see favored recipe below). Like many other things in life I have vowed not to do and failed (plant corn, underplant/interplant chaos, swear at my kids), I have vowed not to fall prey to another squash soup recipe. I don't know what it is, but I am drawn to the idea of squash soup. I make one every year and am always disappointed with the results.  So many of them have that sort of heavy cinnamon/clove combo that I don't like all that much in anything but desserts. Others have curry or apple… which sounds good right now, but I know from experience I haven't liked them.
And inevitably I'm left with gallons of the stuff that no one wants to eat.
Then I feel too guilty to just dump it, and end up eating it for lunch for the next week, freezing the rest, and eating that throughout the winter — vowing each time to never, ever make squash soup again.
Is it just me? All these food writers wax poetic about luscious, velvety squash soup and I end up feeling so inadequate…
Anyway, it's hard to beat this Ina Garten original recipe for caramelized butternut squash. Try it and tell me it isn't the best way you've ever had it:
Carmelized Butternut Squash (serves 4)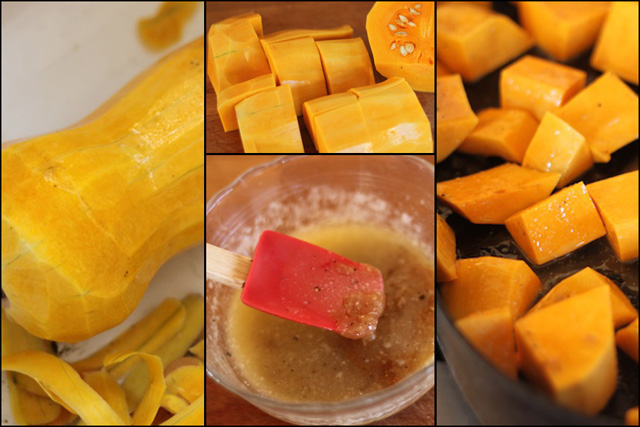 1 butternut squash
3T butter, melted
1/8 cup brown sugar
1t salt
1t freshly ground pepper
sprinkling of cayenne (optional)
Preheat oven to 400. Cut off ends of squash, then peel with a vegetable peeler, making sure to get through to the deep orange of the squash (otherwise the outside is tough). Cut in half and remove seeds. Cut squash into  2″ cubes and place on a heavy baking sheet or large cast iron pan.
Stir together the melted butter, brown sugar, salt and pepper and pour over the squash, stirring to coat thoroughly with your hands. Spread in a single layer on the pan and roast for 45 to 55 minutes, until squash is tender and glaze begins to caramelize.
While roasting turn the squash with a spatula to ensure even browning. Serve hot.