I Hate To Say "I Told You So,"
So I'll say "I told him so."
(Yes, I mean Dave.)
Two summers ago, when we did some new plantings around the house (after 13 years of living here), Dave was set on Blue Fescue in a large area back by the pool. Having dabbled in ornamental grasses for several years, I was dead set against it.
"No Blue Fescue."
He (and the landscaper) wanted to know what my grudge was against the cute little grass, all spikey and feathery, depending on the time of year.
"Because it isn't hardy here."
Au contrair, said they.
"OK, well, even if it says 'hardy to zone 4,' I've grown it and it doesn't thrive here. Even if it makes it through winter, it looks like shit."
"Jennie, don't swear."
"Sorry. I just don't like Blue Fescue, OK? Pick another plant."
…back and forth and back and forth it went. Dave won. I lost. And we planted about 50 of the suckers.
Then we had a particularly rough winter. The nursery guaranteed the plants and we replaced over half of them. The … (I want you to know that Dave just walked by, looked over my shoulder, read the only sentence that he could see and said, "they don't look like shit." and we started the Blue Fescue argument all over again! He's gone now, so I resume my diatribe.)
The following winter (this past winter) was one of the most gentle that we have ever had, due to the early, insulating layer of snow we had that lasted for the entire season. I had plants alive after the snow melted this year. That has never happened! And yet… this is how the Blue Fescue fared: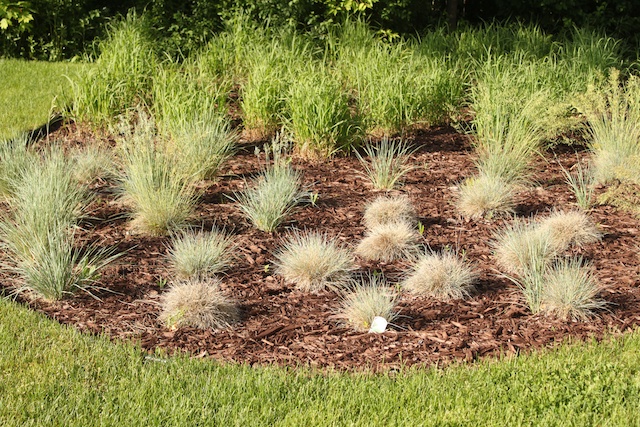 It is what I look out at everyday when I'm sitting on the can and it drives me absolutely batty. I'm sure that if it weren't the view I contemplated for minutes at a time everyday, it would not bug me nearly as much, but there you have it.
It's a beautiful plant when it thrives. This is it before it flowers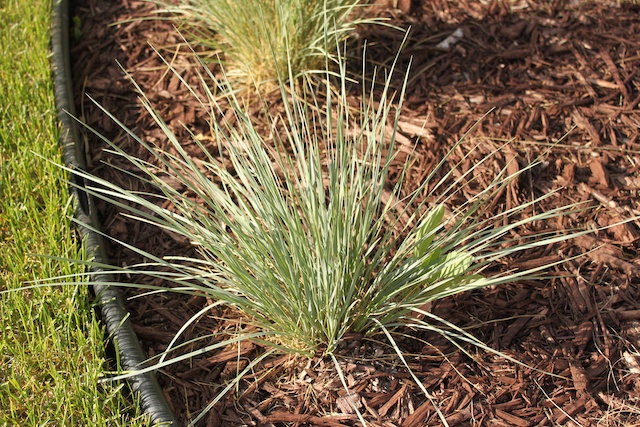 All spikey and blue-grey. Then it sends up its feathery seed heads and it takes on a completely different look of chartreuse green.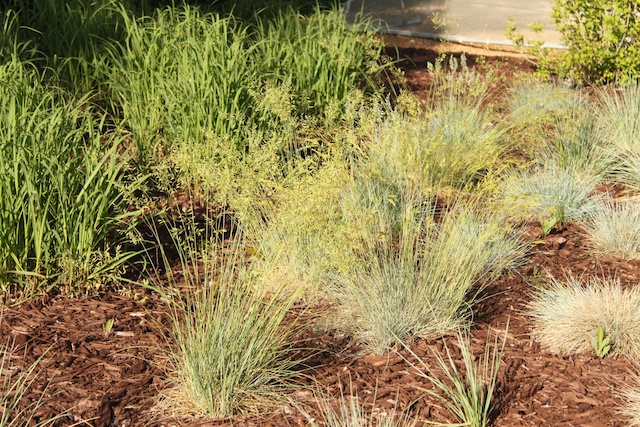 Which is of course much different than it's normal, more subdued state in our yard: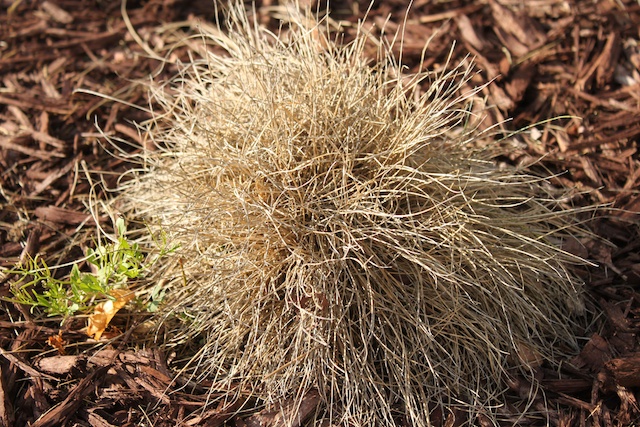 Charming, no?
No.
It's frustrating because Blue Fescue — this is Elijah Blue blue fescue — is supposed to be hardy to zone 4a. And maybe it is, who knows. I've always considered my garden to straddle the line between zones 3 and 4. But everything should have made it through last winter. I'd love to hear from others familiar with this plant. Maybe 'Elijah Blue' just hates 'Jennie With The Pool.'
I'll be having the Blue Fescue argument for many years to come, I suspect, because there isn't another low-growing, petite ornamental grass that is hardy here. If it were up to me, I'd put the whole area into a five-foot high wave of miscanthus. (That's the deeper green grass planted behind the fescue in one of the pictures above.) I love that grass, not just because it is beautiful when in bloom: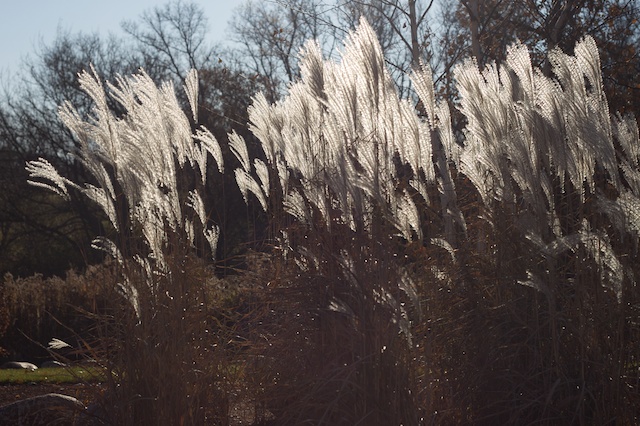 But because it is bulletproof.
And I love bulletproof plants. I'll keep working on Dave. He may have won the round, but not the fight. And I never give up.