I wasn't going to post this, but I have the pictures — well, I have pictures of the remnants — and the kids won't stop talking about them. Begging for more. Stalking my life. Ruining my days.
Why don't I just make the damn things for them again?
Because I hate deep frying. HATE IT.
It stinks the kitchen up. It stinks me up (and since I only shower once a week, that tends to be a problem). It's messy. It's wasteful (of oil). It's unhealthy.
Now I'm regretting saying that about my shower habits. I was kidding. I shower at least twice a week.
Anyway.
These are the little fritters I concocted to make up for the loss of bacon on our potato soup from a few Meatless Mondays ago. As I said then, I have no idea how satisfying they were, because the kids ate them all before I had a chance to try them in my soup.
And they keep asking me to make them again.
And I don't want to.
But they really were good.
So maybe you want to make them and invite my kids over?
[It was worth a try.]
I used a batter similar to the one used on the Fuddrucker's french fries that I made for Morgan's birthday. Much runnier though. And I was miserly with the oil for frying.
Cuz I'm a miser.
I called them my Homemade Durkee Fried Onions. You know those things that come in a can and go on top of casseroles? It's not that I have anything against the real thing, but I didn't have any on hand, and I wasn't going to make a special trip…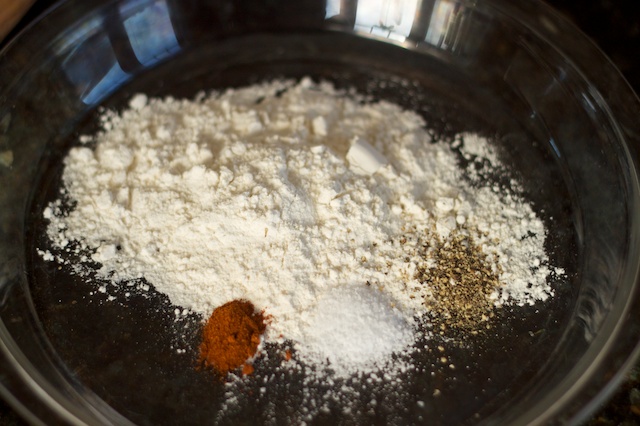 Homemade Durkee Onions
1 onion sliced almost paper thin with mandoline
1/2 c flour
1/2 t salt
1/2 t paprika
1/2 t ground black pepper
1/2-3/4 c water
oil for frying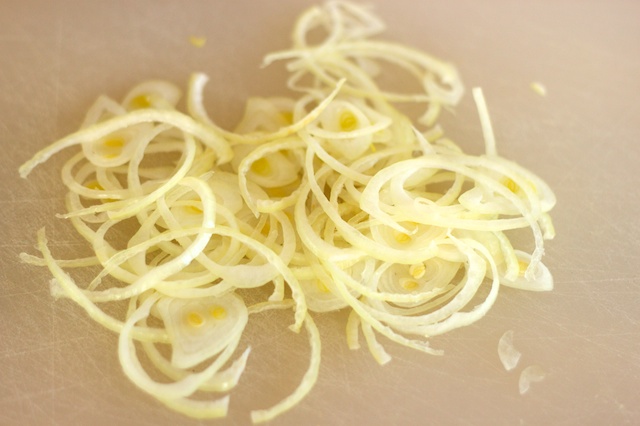 Heat the oil in a small skillet (Well, I use a small skillet because I'm an oil miser and it takes less. If you want to be done faster, use a larger skillet and more oil)
In a shallow pan or plate (I use a pyrex pie pan) stir together dry ingredients. Slowly add just enough water until you have a very runny batter.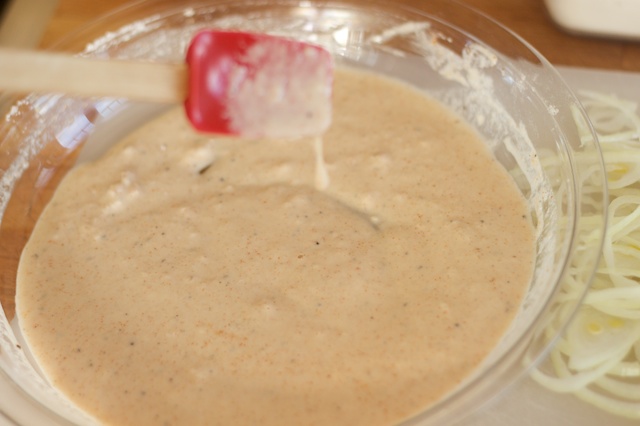 Slice the onion very, very thin. I use a mandoline/food slicer for uniformity.
Test a drop of batter in the oil (or use a deep fry thermometer. It should be 350-375 degrees). If the batter instantly bubbles and doesn't burn, the oil is ready.Using a fork, drag the onions through the batter.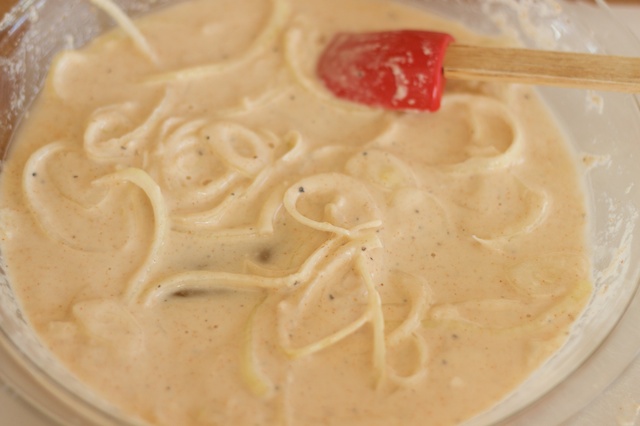 Put a few into the hot oil at a time. They will want to stick together. You can either be obsessive about putting the tiny rings in one at a time, or you can pull them apart once they come out of the oil.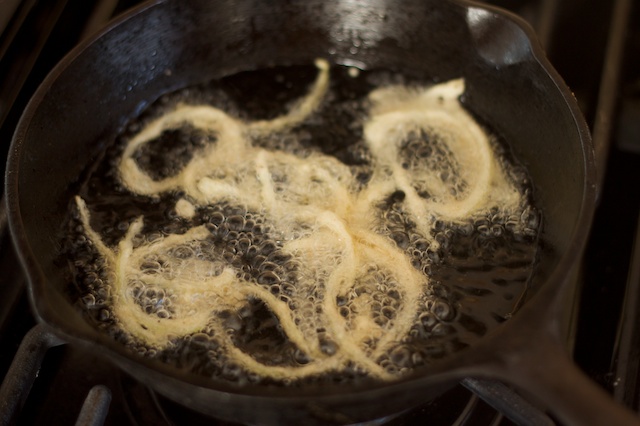 Cook until they are nicely browned, but not black. You want them crispy!
Warning: hide until ready to use. Like strips of bacon, and socks in the dryer, they tend to disappear.