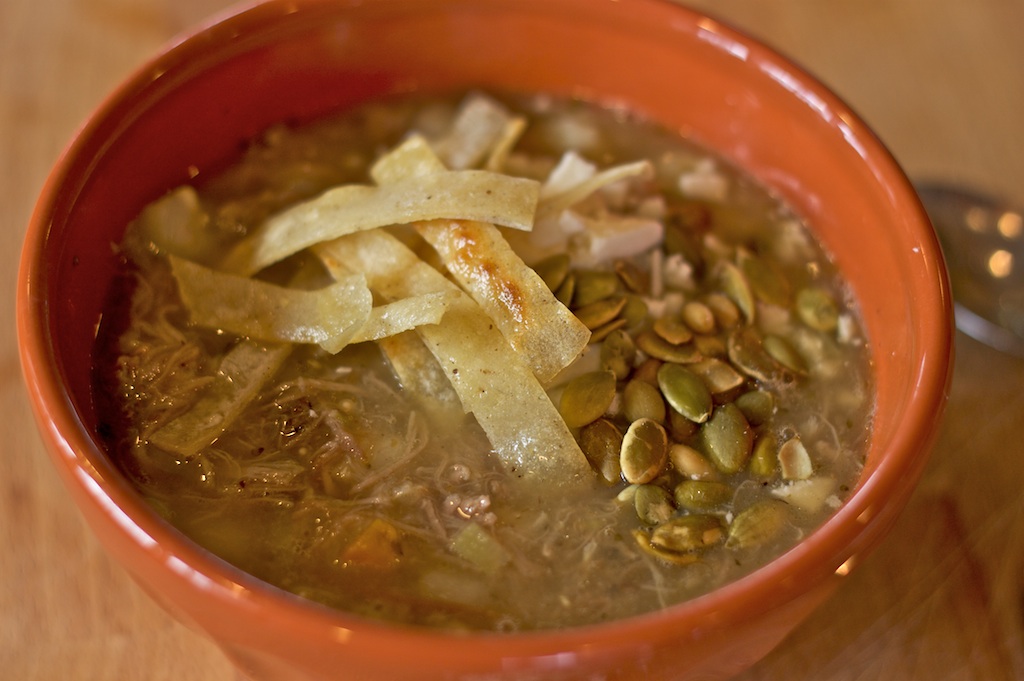 Great for Turkey Leftovers!
Disclaimer: This was throw and go for me.
Remember, I am the one with all the psycho frozen accouterments in her freezer. But…
But.
If you follow my psycho ways, unfolding in snippets on this site, you too can have this ridiculously amazing posole made for dinner in about 20 minutes.
Another Disclaimer: I like to geek-out in my approach to many things in the cooking world. I eschew (it's a big vocab day, people) casseroles and church cookbooks that use gross canned ingredients.
Actually, I don't.
I just think I do.
It's hard to explain.
I'll try.
I'm a snob. But see, even though I'm a snob, I still like when other people make the kind of food I don't like to make. I love it, in fact. Rarely, do I stick my nose up at anything (except beets). But for some reason, I can't bring myself to use recipes that use cream of chicken soup, lipton onion soup mix, etc.
As I write this, it's sort of coming clear to me (Really, who needs therapy when you can write and solve your own problems?): It's the martyr thing! Everyone knows I'm a martyr! That must be it. Even though I like the dishes made with these maligned ingredients, I feel as though I can't use them. Why? Because it is too easy! I have to work in order for it to be worthy.
That's really stupid, isn't it?
Anyway. I digress.
My point, is that I have concocted a way to make dinner fast and still find a way to be smug about it. How great is that?
I did use one secret canned ingredient in this concoction of mine because I had no other choice. (Driving to the grocery store is an automatic "then I'm not making that tonight".) Of course, the next time I make this, I will feel the need to find the ingredient in its natural state and do it the 'right' way. Only then will I be confident to say 'it isn't worth the work' and feel just fine about this super easy way to make it.
Remember the Barbecued Pulled Pork from summer? And the fact that I really prefer the pork without the BBQ sauce? And that I always sneak some out and freeze it? Provided Lola doesn't get to it first and eat half of it? (That really happened, by the way). Well, the pork I used for this recipe, was in fact, the pork from the pulled pork I made and posted during the summer. Anyway, you use about a pound or two of pulled pork. Whatever you happen to have.
Next time I make this, the plan is to use leftover dark turkey meat. I bet it will be as good, if not better! If you try it first, let me know!
I grabbed about two precious cups of frozen chopped onion and sautéed that in Garlic Confit oil with about three cloves of Garlic Confit for a few minutes.
Then I added 8 cups (because that was the amount I had in the frozen bag, which, in hind sight, was too much) of frozen chicken stock made from — once again — garbage. But I haven't photographed that process yet, so it will be a post for another time.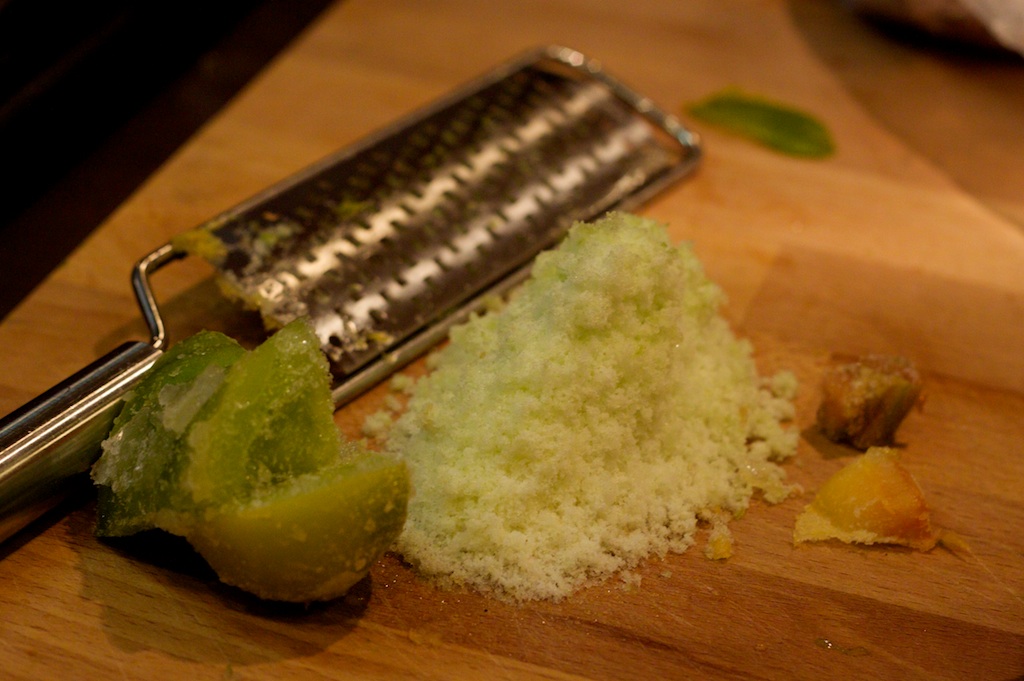 Because I wanted this be green (the color), and because I'm still trying to figure out how to use all those whole frozen Green Zebra and Aunt Ruby German Giant green variety tomatoes (They really make for a nasty color sauce, or salsa.), I thought, "Aha! I'll grate some frozen green tomatoes into the broth. Once again, I realize it is only me who happens to have frozen green tomatoes at the ready. But really. You can use fresh red, or canned. I used a microplane grater and grated about 3 small tomatoes.
I added two cans of hominy. Yes, this was to be a mother-load batch of posole, due to that damn ridiculously large amount of chicken stock.
I added about a cup of chopped frozen peppers. (Hot green ones) I just realized I never posted my chopped and frozen pepper process? Duh. It's the exact same process that I use for onions. And just as handy.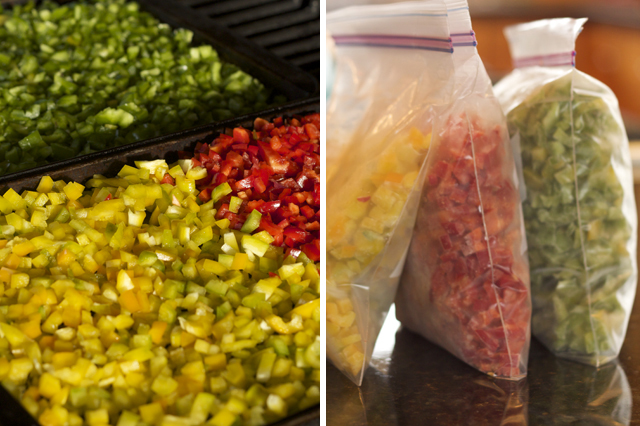 I toasted about 3 tablespoons each of coriander seed and cumin.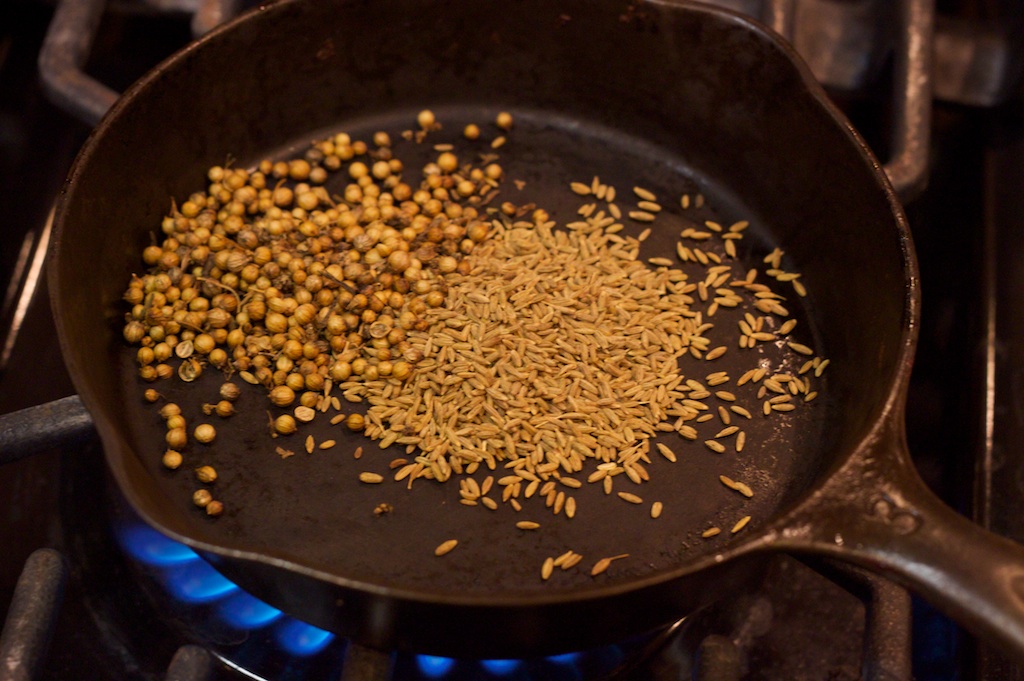 Then I ground that up in my mortar and pestle and threw that into the pot.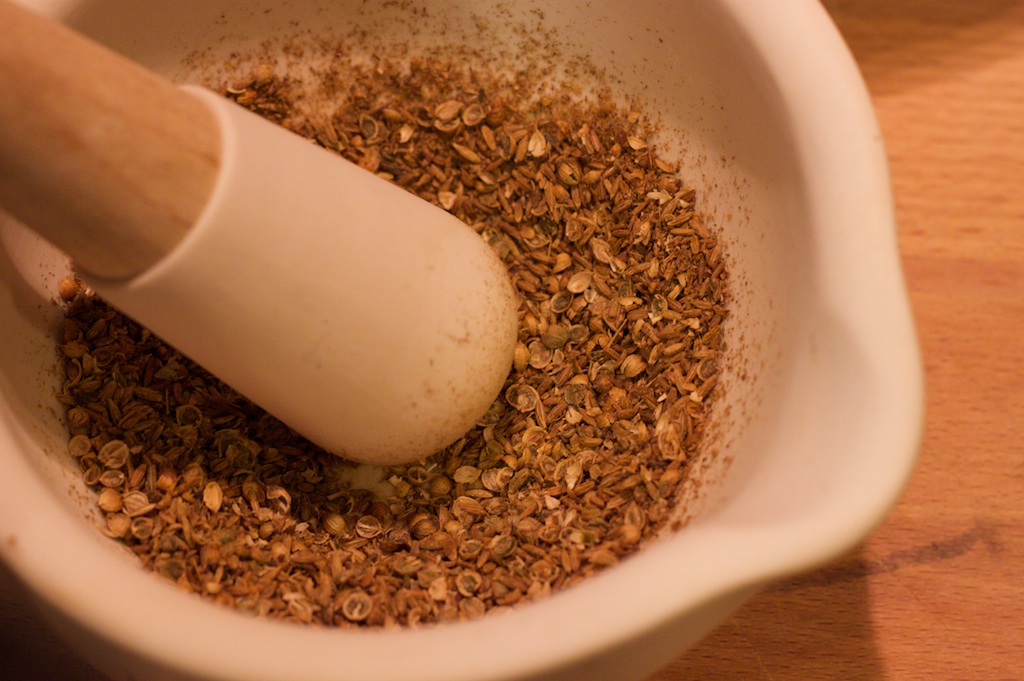 But here was the problem: it turns out that green chile is actually a type of pepper. That is to say, jalapenos or Thai hot peppers just won't do. At least, that's what I learned when I researched it. I never knew that! So I was stumped. Lord knows I wasn't about to get in the car and go to the store to buy some. So what could I use, what could I use… something green…
La Victoria Green Sauce? The one and only thing I put on top of my signature tacos? … no. Too thick. And the ingredients list green tomato as the first ingredient. No 'green chile' in sight…
Should I just give in and roast some poblano or pasilla dried chili?
No, dammit. I want a green posole! Like the one at the top of Vail mountain that I pay $8 a bowl for.
So I dug around in my pantry and came up with this: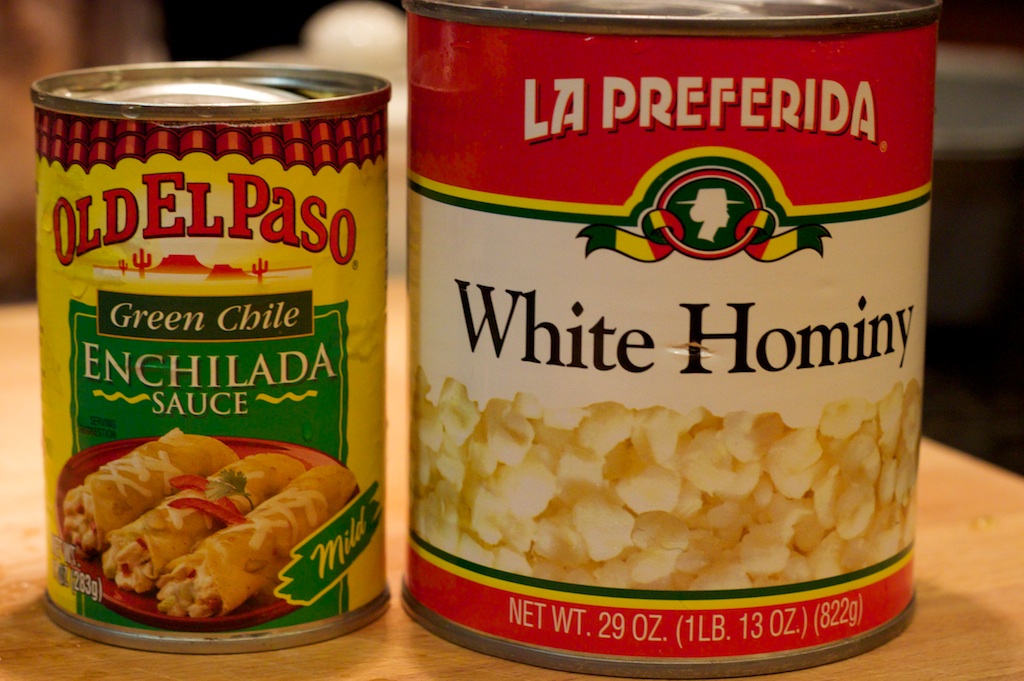 Green Chile Enchilada sauce. I don't even know where I got it or how old it was. And I poured it in.
Wa-la! A few grindings of pepper. A sprinkling of salt to taste… Simmer for another few minutes…
Then I fried up some corn tortilla strips, topped each bowl with pepitas (fancy name for shelled pumpkin seeds) and a big handful of crumbled Cotija Mexican cheese. And in my bowl, went a big dollop of cottage cheese. I know it sounds gross, but it's like a mild sour cream with a lot less fat. It's really good!

Start to finish: 20 minutes.
And of course, you don't need to get this stuff from your freezer. You can just go out and buy it and use it fresh and chop what you need. But once I was almost done throwing this together on the fly in just minutes, I realized it was this poster-child recipe for all the stuff I've made and frozen over the past months. And so fast!
…Well for me anyway.
Nah nah nah nah boo boo.