May 10, 2000 – February 1, 2010
We put Buzz down this morning at 8:30 am after a relatively brief battle with bone cancer. I'm struggling to find the right tone for this post. Can I laugh and keep it lighthearted? He was a lighthearted dog. Or will I wallow in the quagmire with my tears and fears that we could have waited longer before bringing him in?
I don't know. Let's see where it goes.
"You will know."
Do you know how many people say that about putting a dog to sleep?
I don't know. I didn't know. I will never know.
Let me restate that. I did know yesterday, when his tumor began to ooze and bleed, changed almost hourly and threatened to open up completely. I knew when he fell down several times, whimpered in my lap and fought all day to find a comfortable position even when drugged to the limit. (OK, I'll be honest: over the limit). Of course this happened on a Sunday. We knew in our hearts that it was 'time' and began a very long day of saying goodbye to our beloved Buzzy.
I didn't know this morning, when he came out of the kennel a little more sure on his feet and brighter in the eyes. Were we doing the right thing? As I laid on his bed with him, he growled softly and was shaking quite a bit, and I felt a little better about our decision.
And then he limp-hopped out of the office on two legs and brought me his damn Frisbee.
We laughed through our tears.
And I laugh through my tears now.
And I'm still no surer of our decision.
I loved that stupid dog. I loved him so much.
There is no right decision for something like this. I loved him to the best of my ability and I pray we did the right thing at the right time. This has helped me today:
The godly are concerned for the welfare of their animals."
Proverbs 12:10 NLT
Will there be animals in heaven? Pet lovers hope so, because earth's second most important inhabitants are a source of real comfort. What do we know for sure? In the coming Kingdom, "The wolf and the lamb will feed together" (Is 65:25 NIV). Ah, an animal kingdom too! Lambs were actually household pets in Bible days (See 2 Sa 12:3). The Bible says our pets belong to God; we take care of them for Him. God says: "All the animals 'are mine'" (Ps 50:10 NLT). Furthermore, God holds us accountable for how we treat our pets (Pr 12:10 NLT). So here's the question we need to consider: When Adam was created, God surrounded him with animals and called it "very good." When Noah stepped out of the ark to start the world all over again, God made sure that he was surrounded with animals. So when Christ establishes the renewed earth, with renewed men and women, is it a stretch to imagine that He'll surround us with renewed animals? Eden was perfect — but without animals Eden wouldn't be Eden. And the new earth is the new Eden — paradise regained. In her book about heaven, Joni Eareckson Tada says, "If God brings our pets back to life, it wouldn't surprise me. It would be just like Him. It would be totally in keeping with His generous character. With all the dazzling discoveries heaven will hold for me, the potential of seeing Scrappy would be — utterly joyful. Heaven is going to be a place that will reflect in as many ways as possible, the goodness and joy of our great God." If you're a pet lover that sounds good, doesn't it?
Yeah, it sounds pretty good. Hopefully when I see Buzz again, God will have tweaked a few of his behaviors and taught him to fetch properly — a ball and not a rock — but all in all, my Buzzy in heaven, along with Casey, Conroy, Daisy and Patches sounds like Heaven indeed.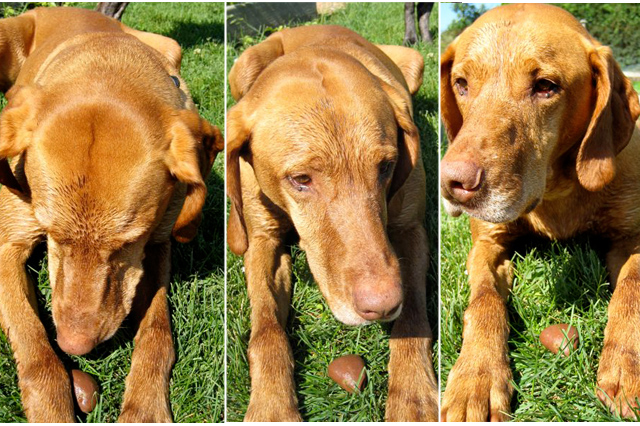 The bone cancer started at the site of the plate and screws that held together the broken leg he got when he was two.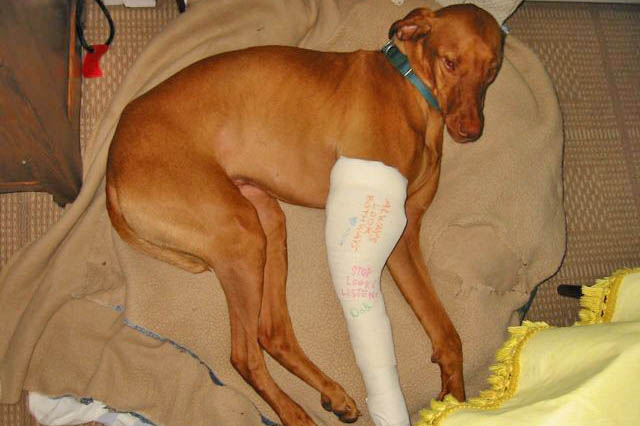 Normally, they would have amputated the tumor immediately, but sadly they couldn't because Buzz was already down to three usable legs since blowing out his ACL this past summer. I was sent home with pain medication and told it would go very quickly. That was on December 14th. From my best guess, the tumor was a factor going back to early fall, when he began shadowing my every move and acting nervous. I cringe to think how angry and impatient I was with him then. In hindsight, it was undoubtedly the pain caused by the tumor we didn't yet know about.
It still doesn't really seem real. That dog. He was the most lovable. Stupid. Dominant. Pig headed. Frustrating. Happy-Go Lucky dog we've ever had. He came on the heels of the 'perfect dog', Casey. And before the Sociopath, non-dog, Lola. He will be in our hearts forever.
Some of my best memories: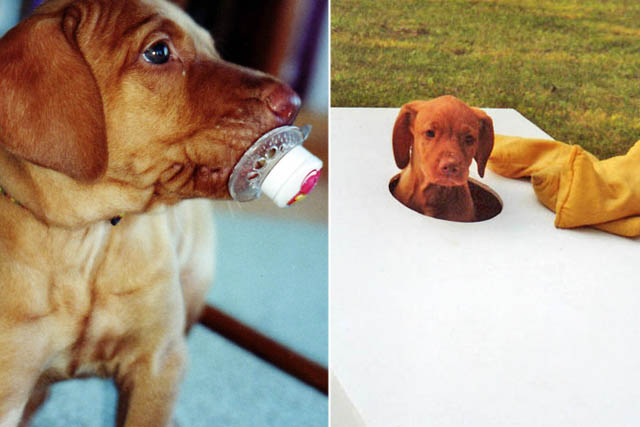 He tried to get charlie's pacifier whenever he could and wanted to be in the middle of any game played. Always.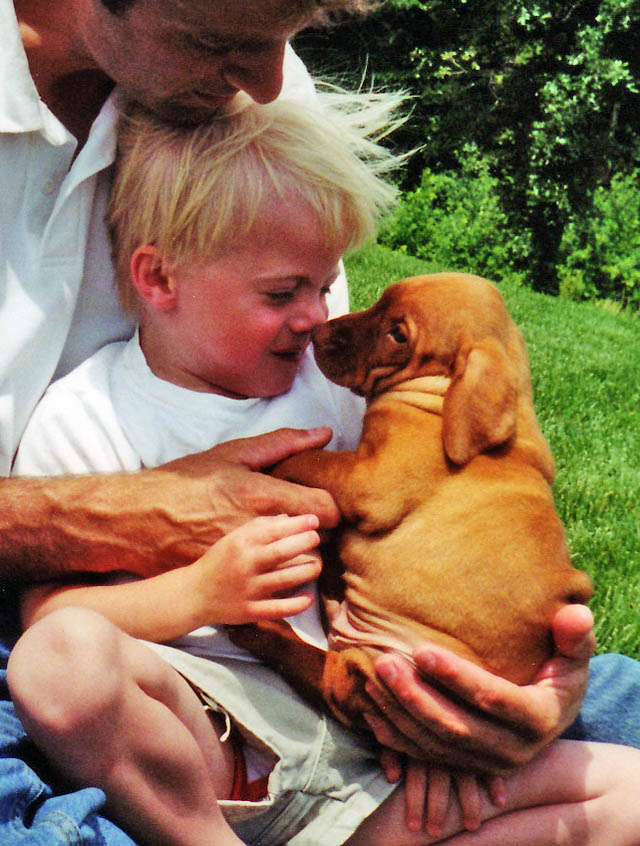 Buzz and Charlie grew up together. They were more alike than you will ever know.
If I put up every picture I have of this 60 lb dog sleeping in every lap that ever allowed him, it would crash your browser. Here are but a few. He was insistent, relentless and big.

He slept next to me in the office, even when I forgot to bring in his dog bed: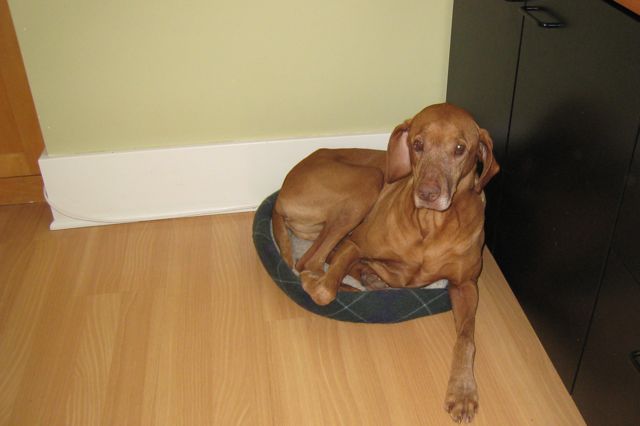 …and would make do with the cat bed, thank you very much.
He loved his daddy: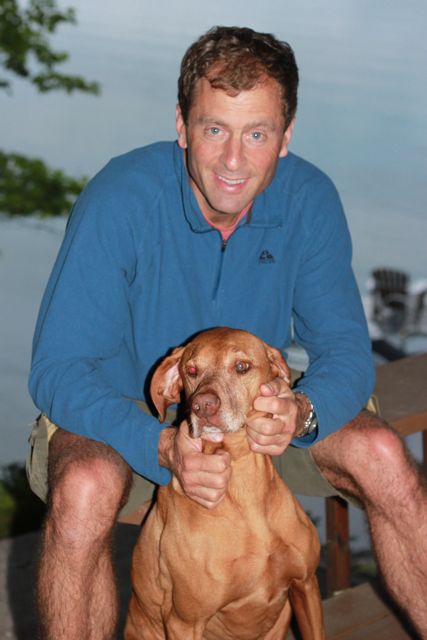 …with the blue, blue eyes.
He was stupid and silly and lovable.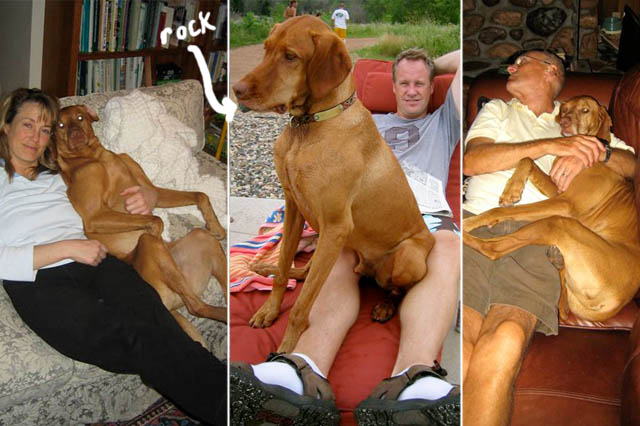 And when he wasn't on a lap, he was fishing. In the pool, in the lake… He never caught a one.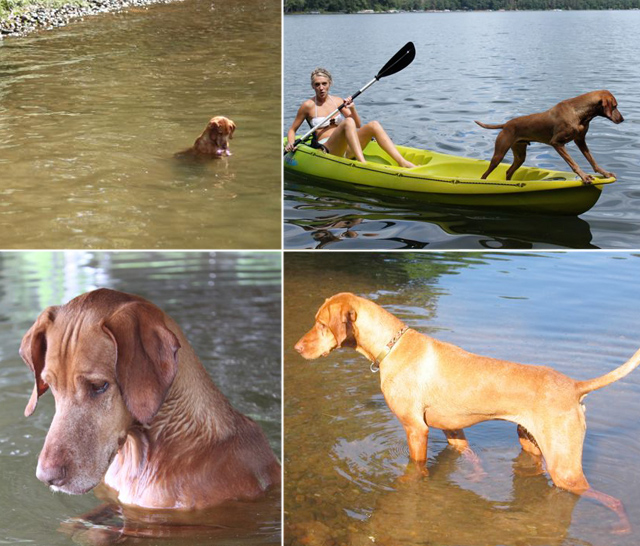 He loved to play.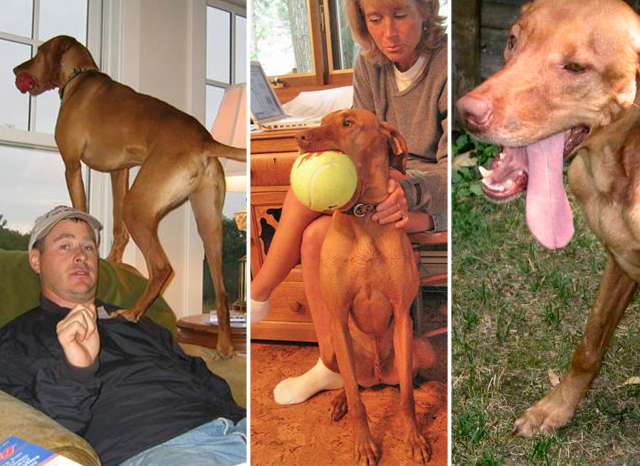 He loved to hunt: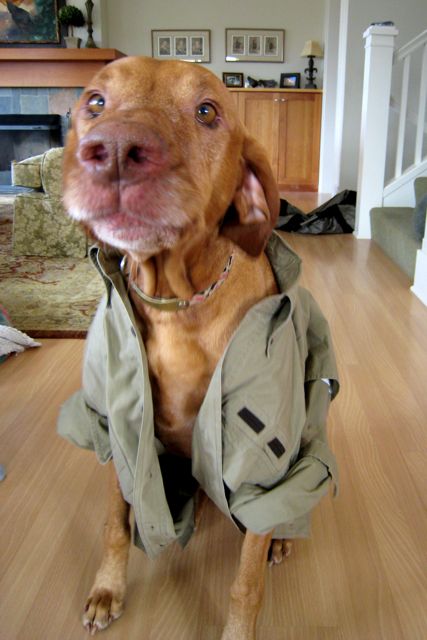 …but not the clothing required to do so.
He tolerated Lola.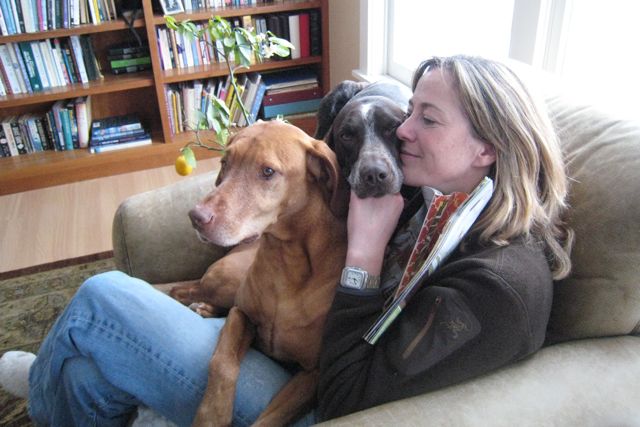 …who insinuated herself into his very life and the laps he loved…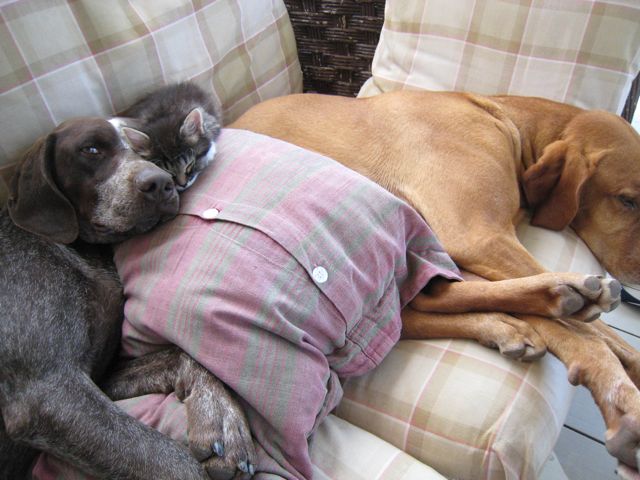 …who made friends with CATS and invited them on to his favorite couch on the porch…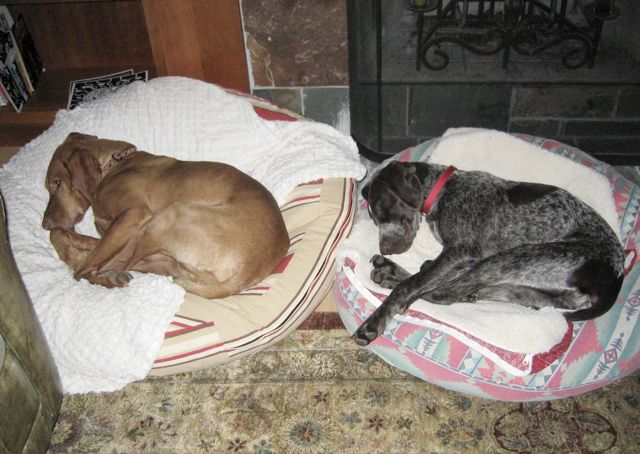 …and who basically ruined his life, just as any little sister would.
He loved — most of all — going to the Lake: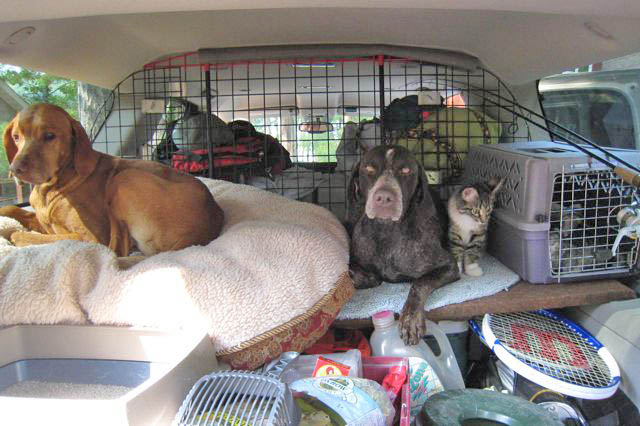 …even if it meant sharing his berth with Lola, the cat and even a chinchilla (in the cage), because going to the Lake meant seeing Gramps: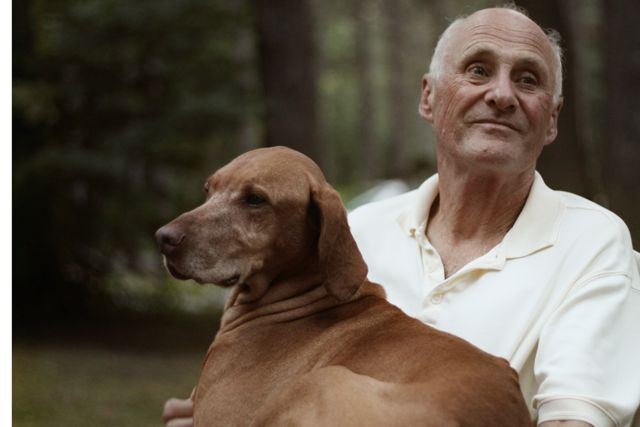 …because he loved my Dad even more than us, I think.
The Traitor.
Goodbye Buzzy. I hope there is fishing in Heaven.