In a rare turn of events, I decided to try a recipe out before the big day.
Most people do that, I know. But I'm one to just throw caution to the wind.
I'm not hosting Thanksgiving this year, but I am making bread, veggies and… I'm still not sure of the last thing. I was contemplating making this super-cool recipe I saw in Bon Appetit. You make the soup inside a beautiful pumpkin or squash and that is also the serving vessel.
Here's the picture from the magazine: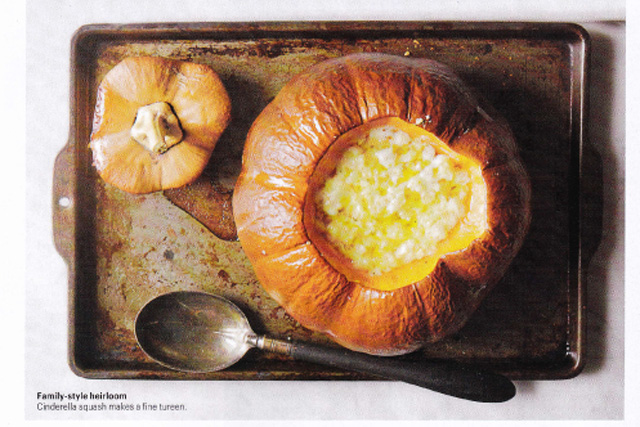 How fun is that?! Isn't it pretty?
Of course, looking at it now, I have all kinds of comments, but first, let's see how I did.
Recipe calls for "One 6-8lb Cinderella, cheese of Jarrahdale (Blue) pumpkin.
Amazingly, I had two of the three varieties listed sitting on my front steps in a variety of sizes. (What, on God's green Earth is a "cheese pumpkin"?) I'd made the Jarrahdale Pumpkin for Thanksgiving last year (which is nearly identical to Sweet Meat Squash, and in fact I am not certain which one I have.) and it was delicious. I'd always heard that the Cinderella Pumpkins that I grow for decoration are also delicious. –The most I'd ever done with them was to heave them into my compost pile at the end November. I decided to use my smallest Cinderella to test the recipe since it was snowy and cold that day and it just sounded so festive!
"Won't the kids be impressed!" I thought.
I hate cleaning pumpkins out. Truly and utterly. So, I wasn't excited about cleaning out the Cinderella. But it was way different than a carving pumpkin. Not slimy at all.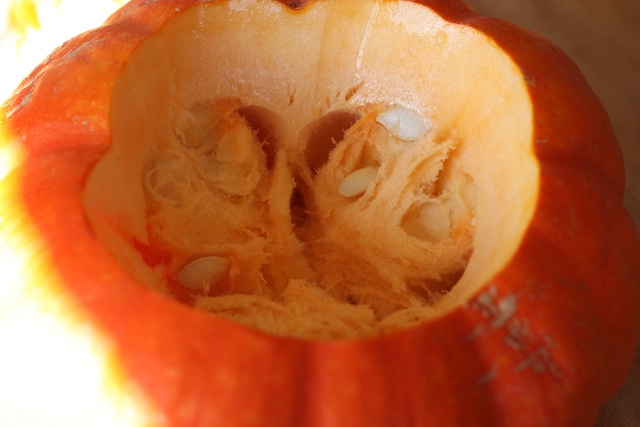 The stem fell off this one, but I didn't care. "It's only for the family. I'll save the most beautiful one for Thanksgiving day!" I murmured to myself as I happily cooked.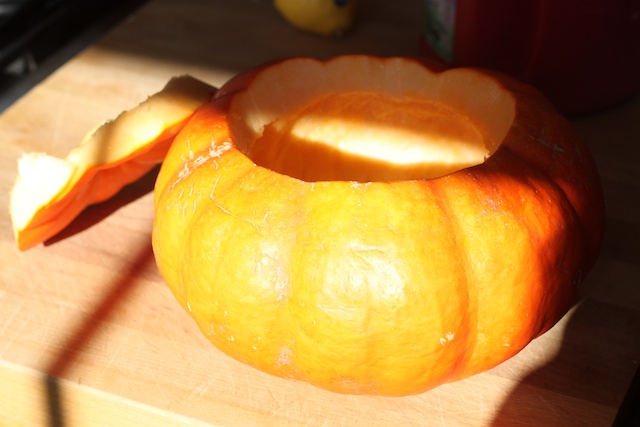 Next you were to rub the outside of the pumpkin with some butter, then sprinkle the inside with fennel seeds (ick! I used cumin seeds), salt and pepper. Then add 2 cups Gruyére (I used Jarlsberg cuz that's what I had), some sliced garlic, 2 bay leaves and 1 cup of bread crumbs.
Yes bread crumbs.
No, I have no idea why.
Yes, it seemed gross to me too.
Anyway.
You are directed to set the pumpkin on a piece of parchment on a rimmed baking sheet. Finally, you add 5-7 cups of chicken stock "to come within 3 inches of the pumpkin's rim."
You will have to take my word for the fact that a 6-8lb pumpkin is pretty small. So unless there is some nuclear fission happening with the chicken stock there is no flippin' way you are ever going to fit 5-7 cups of broth inside that little sucker. Also: what does "within 3 inches of the rim" mean? Does that mean don't go above 3 inches below the rim? Does it mean fill it up so that you don't have any more than 3 inches of space?
These are all good questions to ponder if you are a conscientious cook, which I am not.
I averaged the two gray areas, took the square root of the answer, put the lid on it and put it in the oven. (In other words, I added as much stock as I could and left about 1 inch of space from the rim.)
Over the next couple hours, I had a lot of time to ponder this ridiculous recipe, as I watched my pumpkin cook, soften, exude liquid from it's flesh, overflow and begin to flatten.
…all while cooking in the oven on a "rimmed baking sheet."
Isn't that the purpose of squash? To soften completely into silky goodness? Yes, yes, you say. But now, what if that soft, silky goodness is holding chicken stock, melted cheese and 1 cup of mystery bread crumbs?
(On a rimmed baking sheet.)
As the minutes turned to hours, while I ladled cupfuls of broth out of the overflowing pumpkin, more questions began to form in my wee brain:
How do you get the pumpkin off the rimmed baking sheet?
What in the Sam Hill is the parchment paper for?
What happens if it collapses?
Why, in God's great name, do they have you put this filled pumpkin on rimmed baking sheet?!
Anway.
The idea of this brothy soup is that you scrape the inside of the pumpkin as you serve it. Cool, huh?
No. Not cool. I started to obsess over the idea of the pumpkin collapsing in the oven and the liquid going everywhere. Actually, it wasn't really obsessing. It was a valid concern. As soon as the time was up, I removed it from the oven. Problem was, the squash wasn't soft enough yet. It needed to go back in.
I'm no fool. I decided to transfer the pumpkin to a baking dish that would hopefully hold the liquid if the pumpkin ruptured. Transferring it was no small feat. If you are foolhardy enough to try this recipe yourself, save yourself the ponderous questions and cook it in a big-ass pot.
I continued to cook it until it seemed soft enough to scoop: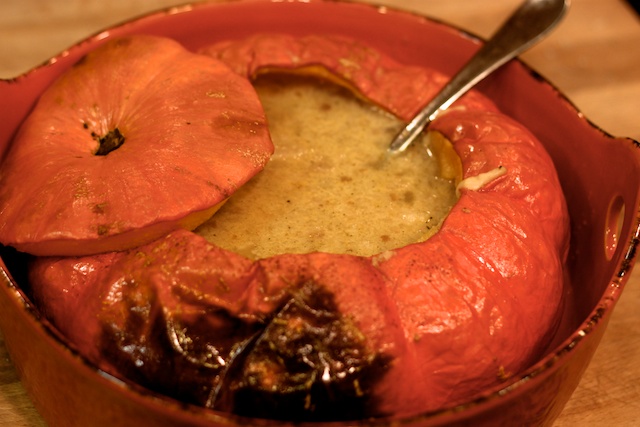 Which it wasn't. It never was.
Additionally, the magazine doesn't mention a suggested serving plate, but given the dramatic vessel, it seems the dish I have it in does not do it justice at all. And yet: what happens when, as you scoop the inside, you puncture the flesh?
I can just picture my sister-in-law, as she bustles around the kitchen making sure everything is ready to begin serving Thanksgiving dinner, when I pull this fragile and potential disaster from the oven — providing it hasn't already flooded her oven during the baking process. Can you even imagine?
And I haven't even gotten to the soup itself!
The magazine photo shows bowls of delicate broth with sumptuous strands of melty cheese: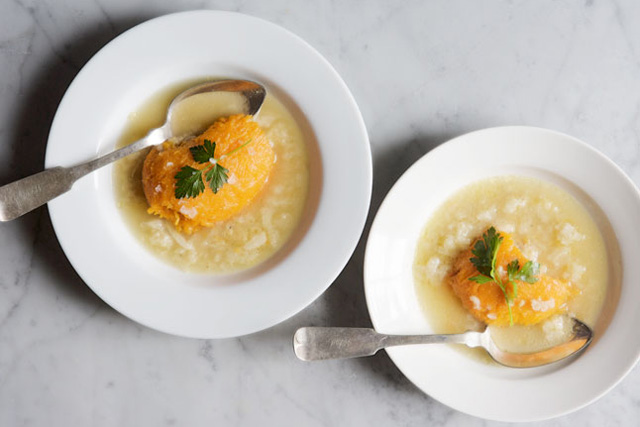 I refrain from subjecting you to a photo of my bowl. It tasted good enough — well except for the squash, which, how shall I put this… sucked — but was a voyeurs nightmare. Globs of cheese swirling in a murky broth with semi-disintegrated bread crumbs.
I cannot recall a more bland and stringy squash experience.
Even my chickens stuck their beaks up at it.
So no, don't worry Sharon, I will not be bringing Baked Pumpkin Soup to your Thanksgiving table this year as previously promised. Instead, I will be bringing brussels sprouts, which, if what you say is true, not one of your family will eat.
Yes: another challenge. For I am the Morgan-family* vegetable evangelist!
Roasted Brussels Sprouts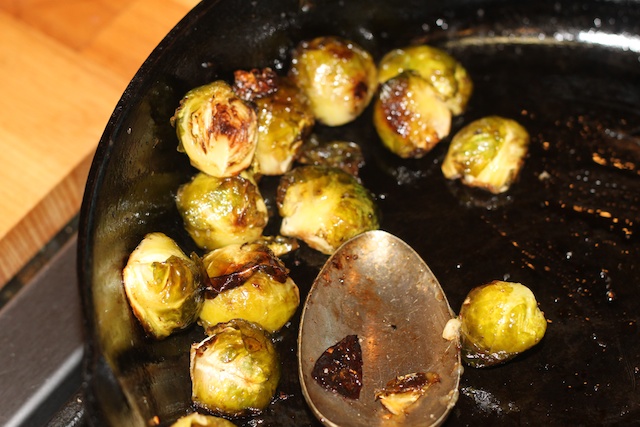 If you want to be really nice, make them ahead so that self-proclaimed brussels-haters will not be able to harangue you with complaints of their cruciferous odor. (They stink while cooking.) Roast them ahead of time, then just heat in the microwave or toss in a hot pan before serving.
To make them, cut brussels in half, film a cast iron pan with oil and put cut-side down in the pan.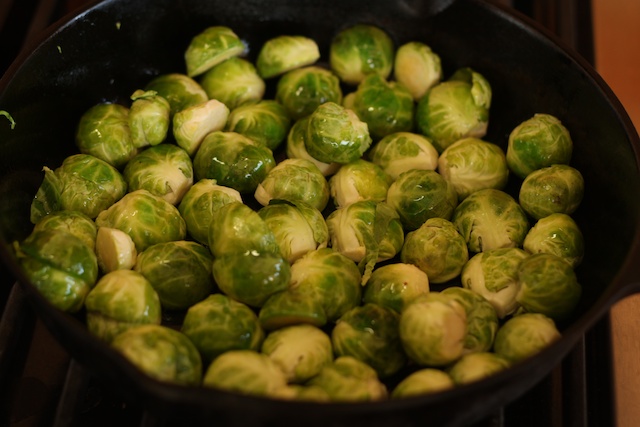 Drizzle with a little more oil, season generously with salt and pepper, and put in a hot oven (375-425, Any in that range will do). Flip them when you see the edges on the bottom start to caramelize, after about 15-20 minutes.
They are done when they nicely mottled with brown spots and are easily pierced with a sharp knife. Taste for seasoning and — if you like, and we do — splash with balsamic vinegar and serve hot.
Or, add hot crumbled bacon.
Or, add blue cheese.
Or, add all three!
Morgan will fight you to the death for the last brussels sprout. I like to think it's because, when she was 3 or 4,  I told her they were "Barbie Lettuce."
*For those with a confused and ponderous question of their own: Morgan is both the name of my illustrious daughter, and my maiden name.