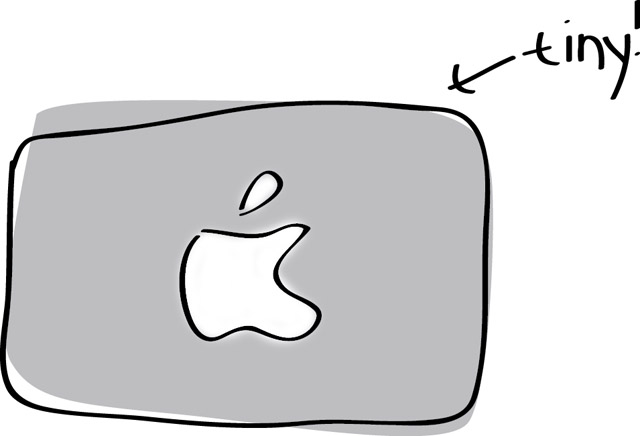 Crazy times call for crazy measures.
I bought an 11″ Macbook Air last week. I just did it. I researched and backed away. I made the rational decision to "wait." Then I went back to work.
Then, before I could stop myself, I was researching some more…
The funniest part of the whole episode was when I finally came clean with my kids. I had kept my plans a deep dark secret until only moments before I had to make the decision to buy or not to buy.
We were on the way back from our dentist in the cities and I was eager to get the kids back to school for at least half the day, but I knew I would be driving right past the mall… In 24 hours, I would be hopping on a plane to meet Dave for a couple days of skiing. I thought if I was going to try the Macbook Air, I might as well plan it around some travel so I could really test it out.
I needed to fish or cut bait, so much time had I already spent in limbo.
So, a mere 3 miles before the exit to the Apple store I fessed up. "Well, I might need to make one more stop."
"Where?"
"The Apple Store."
"Oooooooh… Why?"
"To get a Macbook Air."
It was at this point that my children's true natures were revealed to me.
Morgan's reaction, abridged here for your convenience was this: do it. do it. do it. do it. do it. do it. do it. do it. do it.
Charlie's reaction was delayed, as usual, because he only caught the last few "do it's" of Morgan's, followed by my waxing poetic on why I should not "do it."
"Do what?"
By this time, I had exited the highway. Morgan clapped with glee, assuming the decision was made.
"Why are you so happy about this? It won't impact you."
"I can have your old computer."
NO YOU CAN'T! This will be used in conjunction with my computer (a 15″ Macbook Pro) which I will eventually sell on ebay along with my Cinema display and replace with a less expensive iMac.
(pouty face)
Then, the voice from the backseat: "WHY would you even CONSIDER buying a NEW COMPUTER. You JUST BOUGHT one not that long ago. You don't NEED one. Mom, don't do it. Don't do it. Don't do it. Don't do it.
Isn't that funny? It's the proverbial devil on one shoulder and the angel on the other. He's right, I thought. And I decided not to do it. I drove past the entrance to the mall. I felt good. Really good. I am truly growing up to be a mature, rational 45 year old woman, thought I.
Then I remembered. I had to stop at the bank. I had checks to deposit. And all that time at the window… made me rethink my decision: "Why not? You have nothing to lose. Try it. You know you won't be happy till you do…"
And so it was that I bought the computer. And I felt good. Really good. Besides, who was I kidding? I'm a 45 year old toddler, and everyone knows it.
I estimate the whole thing (iMac + Macbook Air – Macbook Pro – Cinema Display) will likely cost me a total of $300-800. The cost of an iPad, not coincidentally, as it happens to be the whole reason I started on this crazy journey.
Because here's the thing: and I'm just gonna come right out and say it.
I don't get the whole iPad thing. I'm a huge Apple lover. I usually want one of everything. I'm an original Mac PowerUser, going way back to 1984. To have complete newbies telling me how great their iPad is just… kills me!
Don't they get it? For only slightly more, you can buy a Macbook Air. It's only slightly larger. And it runs real software! It does everything! Well, almost, if you don't count the missing optical drive and ports.
I realize I am in the minority. iPad love abounds around me. Every single person I know who has one, loves it the way I love my iPhone. (Deeply.) And, oddly enough, after 20 years of marriage — every one of them with me touting the greatness of Apple and why Dave needs a Mac — I started overhearing him say to people that he was thinking of getting an iPad.
AN IPAD? SERIOUSLY? YOU? WHY?! SERIOUSLY?! WHEN?!
And then he tucked his head back into his shell and I haven't seen him since.
So I did what any toddler who loves her husband would do. I bought him one. And after a rocky start on a train with "free wifi" somewhere in Washington D.C., it has been love ever since. So, I'm starting to get the iPad thing. It's perfect for him. He absolutely loves it. (And he hates computers.) But it's not a computer. At least not yet. The iPad is for light duty email/browsing and media consumption. It is beautiful. And simple. And fun.
But it would drive me mental. I'm all about consolidating devices. For me, the iPad pretty much duplicates my beloved iPhone. I simply can't see the benefit to carrying the two devices around together.
What I could see was shrinking my MBP so that my shoulder doesn't fall off when I travel. And when I saw that 11″ MBA? I completely lost my mind. I had to scratch the itch.
I bought it "on trial." With the understanding that if I didn't like it, I'd return it within Apple's 14 day cutoff. Like any good salesperson — who I was totally upfront with — they encouraged me to do it, knowing full well I'd very likely keep it.
And I probably will.
I've got 5 days left to decide. I got the highest end Macbook Air 11″ with a 1.6 GHz core duo and 4 GB of DDR3 Memory.
I was worried it would not be snappy enough to run my Adobe CS5 Suite. And Aperature. And Safari and mail and…. I'm spoiled and like to have many applications open at once.
Not a problem. It is surprisingly snappy. I'm very happy with the whole thing. I am having some issues with the battery, though, that will require a trip to the Genius Bar. Users all say the battery gets 4-7 hours of use, while I can only seem to squeeze out 2, even with ClickToFlash installed (an application to stop Adobe Flash from loading unless you OK it. Flash is a known Mac battery killer.)
The other thing I was (and am) worried about is how best to operate with two different computers. I've never had to sync before. So I'm like a little baby, trying to figure it all out. –Wait. Make that a greedy toddler who wants to have her way.
After much research, I'm using a free 2GB Dropbox account, which gets rave reviews by absolutely everyone who uses it. It is very simple to use, but I don't want to pay $10/month for the extra space I would need to have my whole documents folder synced. They advertise free extra space when you get someone else to sign up for an account. So, if you are inclined to try it out, use this link and solve this crybaby's problem!
What frustrates me, is that I already pay $99 a year for MobileMe and 20GB of storage. The trouble is, MobileMe's iDisk just doesn't work like it should. Frustrating indeed. So for now, Dropbox is the star of this show. We are even using it to share files around the house. I'm so easy to please…
But really, who am I kidding? I doubt I can return my little friend. She's like one of the family now…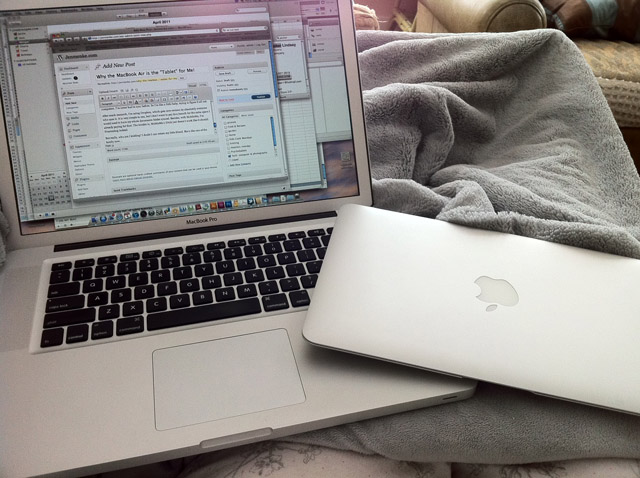 …and yes, as you can see if you look close, I'm still on the couch. Still in my jammies. Still sick. Someone told me I probably have strep. ???
Stay tuned.