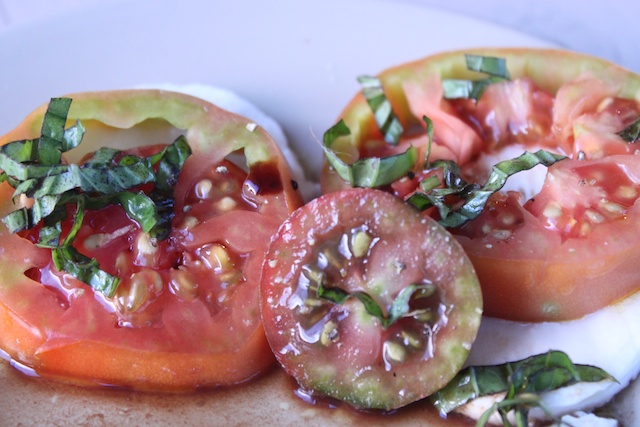 I feel like a loser. July 23rd and my first tomato of the season.
Maybe that's not so bad. I think I was waiting into August one year… But who really knows for sure. I'd share my "garden journal" with you, but I'm too lazy to scan it. Suffice to say, it is hardly conclusive. It contains things like:
First mosquito bite of the season 4/17
5/03: Cold wet and windy
Notes from '04: Chickens ate and pecked everything
And other profound and critical bits of information.
This year, if you remember, I got my plants again from a local grower. They were not quite as stunning as in year's past, but were every bit as intriguing: Blackcherry, Roman Candle, Green Grape, Potato Leaf, Green Zebra (old standby), Jubiliee, Greensilver, and… if I didn't plant a Brandywine, I will be ticked off! Did I not plant a Brandywine??!
July 26th (the day I am writing this) is hardly the time to realize I forgot to plant my favorite tomato. Let's table that discussion for now.
I finally picked a red tomato. It was the Blackcherry, which isn't a CHERRY tomato at all: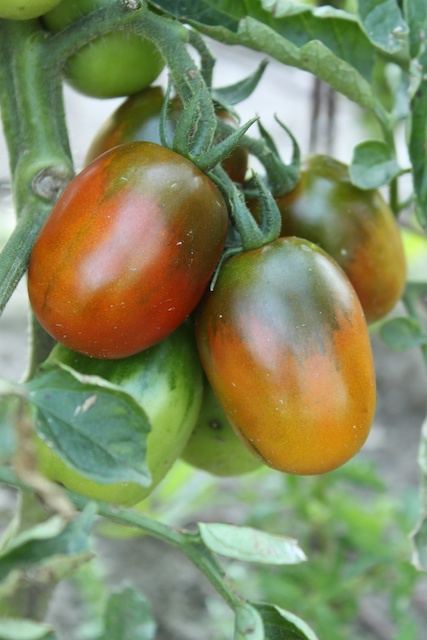 I guess it's hard to tell the size of these. They fit into the palm of your hand — exactly the size of a Grade A Extra Large Egg. And very pretty.
I'm excited for these to ripen, too. They're called Roman Candle
I'm very vexed by this one, called Green Silver: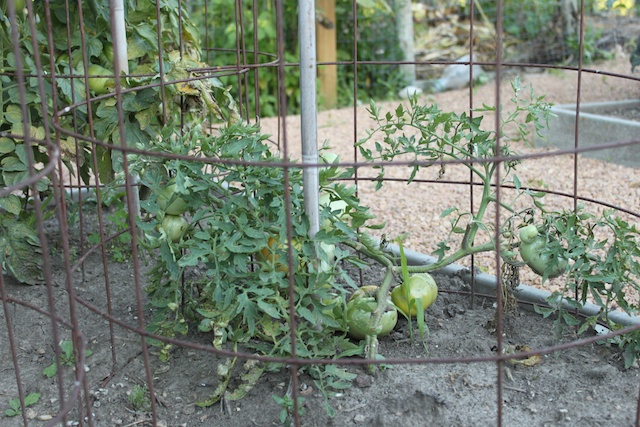 It's all flopped over and too heavy for itself. Stunted, floppy, lame. Plus, an unripe tomato fell off it and rotted already. Bad Juju.
In general, I'm not too happy with the tomatoes this year. For all the hot weather we've had, it seems to me they should be bigger and more laden with fruit.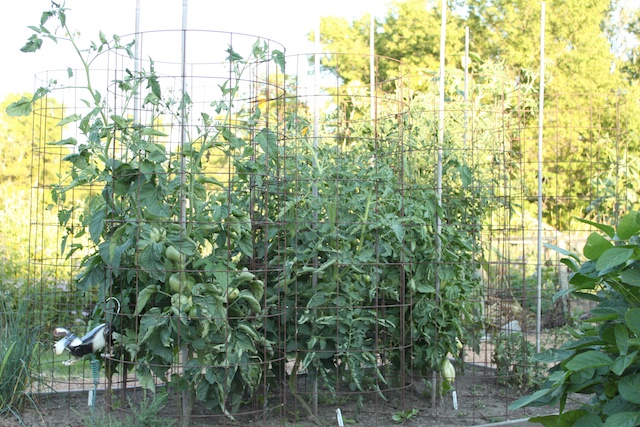 And, I'm not surprised at all to find the beginning of blight, with all the rain we've gotten. Inches and inches and inches of rain. Rain splatters the leaves with the dirt and causes leaf disease. From my perspective, life is too short to go through all the steps necessary to prevent blight. Believe me, I've tried.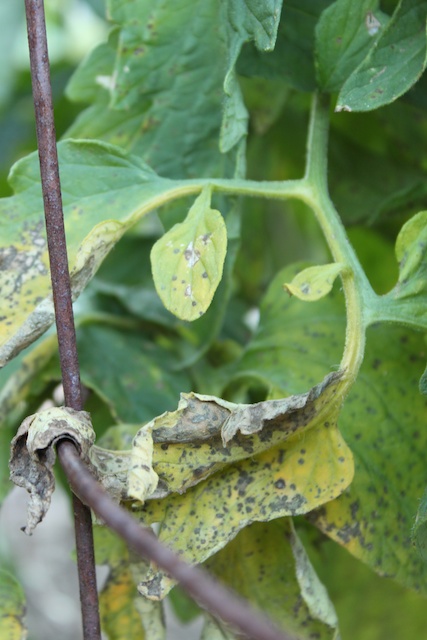 You can remove the affected stems, but — trust me — it won't stop the spread. It might slow it, but it won't stop it. Some varieties are more susceptible. I don't use chemicals, so I just live with it. Embrace the blight, I say. And leave it at that.
I am looking forward to gorging myself on tomatoes. Tomatoes with basil. Tomatoes with basil and fresh mozzarella. Tomatoes with basil and fresh mozzarella and avocado. Tomatoes with basil and fresh mozzarella and avocado and olive oil. Notice the increase in fat with each sentence? Only the last one reaches the true epiphany.
Feed me that (with balsamic vinegar, of course) and I will die happy.