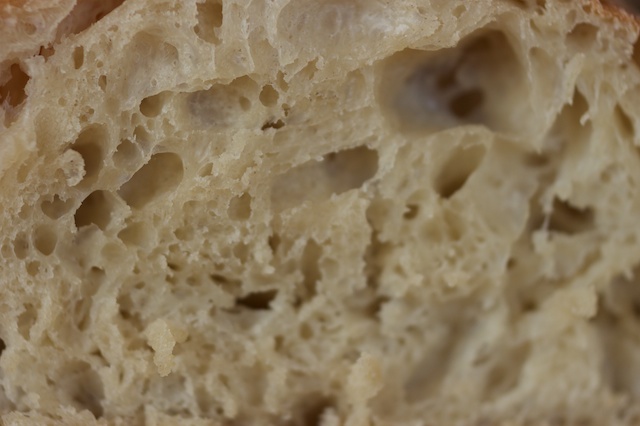 R

edux.

I know I have written about ciabatta bread before, and I have the video up on YouTube. Yes. It should be enough. But until everyone I know is making their own bread, it is not enough. This ciabatta bread is so easy, I just won't rest until you try it. So please, just comply. It will save me nag time.

Another thing:

Traditional ciabatta bread is made a little differently. I have made it that way, and I have made it this way. The traditional ciabatta bread is supposed to be better. Have more flavor. Better crumb.

Blah. blah. blah.

I just can't tell the difference.

Maybe I'm just too rough around the edges.

Or dumb.

Uncouth.

Unsophisticated palatte.

Whatever.

I guess my point is, unless you are more refined than I, you won't notice the difference either. So why go to the extra trouble when you can make it so quickly and easily? I keep coming back to my fast recipe. Start it in the morning, eat it in the afternoon, gone by nightfall. Go to bed. Repeat.

Anyway, I just thought that maybe if I posted pictures, instead of a video, maybe more people would read it and be engaged. Are videos off-putting? I have no idea…

I also think that maybe my weight version of the recipe could be off-putting. So I've tried to make it easy for regular volume measurement baking.

But you do need a stand mixer. So, if you don't have one of those, and still want to make this bread, visit thefreshloaf.com and search 'ciabatta no mixer'. There are lots of amish-types over there making it successfully by hand. And they probably have really nice looking, muscular arms, too.

Not me. I got a nice cherry red mixer so that I can have nice, puffy, shapeless arms.

Set up: Put a baking stone to go across one oven rack. If not using a stone, then plan to bake the ciabatta directly on a sheet pan/cookie sheet lined with parchment paper. Plan to add a few minutes to the baking time if not using a stone.

If using steam (which contributes to slightly more rise and a thinner, crisper crust), place a medium cast iron fry pan in the bottom of the oven which you preheat in the overn and pour hot water in to create steam.

Go get some bread flour, salt and instant yeast (I use SAF instant yeast).

Measure 3-5/8 cups of flour (500 grams) into the stand mixer bowl, add 2 teaspoons of salt (10 grams) and 1 teaspoon of yeast. Then add 2-1/8 cups of tepid water (485 grams). Mix on low with the regular paddle attachment for about 3 minutes and let stand about 20 minutes. [When I'm in a rush, I skip this step, having no idea what the purpose of it is.]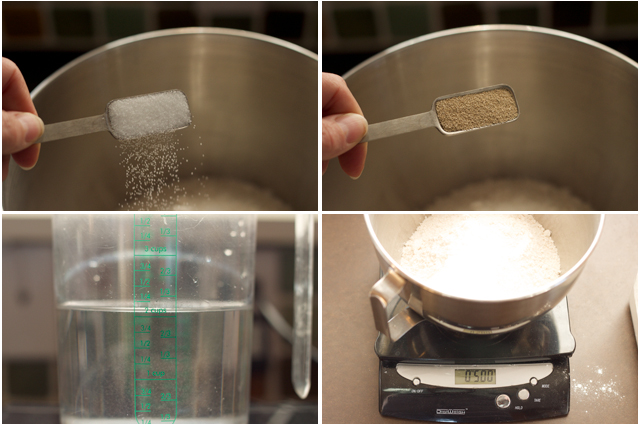 After the rest, turn the mixer to high (speed 8 on a KitchenAid) until the dough starts to crawl up the paddle. Wait too long and you'll have a mess on your hands, so watch carefully. I recommend a Mukka Latte and the newspaper to pass the time.
Once the dough begins to climb, clean the paddle off and switch to the hook, resuming mixing on medium high speed until dough begins to whack around the sides of the bowl and stay together, mostly clearing the sides of the bowl.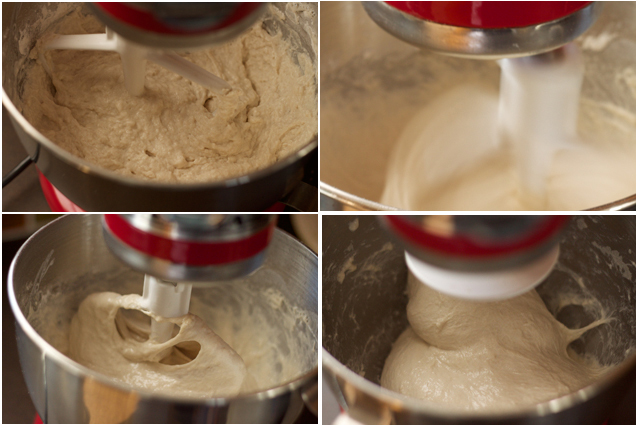 Pour into a greased container and cover either with a lid or plastic wrap.
Allow to rise as long as it takes to more than double the volume. For me it takes about 3-4 hours in the cooler months when my kitchen is about 66-67 degrees. It takes much less time in warmer months.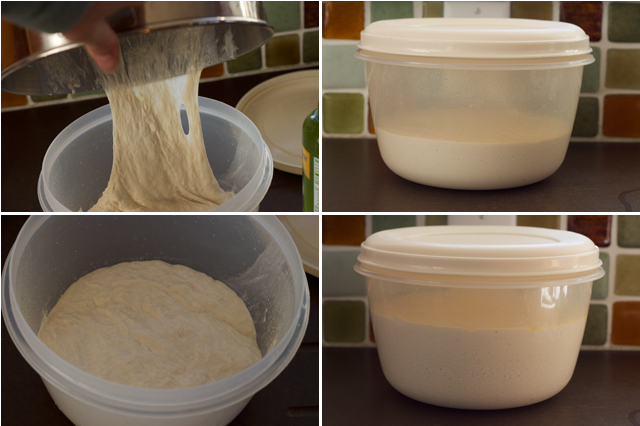 After it has more than doubled, dust the work surface well with flour and pour the dough out.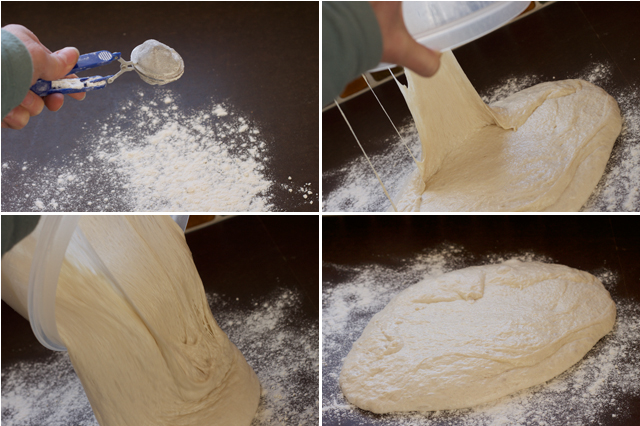 Flour the dough generously. Divide the dough into two equal pieces. Using two bench scrapers (big hand-held spatulas), lift, pull and stretch the dough, folding it over on itself once in every direction.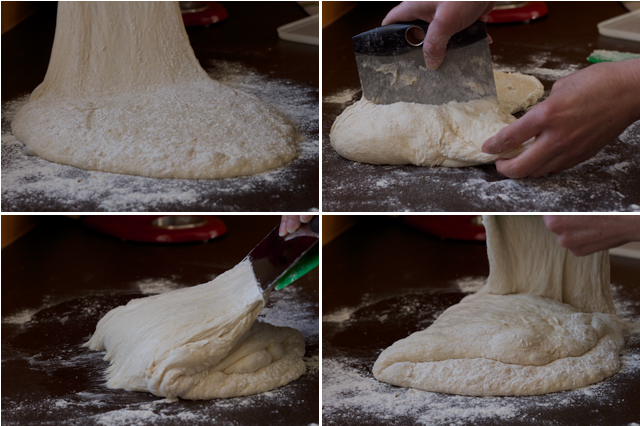 Flour well once more and cover well with a kitchen towel for 30 minutes.
Turn your oven on to 500 degrees around this time. Stretch and fold each piece once more then, using your knuckles, gently pound out the bubbles and mostly deflate the dough (bottom left photo). Dust more flour across the tops when your knuckles start to stick. Don't obsess about adding too much or too little flour. It will be impossible to completely flatten it — and you wouldn't want to. What you are doing here is getting rid of the bigger bubbles so that you don't have big, gaping holes in your baked bread. Even when you take this step, though, big bubbles do sometimes happen. After deflating, use the bench scraper, dust loaves well with flour again and coax the dough into the final shape of the loaves. Cover again for 30 minutes.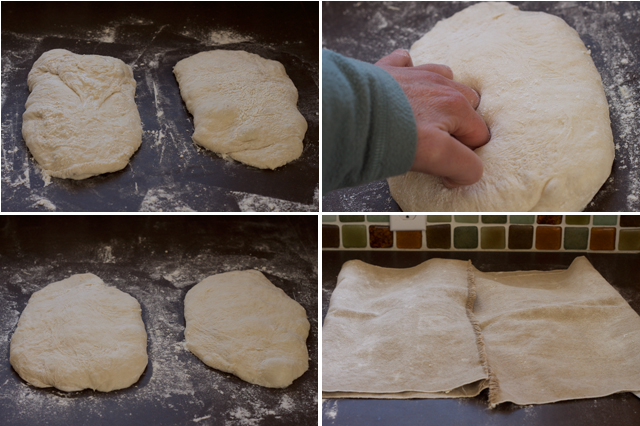 Dust a large sheet of parchment paper set on top of a similar sized cutting board, with flour. Using two bench scrapers (or any other MacGiver-type apparatus that works), scoop/pinch a loaf up/together and flip upside down onto the floured parchment. Dust the top with flour again, dip the scrapers into the flour and coax back into a nice loaf shape. Repeat for the other loaf. Dust with flour again before baking.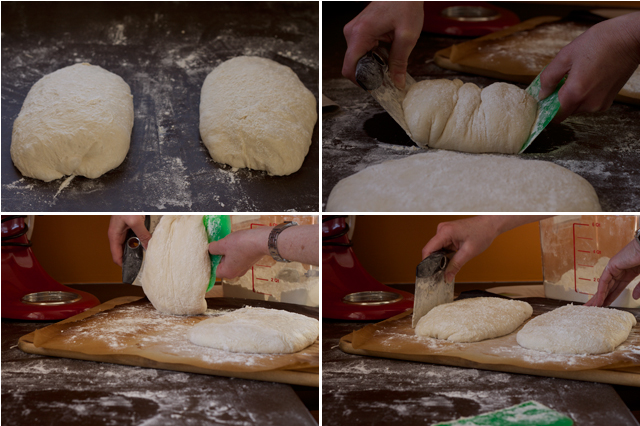 If using steam, fill a cup with about 3/4 cup warm/hot water and have it ready. Slide the loaves, along with the parchment onto the baking stone. Then carefully pour the hot water into the cast iron pan below. Shut the oven door and set the timer for about 8 minutes. You'll want to keep an eye on things, however. I moved my loaves from front to back about 3/4 of the way through the baking time because the rear position tends to burn. You will learn your oven better after you make bread a couple times. 500 degrees is hot and things are a little more intense at that temp.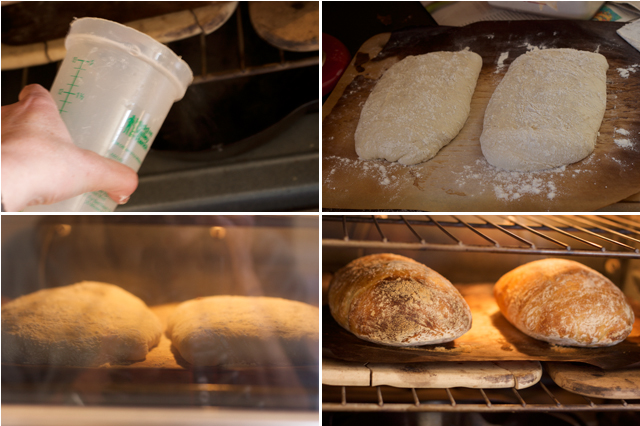 When the loaves are well browned, remove to a cooling rack. Internal temp should be at least 200 degrees. Let loaves cool completely before cutting. If you can't wait, just know that the bread will compress if you cut it before it is cooled and the interior will be a little damp and mooshed. [But it will still taste good.]