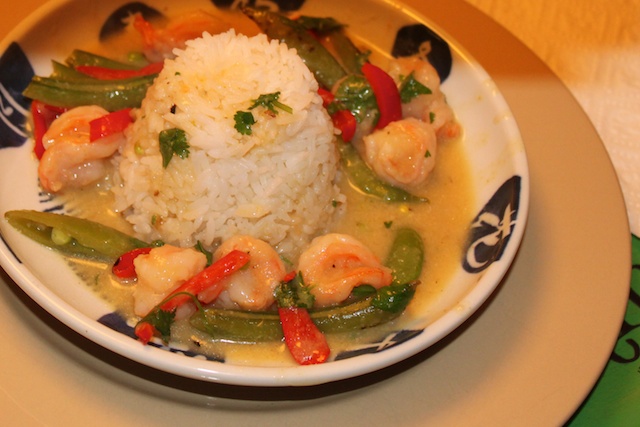 Coconut Green Curry with Snap Peas (and Shrimp)
My original intent had been to lump this recipe with Meatless Monday 40 and compress the agony into one post.*
"But that's not how I roll."
I just hate that saying. So I just had to say it.
I'm going to sit here and write this until I am done. It is 11:23 am. I am so badly anticipating my lunch of leftover fried rice from last night that I am hoping it will be motivation enough.  (I had to leave a blank space in front of the word "enough" (now underlined) because I cannot think of the word that I want to use! It is at the tip of my tongue, and this happens to me several times a day. My vocabulary has left the building. It is driving me crazy. Hopefully, by the time I am dying of starvation and desire for my fried rice, it will come back to me.)
[
I came back to the space before "enough" and had to give it another 30 seconds. Then I remembered —

motivation

! So happy. Yesterday I couldn't come up with the word "alienates." I am fearful for my future. Is it menopause?
]
As much as I love my Aroy-D brand green curry, I didn't know about it until well after my foray into green curry recipes. Today's recipe is a forerunners to the discovery of my favorite green-curry-in-a-can, Aroy-D. I am a bit ashamed to say that I have never actually made my own green curry paste, as urged in The Big Bowl cookbook, where this recipe is adapted from, though. They claim you will never know how good it can be until you make it yourself.
But I hate shopping. And I really hate hunting for obscure ingredients.
And so, I have never made curry paste. Because, as you might imagine, there are a lot of obscure ingredients required when making it from scratch.
Instead, when curry paste is called for, I've used Thai Kitchen brand. It's pretty good. They changed their recipe years ago, though, which really ticked me off. It used to be made fairly mild and you added your own heat. Back when I had toddlers, that was a must. We couldn't serve them green curry inferno, now could we? So I always just added more spice to Dave and my dishes. It was a real problem when they changed it while my kids were still young. My solution was to hold way back on the paste and complete the recipe, take portions out for them, then stir in the rest of the curry paste for Dave and I. It worked well, but it still made me mad.
I hate when manufacturers of green curry paste do that, don't you? It puts them on par with bra and underwear makers. Victoria Secret recently changed the cut of their "low rider bikini." Suffice to say, I am in Hell today.
So anyway, this was my first favorite green curry recipe. I know shrimp isn't an option for vegetarians, but it counts as meatless for me. Vegetarians can substitute tofu, or just make sure to coat it with cornstarch and sesame, since those flavors are such a big part of this recipe and the cornstarch slightly thickens the sauce.
*Agony being the retelling of the tale, not the agony of Meatless Mondays. Just so we are clear.
Coconut Green Curry with Shrimp and Snap Peas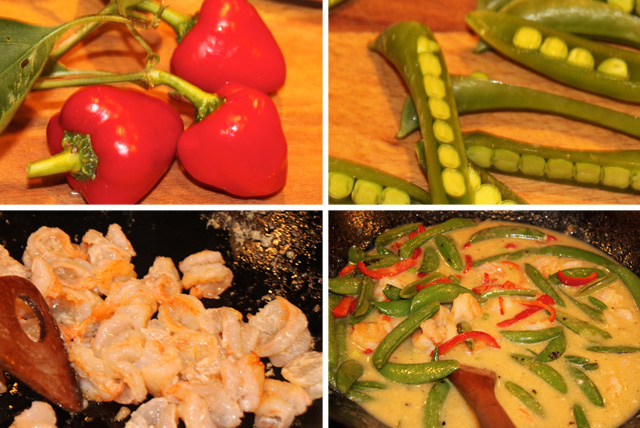 2 cans light coconut milk
40 medium raw, deveined, shell-on shrimp, peeled*
2 T cornstarch
1 T sesame oil
2 T fish sauce
1 T lime juice
1 T sugar
1/4 cup vegetable oil, less if you have a nicely seasoned wok
1 large sweet red pepper, julienned
I have no idea how many sugar snap peas: If you are a counter, then figure 20-25, Cut fat ones on the diagonal
2 heaping Tablespoons of green curry paste (or to taste)
1  c chicken stock*
steamed jasmine rice
chopped fresh cilantro (optional)
Put the coconut milk in a saucepan and simmer over medium heat until reduced by half. This takes about 20 minutes. If you don't have the time, then skip this step but reduce recipe to 1 can. Broth will simply be thinner.
Toss the shrimp with the cornstarch and sesame oil and set aside. Stir together fish sauce, lime juice and sugar. Set aside.
Heat wok up to smoking point and add oil. When hot but not smoking, add the shrimp and cook until barely translucent, about 3 or 4 minutes. Remove from pan leaving any remaining oil.
Add the peppers and snap peas to the wok and toss over high heat. Push to the side and add the curry paste, mashing it with a fork, then add the chicken stock*. After a minute or two add the coconut milk. When hot, stir in the shrimp and fish sauce mixture.
Serve over hot rice and sprinkle with cilantro. Serves 4 with the requisite container of leftovers for my lunch the next day.
*I sometimes use stock made from the shrimp shells in place of chicken stock. You just save the shells from the shrimp and add to 2 cups of water and simmer until reduced to 1 cup. Strain the shells. I encourage you to try it. It allows you to feel superior, smug and frugal all at the same time. In the photo below, I tried to get even fancier. I added the shells to the coconut milk, thinking I could save myself one more dirty pan. I don't recommend it. It is too hard to strain. It allowed me to feel inventive, smug and stupid, all at the same time.