Refreshing and Filling, No-Cook Summer Salad
I'm totally guessing what number Meatless Monday I am on. I haven't written in over a week, soccer camp starts in an hour, I only have 32% battery left on my laptop and TIME'S-A-WASTING! I've got to get the MEAT of the post before I turn into a pumpkin.
Speaking of pumpkins… Mine are so behind that I am scared I won't have any for Halloween. Not to mention watermelon in August…
It's impossible for me to get to the point. You know that, right?
For the record, we have not stopped doing Meatless Mondays, I just am not up to date on them. Due to the hysterical nature of the past four weeks of my life, we have also suffered some repeats. I never know what to do for repeats. Is that cheating? I mean, I never set out to become some "Julie and Julia"  by doing something new every time, but for some reason I feel like repeats are lame. Maybe I'll just pick one thing out of a meal for a repeat. Oh I don't KNOW! No wonder I never get my posts written!
For this meal, I actually followed a recipe. Well *almost*. It's called Tabbouleh with Garbanzos.
But I don't call it Tabbouleh. Because for those who don't know what Tabbouleh is, I feel that the name can cause one to flip the page (or click the button) too fast. Or glaze over. Or ignore it. It's like Falafel. I sort of say, "hmmmm…" and move on. To avoid that fate, I call this recipe:
Bulgur Wheat with Garbanzos.
So there.
Tabbouleh is made with bulgur wheat. And what is bulgur wheat? It takes like yummy, nutty rice. But tabbouleh is also made with lots of chopped parsley, which I never planted this year, therefore my recipe is not really tabbouleh after all. My recipe was adapted from Lynne Rossetto Kasper's Free Weeknight Kitchen emails that I receive each week. They are always inspirational, whether I cook them or not. Plus, I get to absorb all her knowledge and experience without having to listen to her podcast, which I never seem to have time for anymore.
We've had about the most humid and stinky summer that I can remember. But then, I can't seem to remember anything any more, so that might not be saying much. Suffice to say, turning on the oven or the stove doesn't sound like a good idea.
Oh, I forgot to tell you that we didn't have air conditioning for a few weeks, due to that pesky lightning strike. Or did I tell you? I can't remember… Isn't this fun?
Never mind. the point is that you don't need to cook ANYTHING!
Well, wait a minute. You do have to boil 2 cups of water, but you could do that in the microwave if you wanted.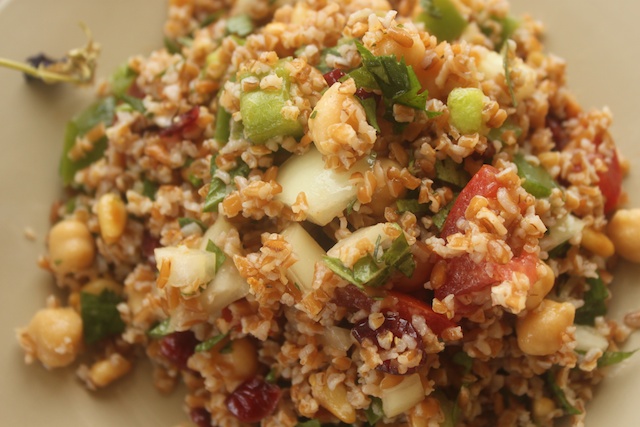 Bulgur Wheat with Garbanzos
2 cups bulgur wheat
1/4 cup olive oil
1/4 cup fresh lemon juice
1 t salt
ground black pepper
a few pinches each of cardamom, ground coriander, cumin and cayenne
1 large clove garlic, minced or pressed
1 tomato diced
1 cucumber, peeled and diced
1 small onion, diced (about 1/2 a cup or more)
1 can garbanzo beans, drained
1/3 – 1/2 cup toasted pine nuts
1/3 – 1/2 cup craisins (dried cranberries)
1/2 cup (or whatever you can find that your husband didn't weed whip) chopped fresh mint
1/2 cup (or whatever you can find that hasn't gone to seed) chopped cilantro
6 large leaves of fresh basil. Don't cut until ready to serve or it will turn black
Put bulgur wheat in a large bowl and add 2 cups of boiling water and stir. Let stand 30 – 60 minutes. (if there is standing water after that time, drain it before proceding)
In a small bowl add lemon juice, salt, pepper and garlic. Whisk in the oil to make an emulsion. Add the spices which of course are optional if you don't have them. Never, I-repeat-never, make a special trip to the store.
Add the tomato, cucumber, onion, garbanzos, toasted pine nuts, and craisins to the bulgur and stir with a fork. Add the mint and cilantro and drizzle the dressing and stir well. Before serving thinly slice the basil leaves and sprinkle over the top.
Salad can be served room temperature or cold.
I swear to God, even my kids liked it. I simply could not believe it. Maybe it was the heat that addled their brains?