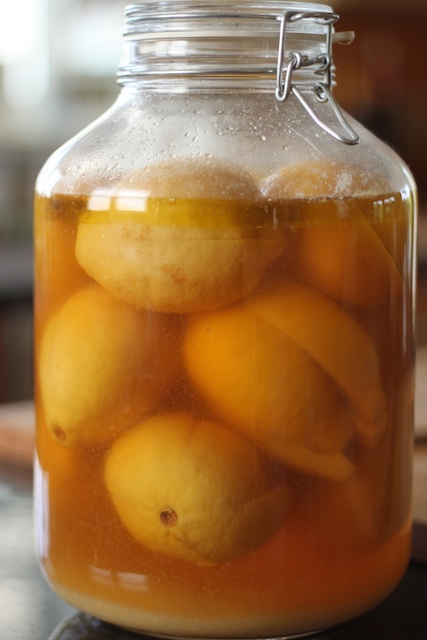 That is the question.
A question, I hope, that I have answered, since we are now actively eating them. No one has died. No one has even gotten a stomach ache. So, hopefully we've ruled out botulism.
I'm sure that inspires you not. But, who knows. You sit here reading this blog, don't you? Who am I to make judgements about what you actually will, or will not, do?
Am I endorsing the making of preserved lemons? No. No, I'm not. Frankly, I don't think they are all that. But then, maybe I made them wrong. Well, I mean, I know I made them wrong, as you will soon see. But you are still eating lemon rinds, for pete sake. How good can they actually be, even if you have made them right? (This is where my faithful readers should chime in and tell me how wonderful preserved lemons are.)
But hopefully, you all know me well enough to know that, dammitalltohellanyway, I will be making them again. The right way. Just to see if I am missing some gourmand gene that allows me to swoon over preserved lemons like my friends do.
For your ensured longevity, I will be giving you the correct technique for preserving lemons. For your reading pleasure, I will tell you how I preserved mine.
Correct Technique #1: Start small. Buy 8-10 lemons. Use a quart canning jar. Because, you will probably never eat them all anyway.
Incorrect Technique #1: Buy a 20 lb bag of lemons at Costco. Buy a 2-gallon canning jar at Sur La Table.
Correct Technique #2: Optional. Soak the lemons in water to soften the rind for three days, changing the water daily.
Correct Technique #3: Cut the lemons in half lengthwise almost through to the other side, leaving the stem end intact. Rotate 90 degrees and cut again lengthwise so it is quartered, again leaving the base intact. You should be able to open the lemon like a flower. Sprinkle the insides of the lemon generously with salt.
Correct Technique #4: Put 2 tablespoons of salt in the bottom of the sterilized jar and pack lemons tightly into the jar, squishing them mercilessly so that juice is extracted and rises above the packed lemons. If necessary, add more freshly squeezed lemon juice** to cover lemons. Top off with another 2 tablespoons of salt. Seal jar and put in a dark, cool place. Every few days, tip jar over to move the juices around. The lemons will be ready in about 30 days.
Incorrect Techniques #2, #3 & #4: After preparing the lemons, pack them into the far-too-large jar. Decide that looks are more important than preservation, and spend a lot of time making the lemons look good inside the jar. You'll be putting these on your counter, right? Next, after realizing you will need another 20 lb bag of lemons from Costco in order to come up with enough fresh juice to cover them, determine that the bottled organic 100% lemon juice you have in the refrigerator from Costco is just as good a freshly squeezed. Add everything you've got. Note that your lemons still are not covered with juice. Since your lemons are not squeezed and packed tight into your jar, they are free to bob around inside and float to the top. Because you are now out of 100% fresh organic bottled juice, and suddenly understanding that you will need another 4-5 cups of juice, since the damn lemons float, add a little water. (This is a cognizant and flagrant departure from the the very vague recipe your dear friend verbally related to you at bookclub about four months ago. And it feels…wrong.) As you begin to add the water, you have a better idea. Isn't olive oil a preserving ingredient? And maybe the lemons won't float so much in the oil. Great idea! You are a good ad-libber! You add about an inch of olive oil to the top. Since you have yet to have your very handy MacBook Air in the kitchen with you to quickly and easily google a recipe, and since you are also very late on time, you do not bother your sometimes-pretty little head about this detail. You cook and can all the time. It will be fine. You shut the lid and put it in a dark, cool place.
(To ferment.)
The lemons will be ready in about 30 days.
Correct Technique #5: Enjoy your safely-perserved and no-doubt delicious lemons by removing a lemon with a clean untensil to prevent contaminating the container with bacteria. Cut the lemon (rind only or rind and flesh) in small pieces and add to what ever you want a bright citrus note. A little goes a long way. (Or so I'm told.)
Incorrect Techniques #5, #6 & #7: You are excited to try these delightful things.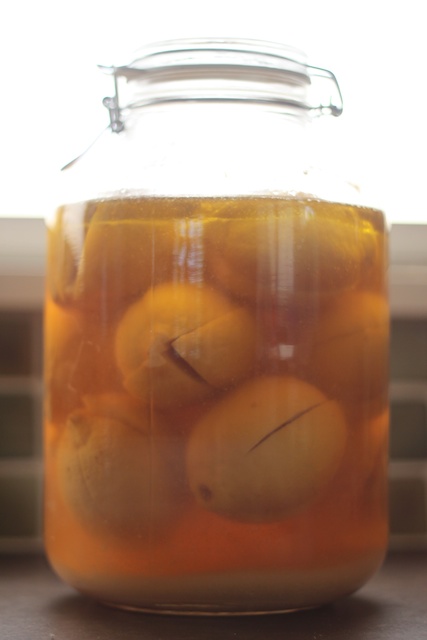 Carefully open your overly large jar of bobbing lemons. (Learn from the master here and consider safety goggles.) Stand back as the flip top explodes off the jar backward on its hinge and bruises your hand.
Hmmm. Can that be right?
Since you now DO have your MacBook Air in the kitchen with you (safely ensconced with a user password so your Facebook stalking daughter can't steal it), google, "What should preserved lemons look like." Spend a lot of time that you do not have reading about all the things you did wrong. Stir the lemons around to release all the carbonation and re-cap. Store in a cool, dark place for another 30 days.
Maybe they will go away.
Since they don't go away, and since your very well-intentioned husband continues to buy way more than you need during his pilgrimages to Costco, re-organize your cool, dark pantry. Push the lemons to the left. Dust the glass. Stare at the swirling liquid. Shut the pantry door.
It's time to vacuum and mop. And yes, it's time to do the pantry floor. Move the preserved lemons to the right. Mop underneath. Move them back. Shut the door.
Can they really be that bad? Maybe the carbonation is normal. Maybe the carbonation is gone. Open the jar by protecting your hands with several layers of towels. (Brilliant idea, by the way.)
No, the carbonation is still there, gurgling to the top long after the lid is opened.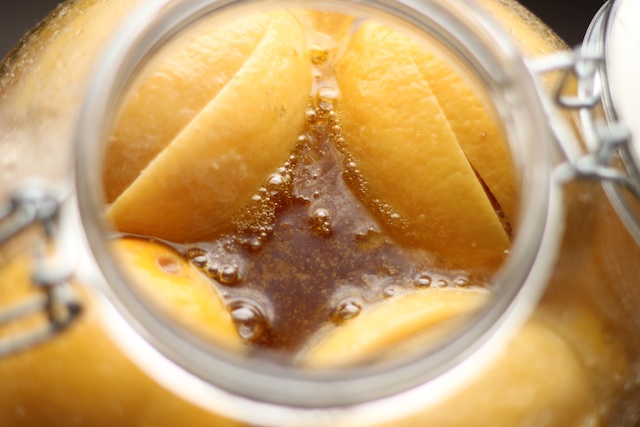 On the positive side, there is no obvious mold and they smell delightful!
Spend more time reading about preserved lemons. Try not to focus on the fact that you highly suspect you don't even really like preserved lemons and that this is nothing but a stubborn and giant waste of time.
You learn:
the carbonation is from the bottled lemon juice. A well-known no-no with no explanation as to why.
other cooks have also experienced bubbly preserved lemons, asking if this is 'normal' on cooking sites, forums and places like yahoo answers — which, from my experience is not a place for answers.
in these forums, no one has screamed (in capital letters) DON'T EAT THEM! DANGER! DANGER! They only say things like, "no, that is not normal. did you use bottled lemon juice?"
olive oil is mentioned no where.
botulism is a scary, strange, odorless, deadly bacteria. I do not want botulism. However, it is unlikely to grow in so much salt and acid. (I did not learn that on yahoo answers.)
you have made non-lethal, slightly fermented, preserved lemons. Something closer to limoncello, the Italian lemon liqueur. (This is not necessarily a bad thing.)
You decide:
you will try these "preserved lemons" by first eating them yourself. You have lived a good life. Even if you die, you will have time to say goodbye to loved ones.
they are OK. Nothing so great as to merit all this angst, however.
you live, unscathed, and begin to serve them in everything, including the hot new Asparagus Quinoa Salad, where you think they actually might deserve a permanent spot.
And finally, next time, you will follow the recipe.
** Only fresh squeezed, out of the fresh, yellow fruit, juice. Not bottled. Not water. No olive oil.