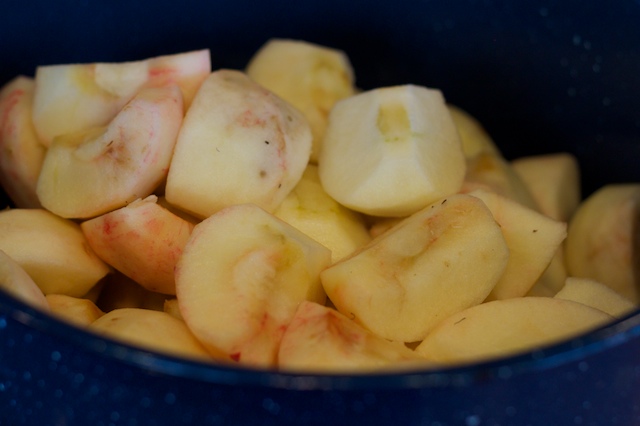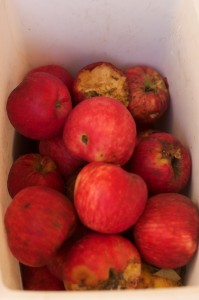 Guest Starring Michelle Sandquist!!
Like the pies, I procrastinated this post as long as was humanly possible. You know how people piss and moan because the high temperature for the day might be in the 30's here in Minnesota? In October? Well I was like, "YES! The apples in the cooler outside will be JUST FINE! I can procrastinate another day!" And since our average daily high during October was about 10 degrees, I was 'just fine' for an awfully long time. For the record, I was the only one bemoaning our two sunny October days in the high 50's.
But I made it! As of yesterday at 9 pm, I am done with the apples! Well, to be honest, I still have this stash, which I completely forgot about behind the pine tree. Which, now that I look at this photo closely, I see that, aside from the mouse-chewed ones, it looks like there might be quite a few more ugly but useable apples that I can…
Let's not think about that right now.
Last weekend, I had my 2nd annual pie-fest with my friend Michelle. She's not that into cooking, but she likes being able to take home a bunch of pies, does what she is told, and is very fun. So I let her into my bubble. Aren't I nice? It took us about 5 hours to make 11 pies, but we sure used up a lot of those damn apples. Win, win.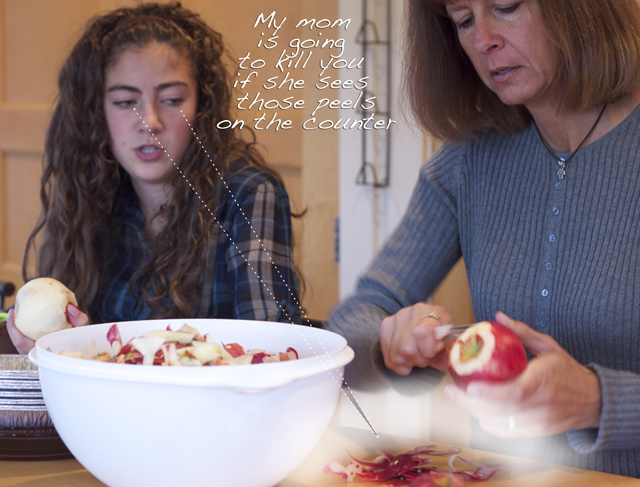 I won't belabor this pie making thing. Don't get me wrong, it was a labor to make them, but I'm not going to belabor the process. There's a kazillion recipes for apple pies out there and mine is nothing special. I, personally, use the one from Cook's Illustrated Best Recipe cookbook. I make the crusts myself, not because I'm good at it, but because I am too cheap to buy 15 boxes of Pillsbury All Ready pie crusts — which, I swear, are delicious and taste home made. Maybe I'm just not a crust aficionado, but they do seem to fool an awful lot of people who eat them.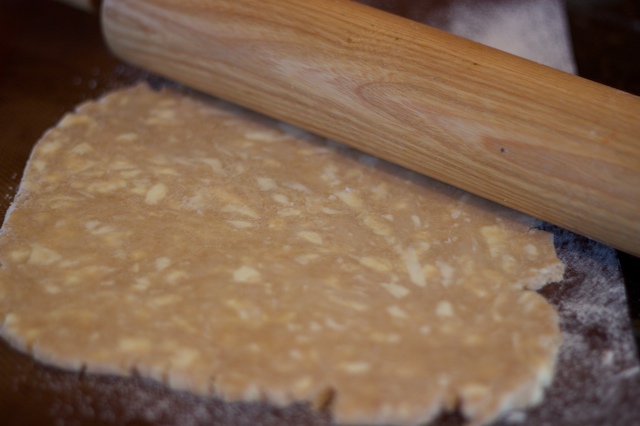 At any rate, I use the same book for my pie crust recipe. Someday, I'd like to try the whole lard/leaf lard route with crust to see if I can really appreciate the difference, but I suspect, for me, it will be much akin to the taste between cuts of steak. I like them all. And I actually almost prefer a good chuck roast to a filet. Anyway, I digress. Again. So, sometime in the future, when I 'm not working full time for every tom, dick and harry charity out there, I'll give lard a try!
Our process is that Michelle (and Morgan if she deems us worthy to be graced with her presence) peels, slices and mixes the apples.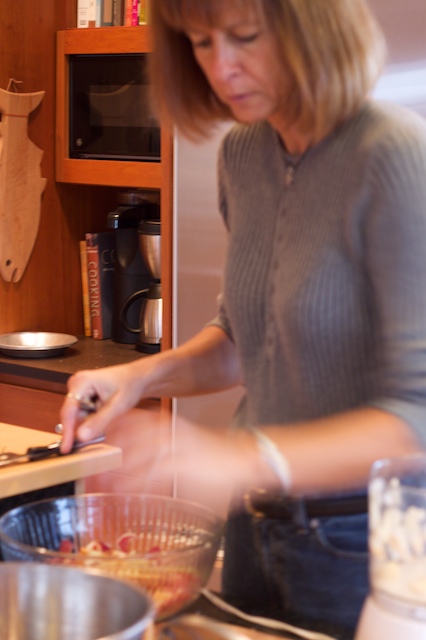 I have already assembled the crusts ahead of time and they are in the fridge. Then I roll, she assembles, and I top and crimp the crusts.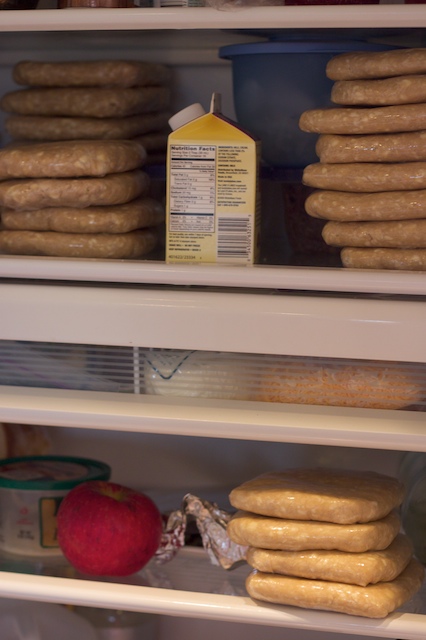 The pies are made to be frozen. So I add about 1/4 cup more flour than the recipe calls for to the pie innards to combat all the juices that are inevitable with frozen pies. Oh, and I hate allspice so I skip it. Well, yes, I do also add some butter to the top, too. Then, I mound the apples as high as they will go.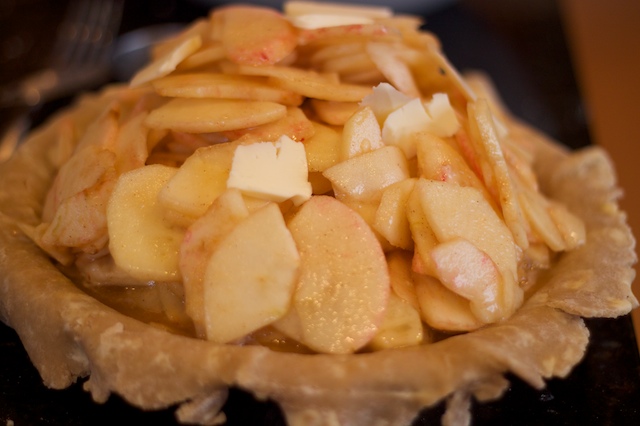 My helper, however, did not really grasp this concept, so the pies are a picture of evolution as I bossed her around telling her "maybe a little more" at least five times.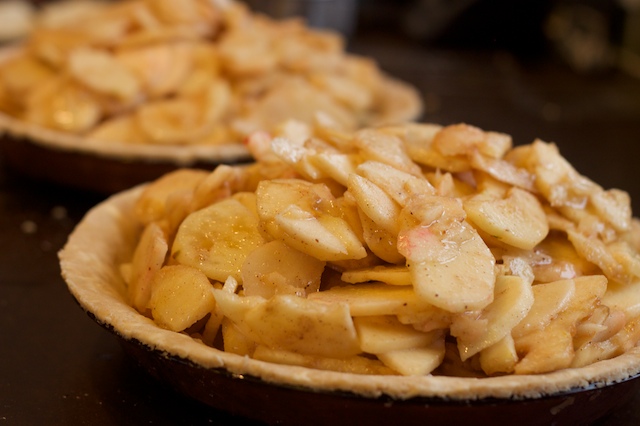 I use a mix of my apples: Honeycrisp, Harlson, and 2 mystery apple varieties. I slice them thin, because I like to use the mandolin or food processor. Because I'm lazy. And because they seem to cook more evenly. (Hate hard apples inside of pies!).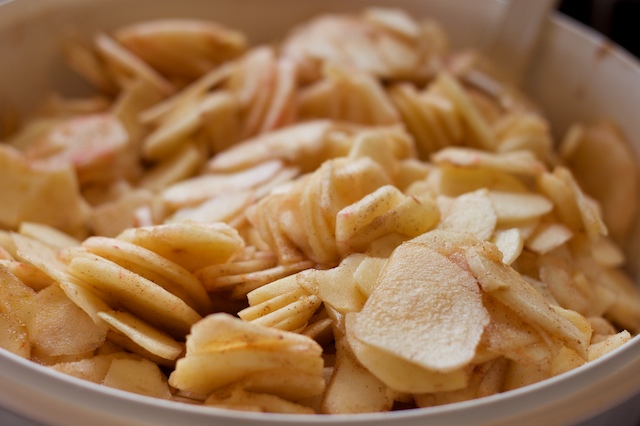 Besides being lazy, I'll tell you something else. I am miserable, I mean really horrible, at decorative pie crust crimping. Sitting here and thinking about this utter failure on my part, I'm hard-pressed to come up with another thing (well, except hand made artisanal breads) that I have tried very hard to succeed at and failed. Really. I don't get it, but I can NOT achieve a pretty, fluted crust edge.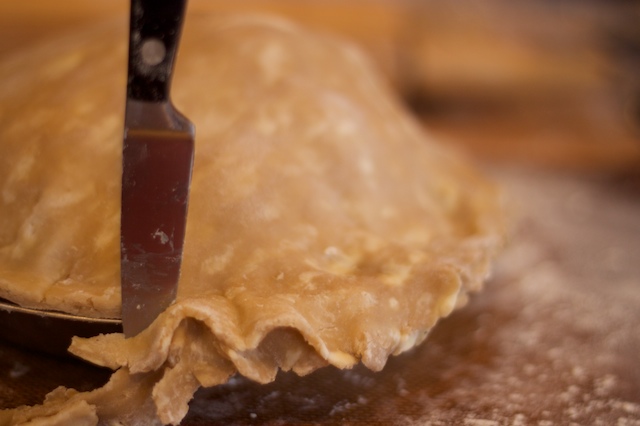 It looks good when I'm done, but it flops down in the oven. Yes, I've tried all the tips and tricks. Don't insult me with your well-intentioned suggestions. I'm just plain bad at it and I give up. Hence the pathetic forked edges. They work. Better, they fit in the stupid freezer bags! So, we basically make the all the pies and instead of cooking, we freeze them. To cook, you bake from the frozen state in a 400 degree oven for at least an hour. You'll want to always place them on a cookie sheet to bake though, unless you like cleaning burned sugar off the floor of your oven! So that's the pies.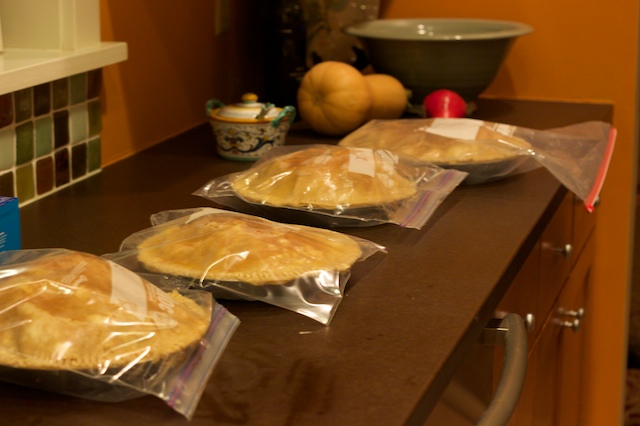 And then there was the JELLY!
The food miser refused to throw out any peels or cores.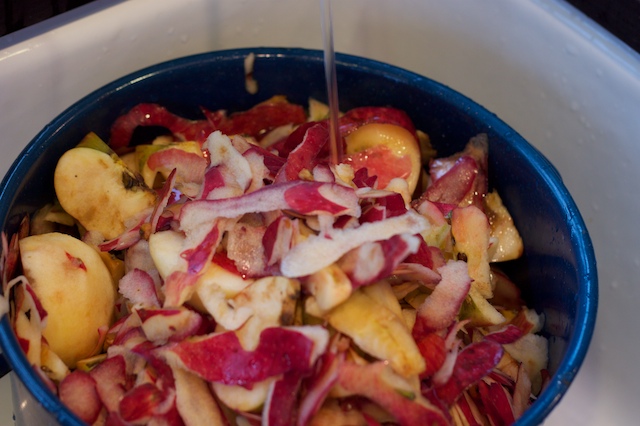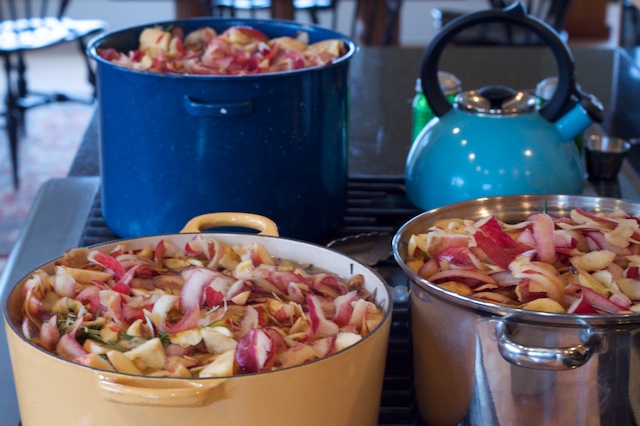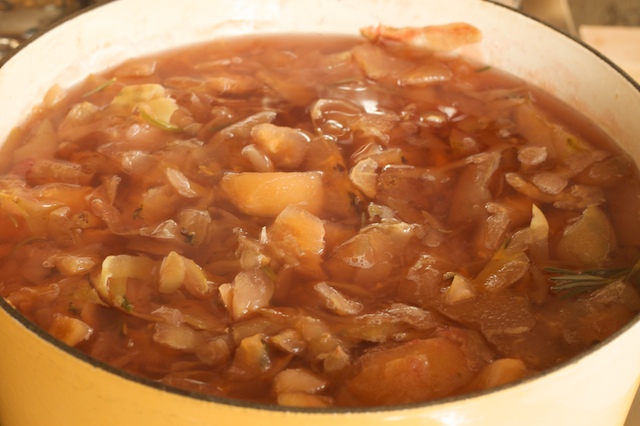 She boiled three huge stock pots full of the garbage and was left with over 40 cups of pure pink juice. Seriously? Forty? Yes. Forty. I told her to just throw some away. But she wouldn't. She couldn't. The upside is that she now has enough to share with almost anyone who knocks on her door. So, if her UPS man ever comes across this blog, he will understand that she isn't hitting on him. She just can't waste anything. Not the juice from the garbage. Not the jelly she made from the juice from the garbage.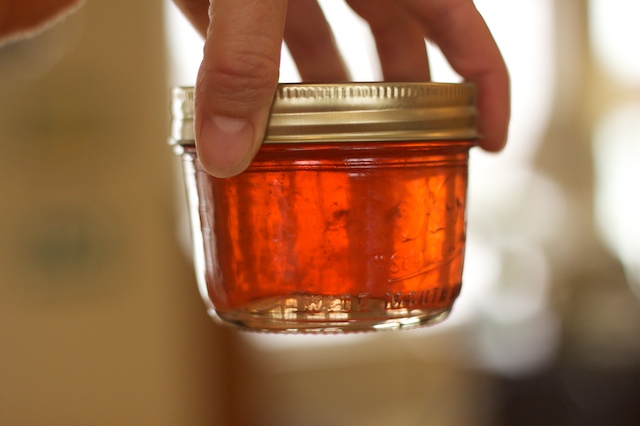 Why wasn't I a writer? It just pours out of my fingers like rain from an October 2009 Minnesota sky.
Please don't think I was serious about that last sentence. What I meant to say is that it is so easy. What's hard is going back and deleting at least half of it. What? You thought I hadn't edited this? Well I have.
I think the Apple Rosemary Jelly is my single greatest culinary achievement. If you don't know me to ask for some, please try making it. It's so easy.
And then, the Cookies!
And now for something that isn't mine. It's my friend Sheila's. And she would say that it belongs to Sandy Moore who posted it on allrecipes.com and she is right. Got to give credit where credit is due. And credit is due. Sheila had been moaning about these cookies for a good month before I asked her to hand over the recipe. Amazing. Sheila's spin on them was to replace the 1/4 milk and 2.5 tablespoons of cream with cider.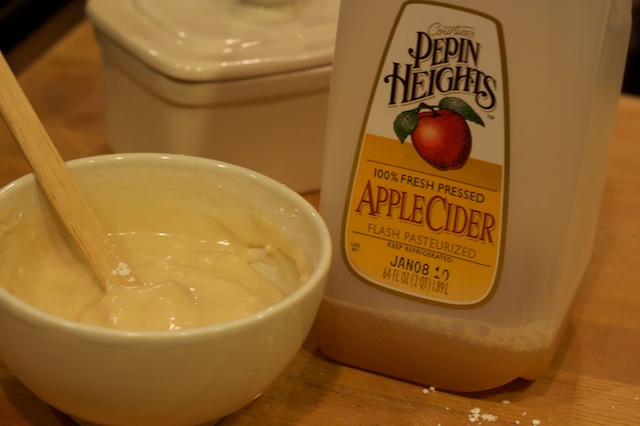 To be fair, I made them both ways. The cider was so much more apple-y. Everyone liked them better. My take on the recipe would be to get rid of the shortening, but only because of the trans fats. I had shortening, so I did use it. The cookies are super soft and good eaten all day long, with all types of beverages, in any company. Get the point?
Here is the recipe:
Glazed Apple Cookies
1/2 c shortening (or butter)
1 1/3 c packed brown sugar
1 egg
2 c flour
1 t baking soda
1/2 t salt
1 t cinnamon
1/2 t ground cloves
1/4 t ground nutmeg
1/2 c chopped pecans (original recipe calls for 1 c walnuts)
1 c diced apple (I used 1.5 c)
1 c raisins (ish)
1/4 c apple cider
1 1/2 c powdered sugar
1 T soft butter
1 t vanilla (original recipe calls for 1/2 t)
approx 2 1/2 T apple cider (original recipe calls for half and half)
1) Cream shortening (or butter) and brown sugar, then beat in egg.
2) Stir together dry ingredients.
3) Add half of dry ingredients to creamed mixture. Then stir in apples, nuts and raisins (ish). Stir in remaining dry ingredients.
4) Add 1/4 c apple cider. Mix well.
5) Drop from heaping tablespoon onto lightly greased cookie sheet (or silpat mat). Bake in preheated 400 degree oven 10-12 minutes. Careful toward the end. they get brown fast and burned bottoms just won't do!
6) To make glaze, combine powdered sugar, butter, vanilla and enough cider to make spreadable glaze. Beat until smooth and spread over warm cookie.
7) Try. Seriously, try, not to eat them all in the same day. Save one for coffee tomorrow.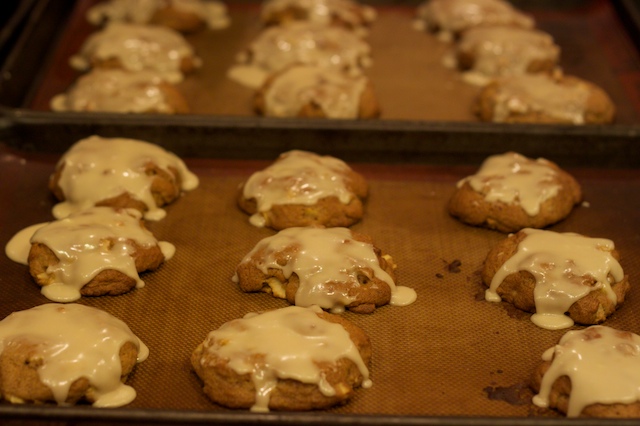 And that, my friends, is the conclusion of my own personal Apple Hell. Now it's on to window washing, which is even worse.