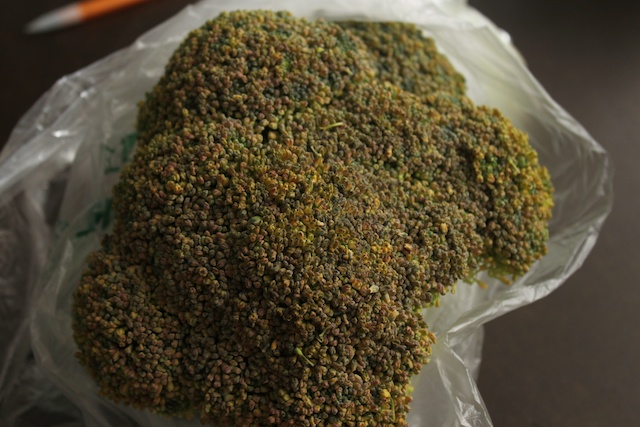 I wonder myself sometimes.
I bought this formerly lovely broccoli — I don't know — a week ago? Two? Actually, now that I think about it, Michelle Sandquist bought the broccoli for me when her family came over for dinner last weekend.
Oh dear. I just looked at the calendar and realized it wasn't last weekend it was the weekend before last. July 9th to be exact.
OK, so the broccoli was 15 "crisper days old" when I unearthed it and decided it was "just fine".
Yes, it looks bad, but honestly, it tasted "just fine." Not slimy at all. Just strangely brown colored…
I simply vigorously rubbed the brown nubbins' (Morgan absolutely hates the word "nubbins" and so I use it just as much as I possibly can) into the sink…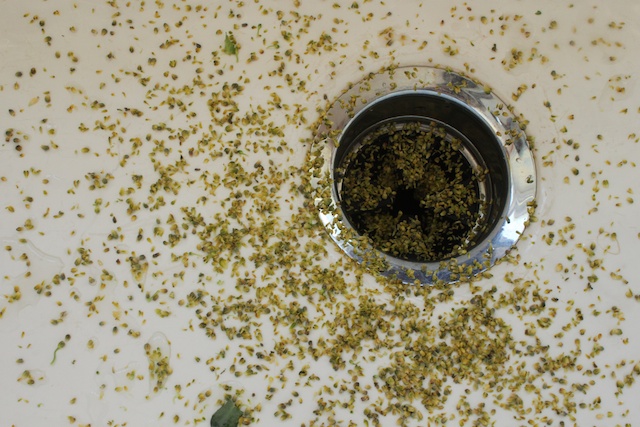 and proceded with the recipe I intended to make two weeks earlier.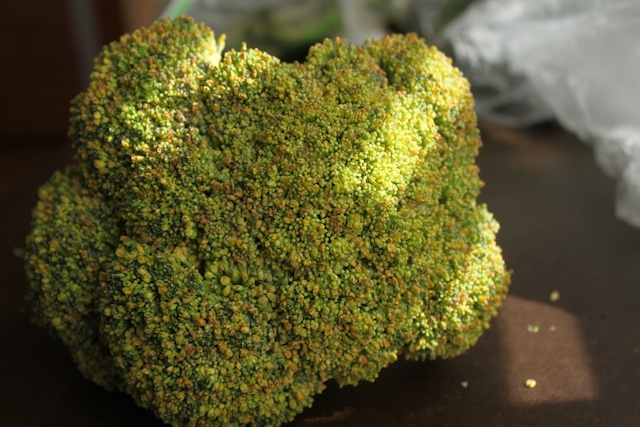 I've mentioned I've been busy lately, right?
This salad was served at who-knows-how-many graduation parties this spring. I have always loved it, saying "What IS the dressing on this? It's SO good!" to many a hostess, only to be met with blank and/or incredulous stares.
Apparently, EVERYONE knows how to make this salad dressing except for me. But since I consider myself a cultured and experienced cook, I can't admit that I truly am the only one in the dark. and so I share it with you today in case you, too, are broccoli salad clueless. (With some tweaks, of course). (Let me know in the comments if I really am the only one who didn't know the wonder of combining mayo with cider vinegar and sugar)
Broccoli Bacon Salad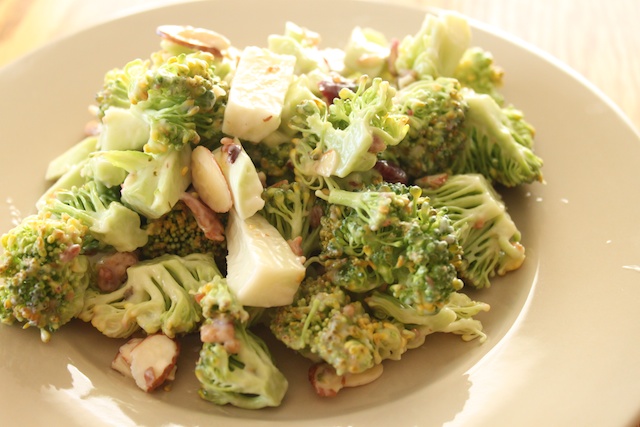 1/2 cup light or regular mayo
1/2 cup apple cider vinegar
1/4 cup sugar
1 head broccoli cut into small pieces. (I use most of the stem, too, but peel tough part off)
1 small or 1/2 a medium onion, diced
1/2 cup slivered almonds, toasted
1/2 – 1 cup craisins (dried cranberries)
Lots 'O Bacon crumbles (I used the stuff in the big bags at Costco, because it's so easy)
Put broccoli, onion, craisins, almonds and bacon in a large bowl. Mix mayonnaise, vinegar and sugar together. Adjust to taste. If you like it creamier, add more mayo, sweeter, more sugar, etc. Pour dressing over ingredients and mix well. Serve at room temp or chill.
Try to disregard how awful mine looks. Trust me, it tasted just fine.