Disasterpiece Theater. Come along for the ride.
It started out innocently enough: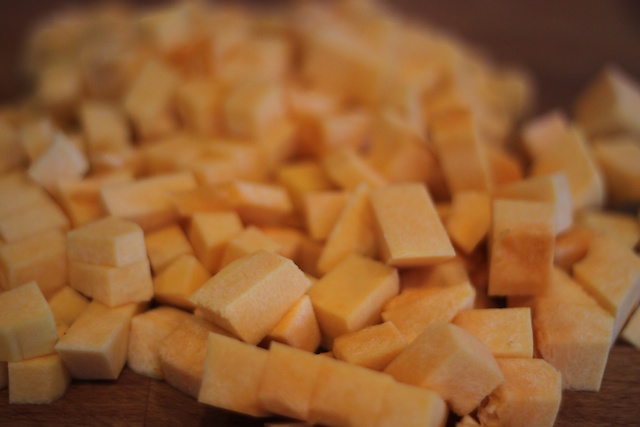 I found a recipe in an old cookbook of mine called "Simply Tuscan" for Butternut Squash Soup (I know, I know. I said I would not succumb to the temptation of making butternut soup ever again. But this was was different. I swear) with Kale and Farro.
I didn't have any farro. I did have a big bag of millet that I've had for, oh… I don't know, two years? Three years? I really need to use up this damn millet! When I googled "farro substitutes" I learned that barley is the best thing to use.
I did have barley… but I had just used a boatload of barley last week! I wanted to use the millet. And millet, I did.
I was bubbling with confidence, coming off two recent "winging-it" home runs. The kale soup from last week was AMAZING and this would be TOO!
It was simple to throw together and I left it to simmer on the stove for 40 minutes…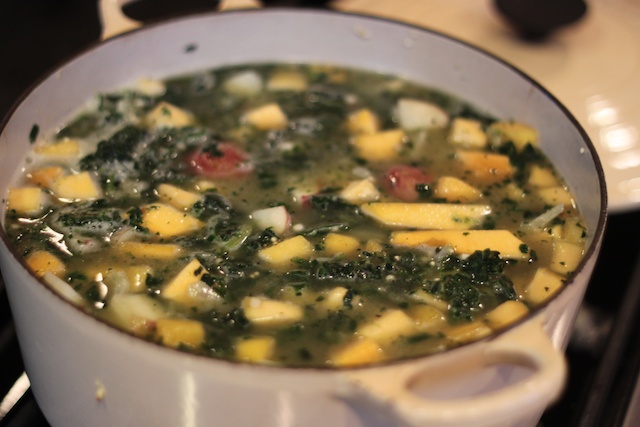 …while I took the wild indians for a walk in the deep snow to wear them out.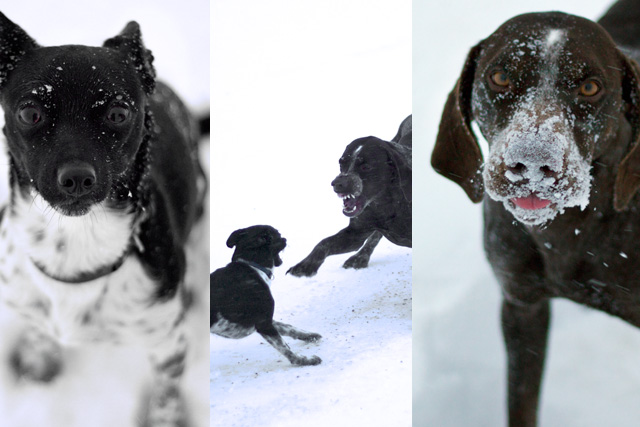 When I came back in the house, it smelled WONDERFUL!
"Hopefully," I thought to myself, "There will be enough to bring to the family from church that I am signed up to make dinner for tomorrow."
Oh, there was enough alright.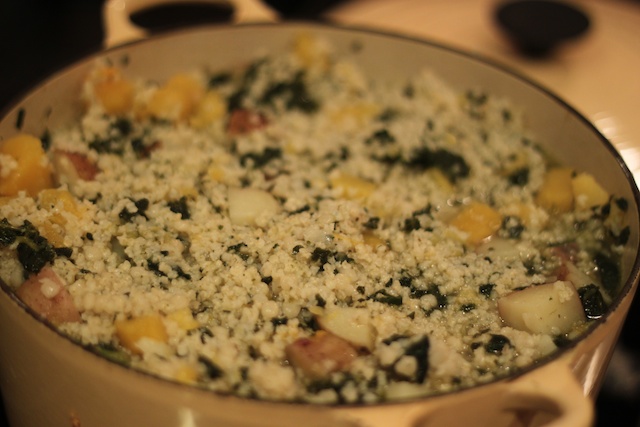 The millet had expanded like little pellets of popcorn, pushing the lid of the Le Cruset pan ajar. (The photo above is only after I cleaned up the mess.)
Undaunted, I transferred the bulk of it to a larger pot and a different, unblemished burner, and added more water. More seasoning. More water…
Lots more water.
I now had used over 16 cups of water spanning two large soup pots. If there was fear I wouldn't have enough to share, those fears were now extinguished.
The problem was, it just wasn't all that good.
So I figured I would puree at least some of it. You know, to give it the unctuous, silky texture.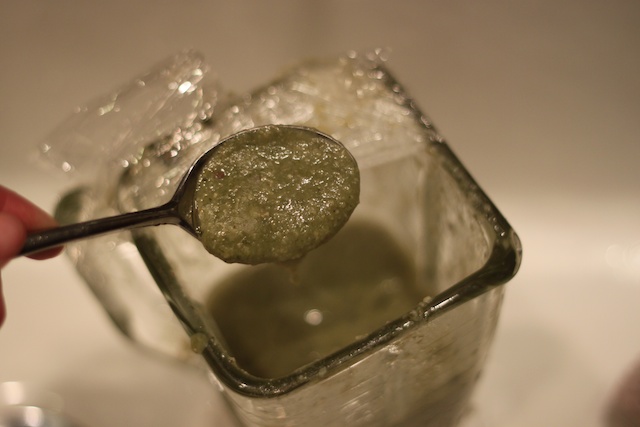 In my mind, it was to be a pale, creamy yellow from the squash and potatoes. Not pea green.
Good Lord.
Back to plan A.
Dave wasn't home and Charlie was at Robotics class, so I decided to have some fun with Morgan and promptly called her down to dinner. Here you go, hon: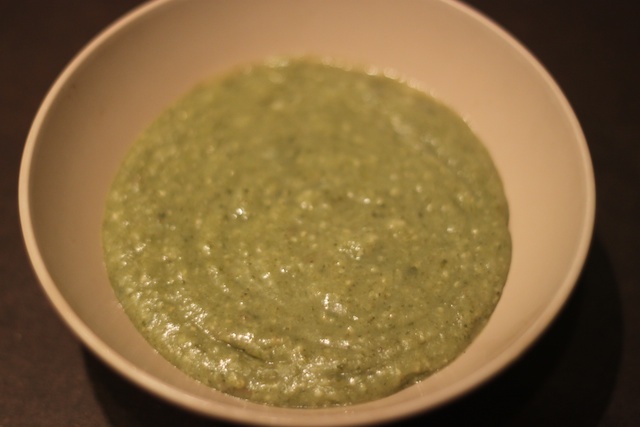 If that was tomatillo salsa, I'd be all over it. But it isn't.
She never believed me for a second. She's just no fun anymore. I'm going to have to adopt some new, naive kids so I can have some real fun again.
After she rolled her eyes at me and headed back upstairs to spend some more time with the straightening iron, I sat down to my Plan A bowl, thoughtfully ladled into the ugliest bowl I own.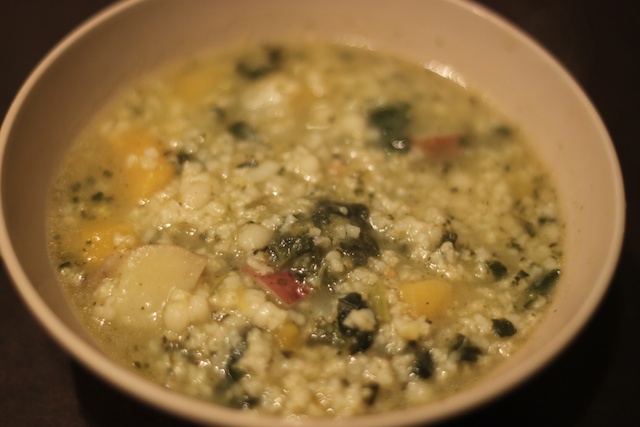 And, I made a decision.
I, Jennie Menke, would throw this abomination away. Yes. You heard me right. I am going to throw it away!
And I did. All 20 pounds of it.
I have never done anything like that before.
And that is how my kid's ended up eating at my least favorite fast food restaurant: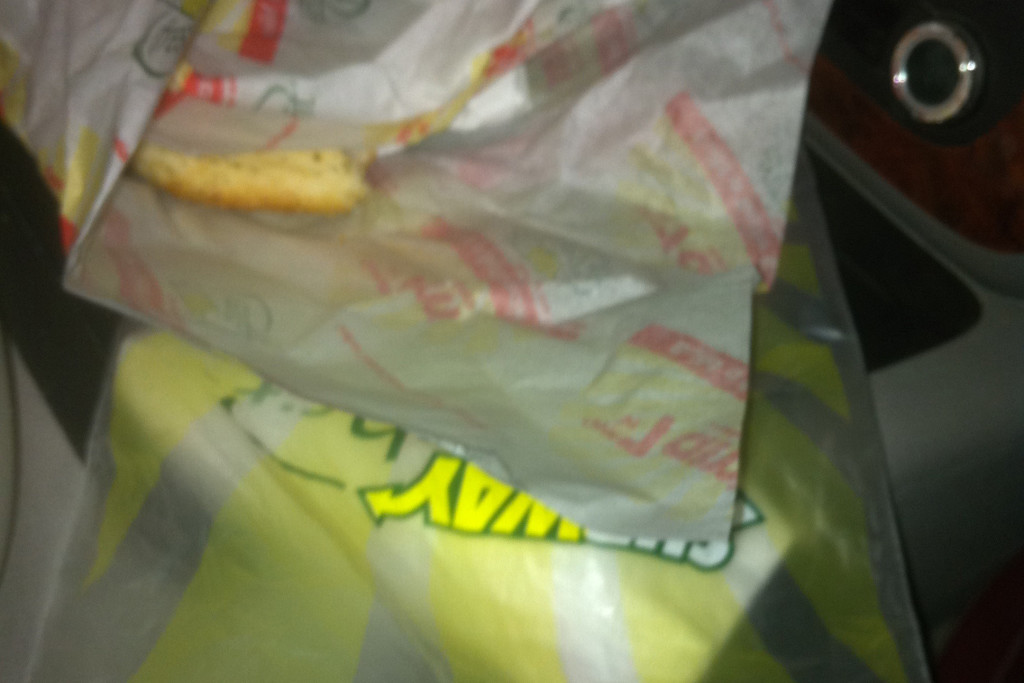 While I contemplated this: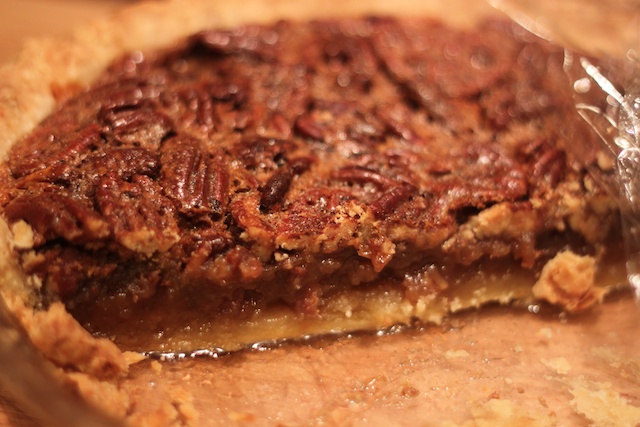 Some more of this: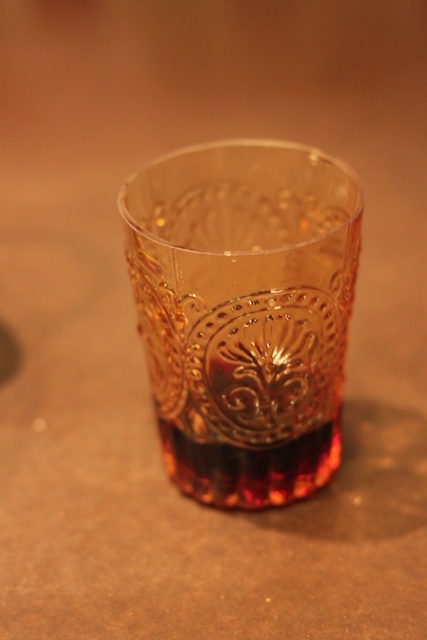 While cleaning this: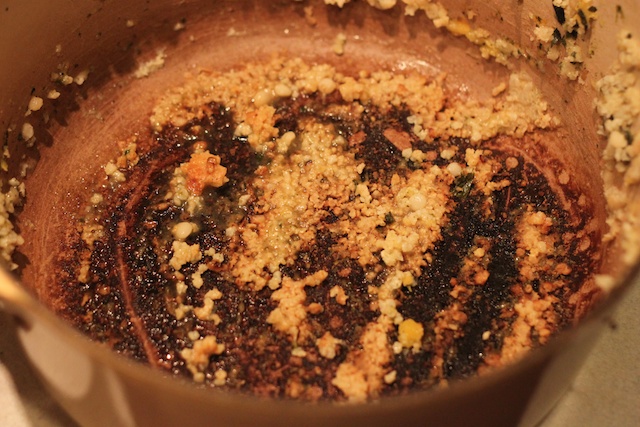 Millet, we shall meet again.
(But maybe not for another couple years. After I have my strength back.)