(Well, at my house anyway.)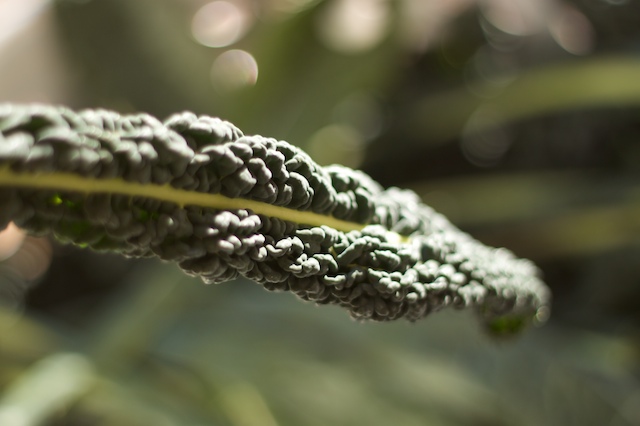 Why is there no national Kale Day? Actually, I have no idea if there is a National Kale Day. There probably is. If there is, then my question automatically morphs into: Why didn't I know about National Kale Day?
With that settled, I will tell you why there should be a special day for Kale.
1) It's a SUPERFOOD. (no, I don't have the stats on it. Just be content to know that it is, in fact, a superfood.)
2) It is BEAUTIFUL.
3) It is DELICIOUS.
4) It FREEZES so well, you wouldn't know it had ever been frozen at all.
I could go on and on… Maybe I should. I have read that having "top 10" lists on your blog increases traffic exponentially. But then, that would just be a cheap trick to drive traffic and I absolutely hate bloggers who have gimmicks, exploit their subjects & commenters and whine about traffic. So I'm stopping at four.
I realize of course, that I will soon be out of topics that I am as over-the-moon, passionate about as I am about kale. Things that I am so completely sure will change everyone's life if they would only try it. Like:  Making bread. Planting garlic. Composting the lazy way. Making apple jelly from the garbage of your pies… There's so much more (just read the archives), but those are the ones that come to mind. If I had to rate them, I'd have to put bread at the top of the heap. Almost EVERYONE loves fresh bread. It is so easy to make. So easy. Why aren't you making bread?
I digress.
This post is about KALE.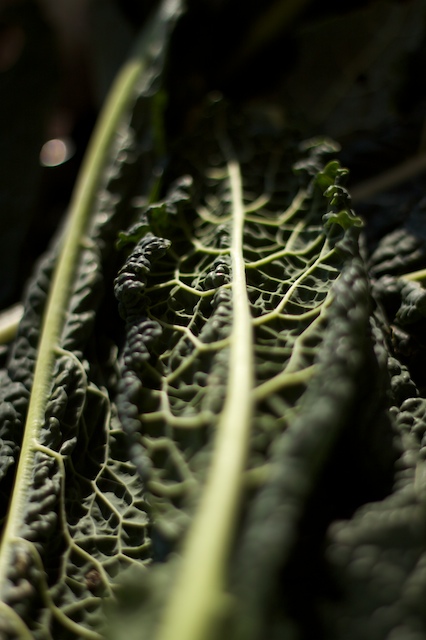 Why isn't everyone planting Kale? And eating organic, fast*, superfood kale all winter long? Maybe you don't think you like it. Maybe you don't even know about it. Three years ago, on impulse, I bought a four-pack of kale plants at Shady Acres because I thought it was pretty. By November, I wished I had more. Two years ago, I planted more, and tried to "overwinter" it. Note to Minnesotans: nothing overwinters here, so just forget about it, Yes, even when your father in law explains how they did it. Don't be tempted. Last year, I stumbled upon this preservation method for my kale. I'm not saying it's the best way…
Actually, I am saying it's the best way. So pay attention.
1) I plant my kale.
2) I battle the damn cabbage worms all summer long. [You probably won't have this step. I seem to host the world's largest population of cabbage moths/worms. These guys plague my broccoli, too.]
3) I plant another couple rows of kale after the broccoli is harvested, some time in July. Usually this works great, but not this year. My second planting was a failure. I am devastated over this because now I will only have half the amount of Kale as I planned on. I don't know what happened. But I can tell you this: it is November 19th and that planting is now growing fantastically. We didn't have a hot summer, but maybe it was just too hot for that variety of kale (red russian). Who knows. Currently, it is growing so earnestly, I can't even bring myself to turn it under like I have with the rest of the garden. …Maybe I can overwinter it.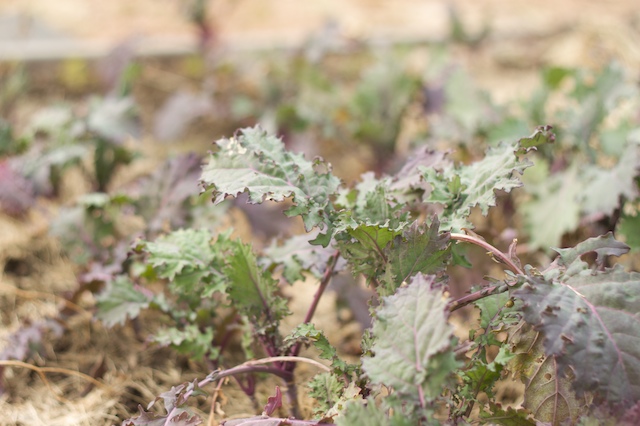 3) I wait until a few hard frosts kills just about everything else above ground.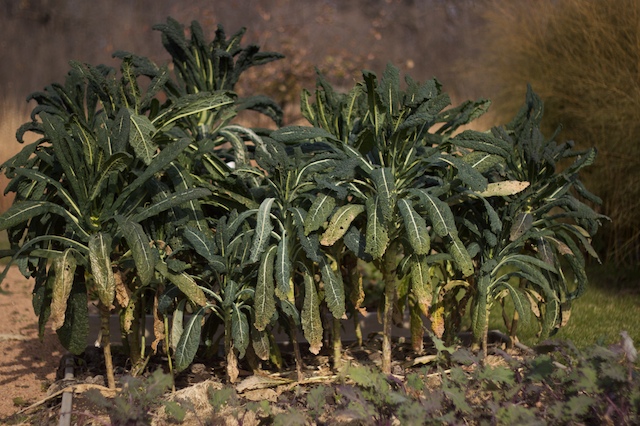 4) I add "harvest kale" to my to-do list in my planner
5) I deal with the apples
6) I wash the windows
7) I turn a new page in my planner and re-write "harvest kale"
8 ) I clean out the greenhouse
9) I clean the pool cover
10) I install a new garden fence
11) When I am in danger of turning another page in my planner. (Or, if snow and ice is forecasted) I actually do "harvest the kale"
12) I sit on the step in the sun, bundled up, and cut the central stem out of the kale. Tip: find a great audiobook or podcast to listen to while you do this. A chore becomes a vacation.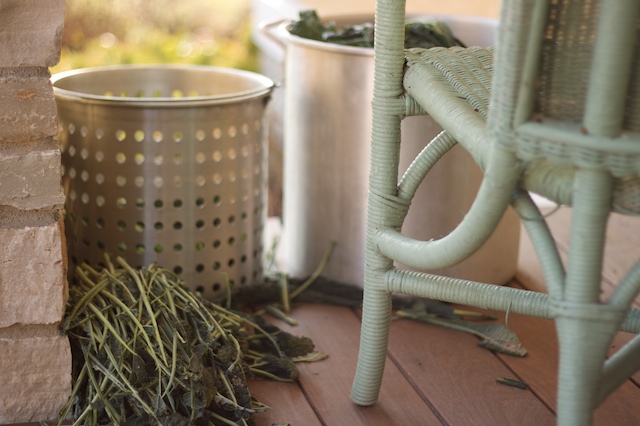 All the kale pictured here is Black Tuscan Kale (or Nero Di Toscana among many other names), which has long, narrow leaves. Usually, I also have the curly kale and/or a russian variety. I take the central stems out of all varieties. But, as the case usually goes, black tuscan is the most tedious. And that's all I have this year.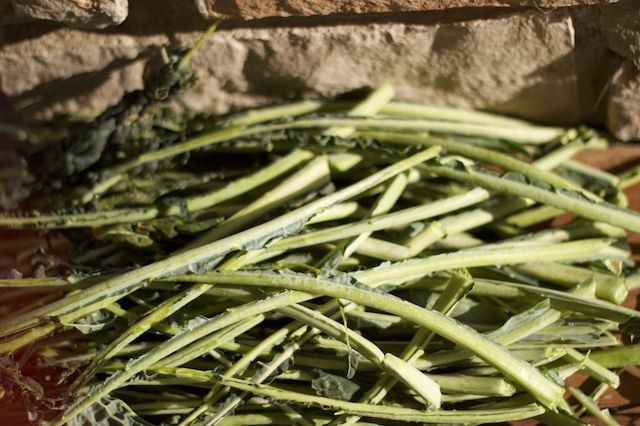 13) I get out my big deep fat turkey fryer that hasn't been used for that purpose in about ten years (what an insane trend that was), fill the pot 3/4 full of water, and add about 1/2 cup of salt.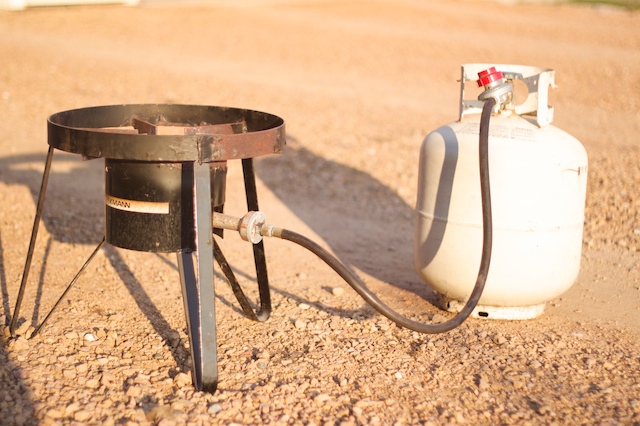 14) I begin the hunt for a propane tank to attach to the turkey fryer kale cooker.
15) I don't have any propane. The tank is empty. This is a problem.
16) I decide to cook the kale in the house. Tip: cook it outside if you can. It stinks.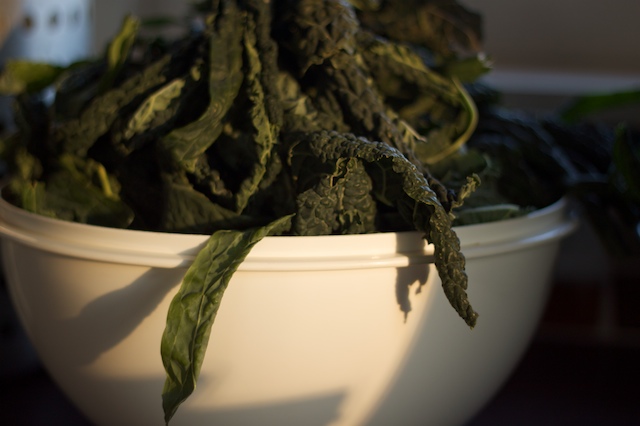 17) I add the kale to boiling water and cook for about 10-15 minutes, stirring frequently with tongs.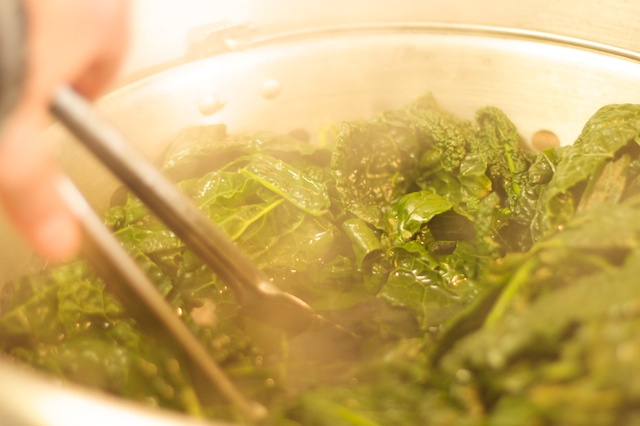 It will go through stages. It will want to float at the beginning. Then it will foam madly for a bit (don't let it boil over, it's a mess), then it pretty much sinks. I always figure it's almost done at that point. Some recipes call for sauteing, braising, etc. But I'm with the person who said that boiled kale tastes the best because it takes out any bitterness. For the record, Kale is the ONLY vegetable I will say this about. I never boil any other greens, broccoli, asparagus. Never.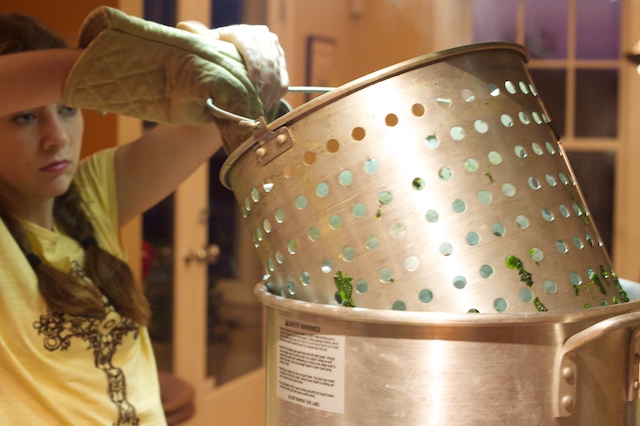 18) I don't pour the water out, because I have three or four batches more to cook. I lift the kale out with tongs and then lift the turkey fryer kale cooker insert out to get the rest.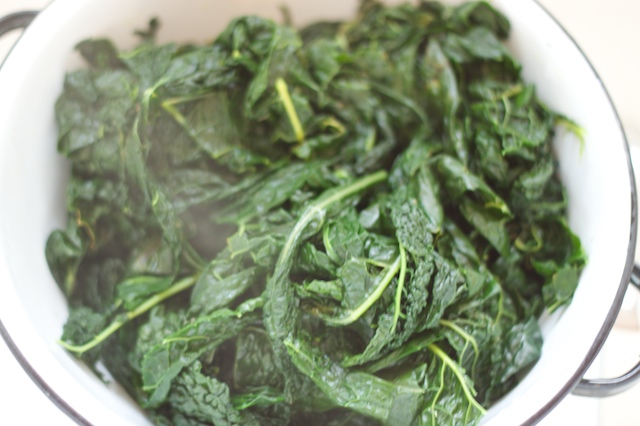 19)  I dump the hot, cooked kale into my (clean) sink to cool and put the next batch in to cook.
20) I squeeze as much water out as possible as soon as it's cool enough to touch.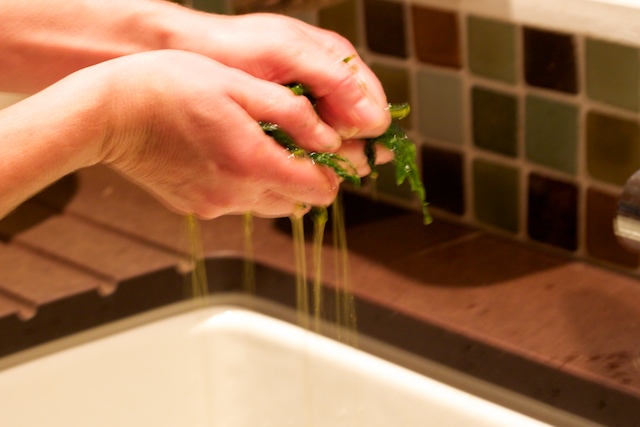 21) I pull apart the squeezed wads (yes, that's a gross word to describe kale, but — honestly — it is gross. And it is a wad) and spread out on cookie sheets.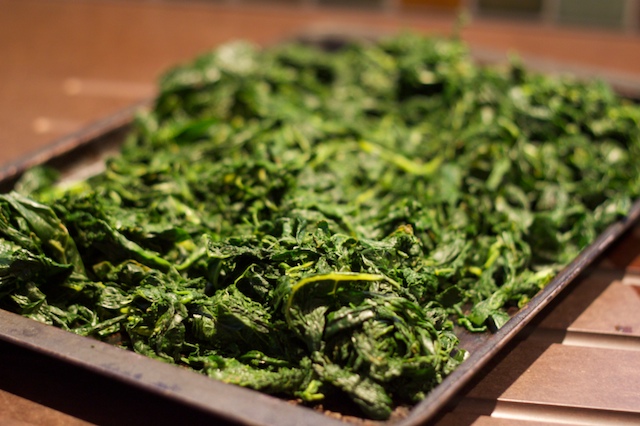 I also pull out any glaring stems that I might have missed at this point. One year I did a test and left the stems in. You can if you want, Lord knows you'll save a lot of time with step 12, but we all thought they were yuck-o.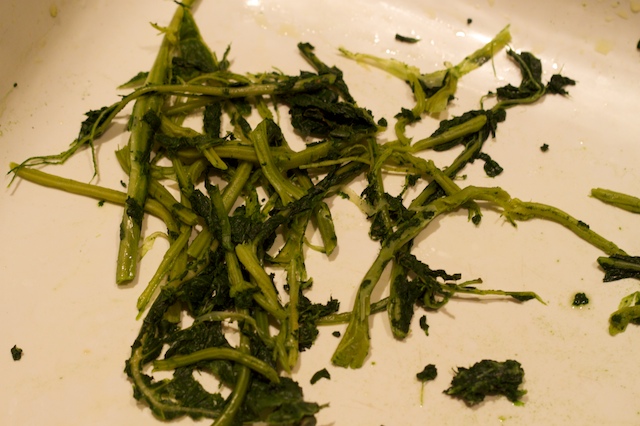 21a) I clean my nails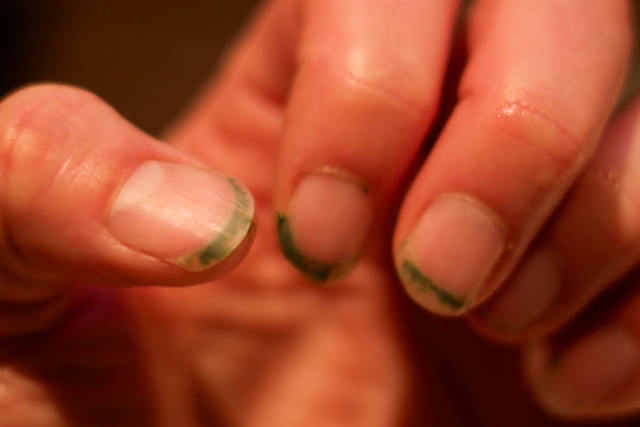 22) I freeze the sheets of kale
23) I rough-chop the frozen kale (because in the test mentioned above, we also preferred smaller pieces. Plus, it's fun to chop frozen kale. I don't do it before I cook it because it falls thru the holes in the turkey fryer pot kale cooker) and put into freezer bags.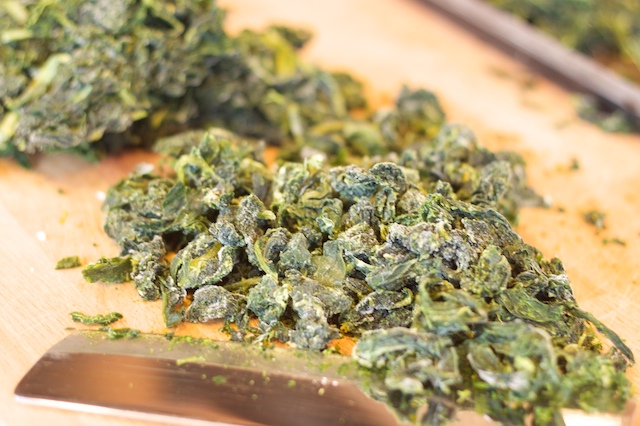 Drum roll please…
24) I cross it off my list in my planner.
To use the kale, you grab as much as you need from the bag and put into a fry pan or saute pan on medium/low until it's warmed through. Cook most of the water off (there shouldn't be much if you squeezed it well in step 20) and add your fat of choice (butter, olive oil or… BACON FAT!) and a sprinkling of balsamic vinegar. Other things to consider adding: dried cranberries (craisins), chopped bacon crumbles, slivered almonds, a sprinkle of blue cheese…. mmmm. maybe that's what I'll have for lunch.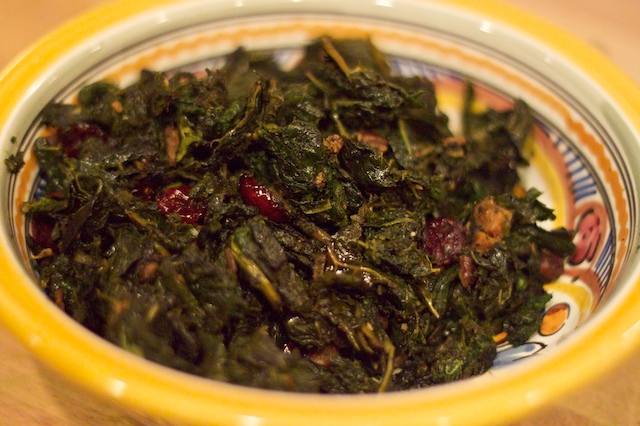 Well, anyway. That's National Kale Day at my house. It's definitely in my top three things that I'm passionate about. Obviously you can't plant kale until next year. But at least buy some. Buy a lot. And try cooking some. If you have some left over, freeze some and see if you don't agree with me. Then plant it next year.
And then, come back here and tell me how great I am.
* "fast" kale is an oxymoron. Kale is only fast, if it is already cooked, chopped and frozen. Otherwise you are washing, de-stemming, boiling, squeezing and sauteing. Then eating. When you do it this way, it's ready in less than 5 minutes. Hence, "fast."