Wednesday July 22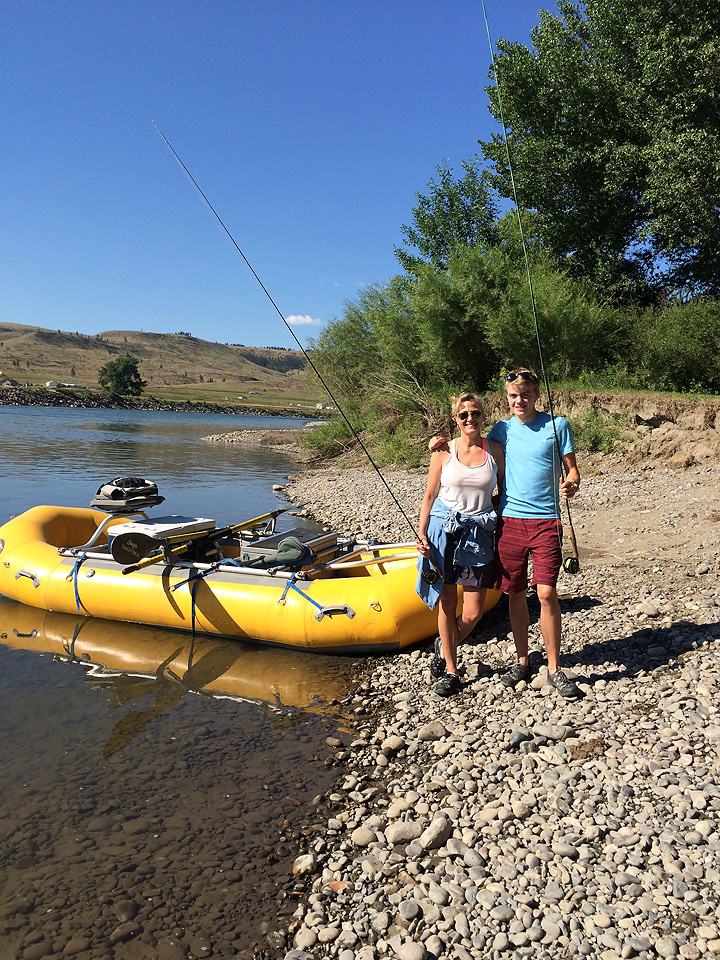 Fishing today!
Dave told us all (about 5 times) that we needed to leave at 7:30. Therefore, it was to be a quick breakfast of banana bread (thanks Jan!!) and cereal. Morgan, Charlie and Jennie were sitting in the car at 7:28.
Where's Dave?
We shall not mention where Dave actually was, but he eventually turned up and we headed out.
All hands were on deck as we passed through Nye with its very own cell tower: FIVE BARS 4G! Dave was on the phone wheeling and dealing and I got a couple emails out.
Isn't that sad?
This is progress people. Go with the flow or drown. You can quote me on that.
We met up with Andy and Mike in Columbus and headed for the Yellowstone River. Morgan and I were in a boat with Andy and his dog Berkely (SUCH. A. COOL. DOG) and Dave and Char were with Mike.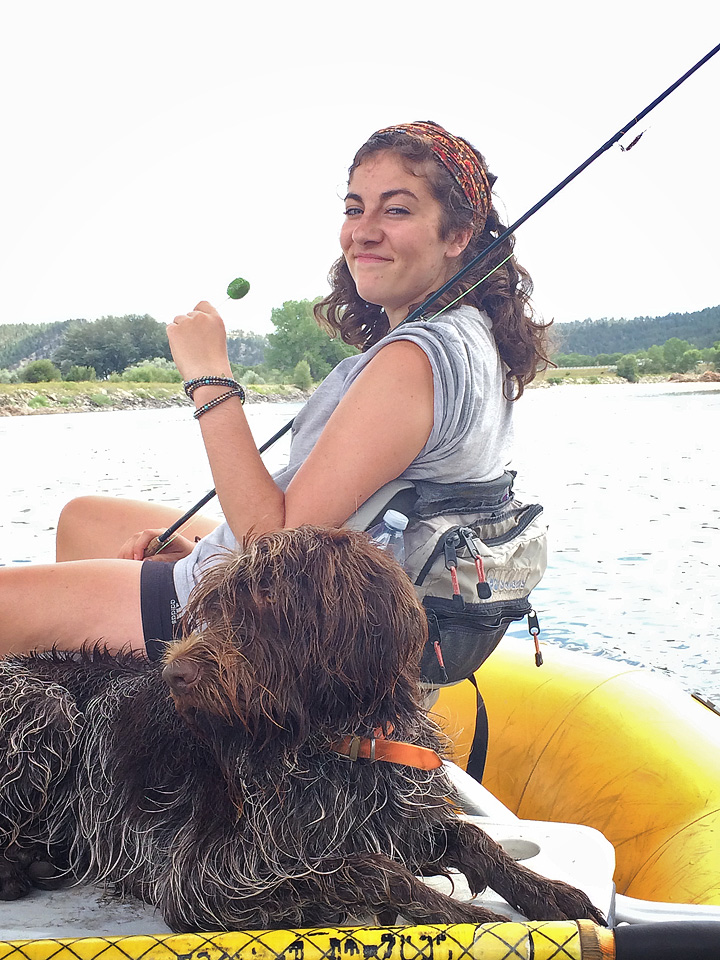 We had an awesome time. It was super hot, then it stormed – really stormed! – then it was hot again. Morgan and I caught a bunch. Not big ones. Mostly Rainbow Trout. I caught one Brown Trout and several Whitefish. And it should be noted: we missed more than we caught. I had trouble setting the hook and Morgan had trouble landing them. It was fun to catch fish. But to be honest? The dog was almost the best part. We. Are. In. love.
The guys didn't have as good of luck. Bummer for them. I think it just goes to show:
(you think I'm going to boast, don't you?)
I think it just goes to show that the guide is super important. Our guide Andy was awesome. Mike was good too, but I think Andy was better. I mean, I'd like to say we are better at catching fish, but I'm pretty sure that's not the case. Still. Morgan and I caught a combined total of 17 or 18 and lost at least that many. Dave and Charlie caught 5 and only missed one. That's our guide putting us in the right spot with the right bait, right?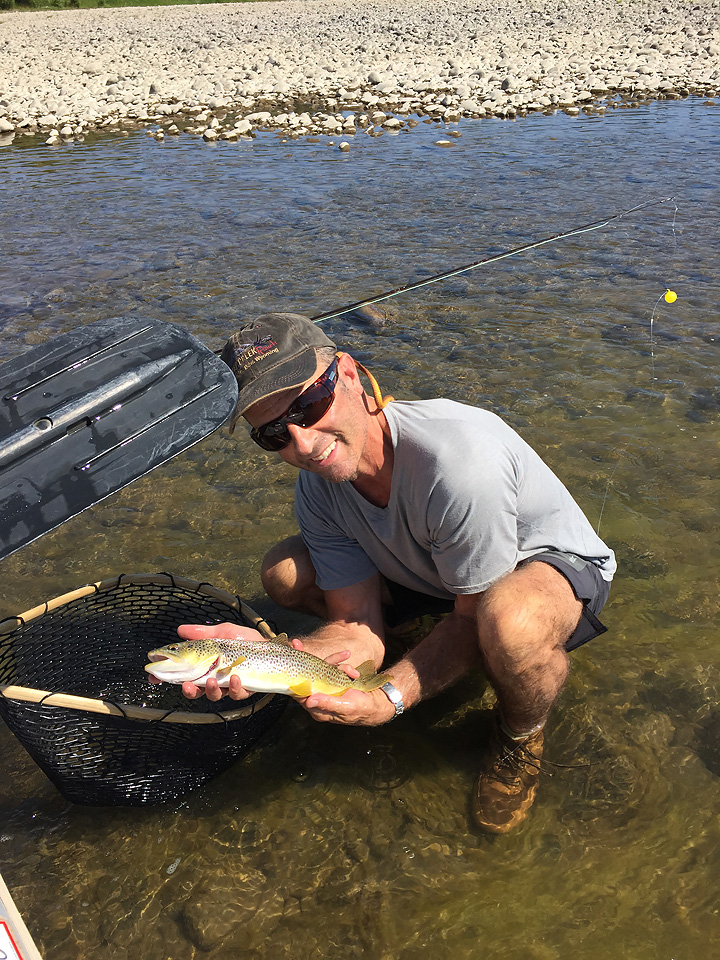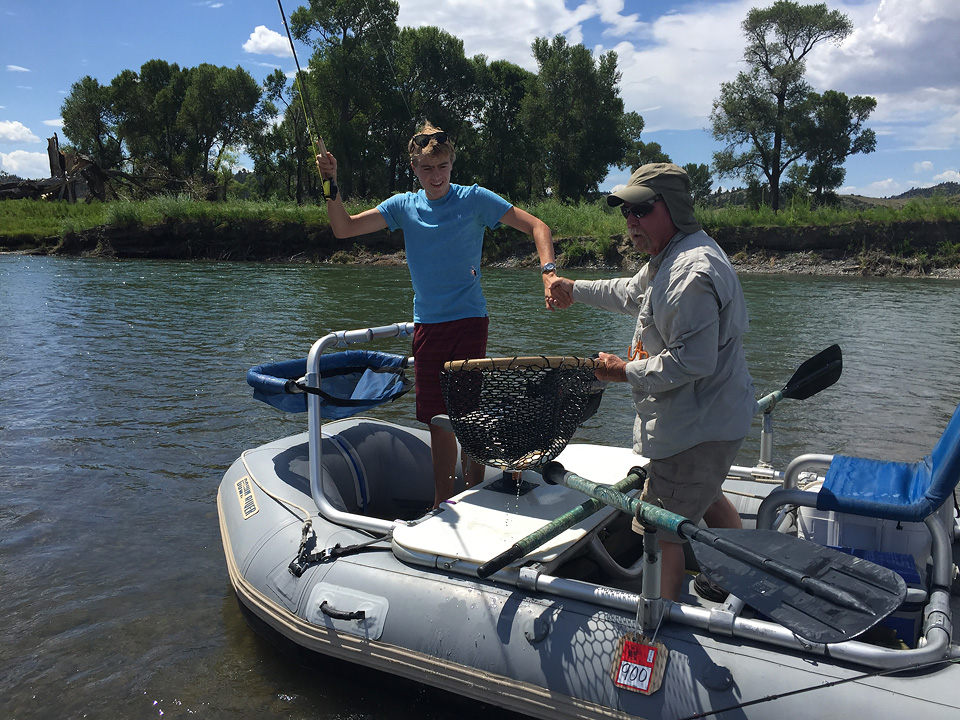 We said our goodbyes and headed back. Straight into the rain again! Good grief. This is getting old.
Green Curry with Chicken – an old camping stand-by – with Morgan's beloved Boil-In-The-Bag Rice was up for dinner #3. I got right after it, in full rain gear. Luckily the rain wasn't too hard. I made our favorite guacamole/salsa for an appie while I cooked dinner. It rained, we ran and put everything away. It stopped and we took it back out.
I'm actually sitting out in the rain right now. Just a drop here and there. But still. Stop already!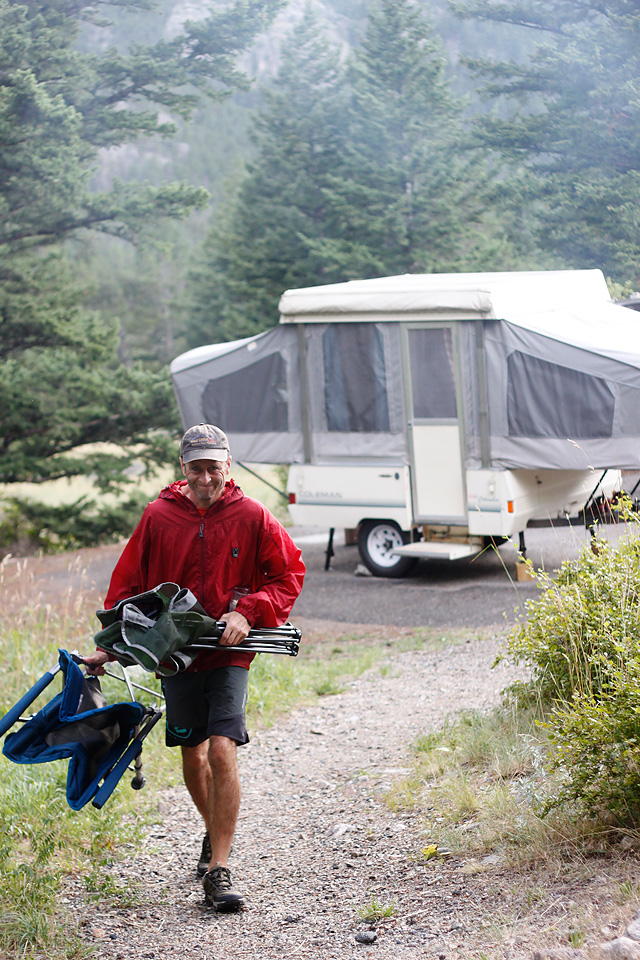 Before we left for fishing, we filled up our solar shower and left it on the asphalt. It got pretty warm, in spite of the late-day clouds and rain. Dave took the first shower. Then I caved. You know me, I like to really push the envelope on the whole shower thing. But I couldn't resist. I got in line for shower #2. I wouldn't go so far as to say it was warm, but it wasn't cold. So I wasn't complaining. I might be complaining tomorrow after going to bed with wet hair. We shall see.
Charlie got in line for shower #3, but refused to strip totally down like us "heathens." Another great Charlie word. I gotta start writing them down because I forget them so fast. Earlier today, when I said that I felt bad because I thought Morgan and I had the better guide – more 'personable', Charlie defended their guide, saying he was really nice, basically owned 'everything in Montana' and was very 'informationable.' I know it's not a word, but maybe it should be.
Well, the fire is smoking me out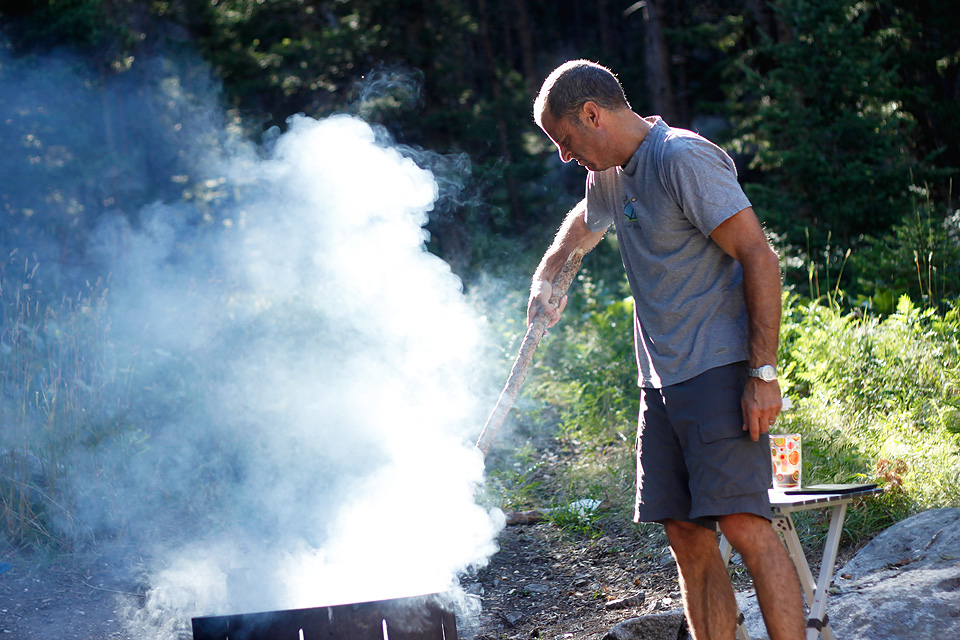 and the horror bugs just came out. I'm trying to bribe someone to go try to get an action shot of a bug in flight, but I have no takers. In fact, this is where I found charlie, hiding from the very bugs I was trying to document: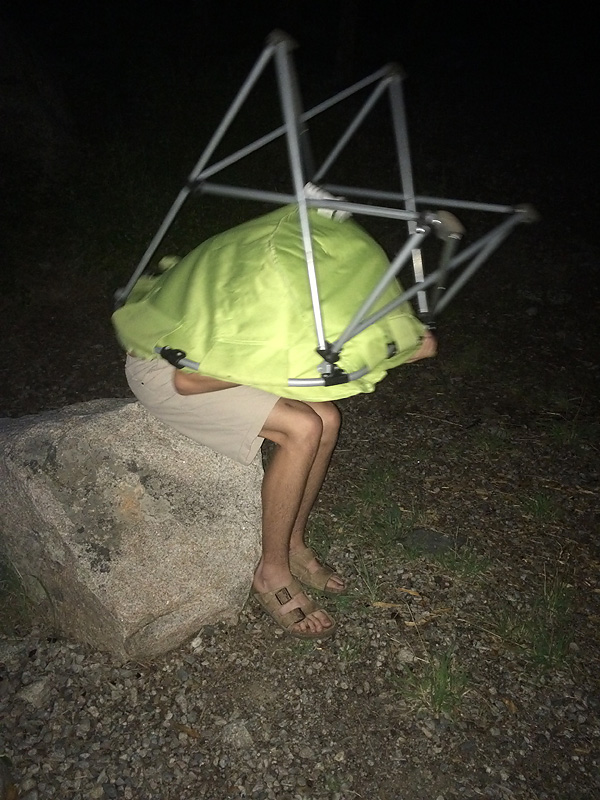 It's time to head to bed.
Tomorrow we are… no idea.