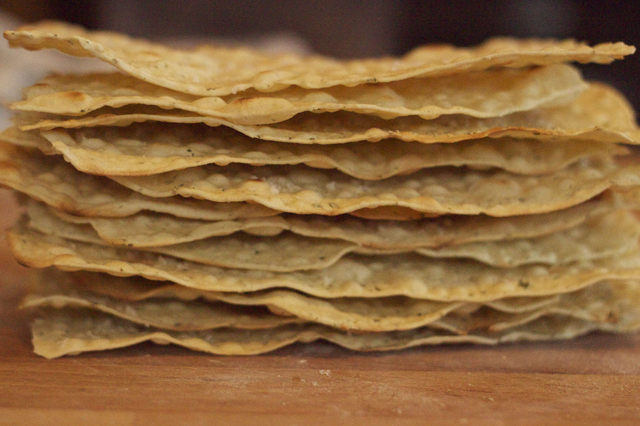 Go Make Some
I'll admit, it's a bit of a pain. But look at that picture! It's so cool looking. And good! Amazing to behold! And yes, I'll admit this, too: it's a repeat.
Remember everyone, my computer died on Sunday. I'm working off the kid's iMac. It isn't as bad as I had feared, but for some reason — and I don't really have time to troubleshoot this week — Aperture isn't generating thumbnails from my camera. So, I'm using iPhoto for now, and going bare-blog-bones for the next week or two.
The reason I'm reposting the Rosemary Cracker Bread, is because it's so FESTIVE. And — if you are an overachiever such as I — a PERFECT gift for the holidays. I bought some of those clear cellophane candy-type bags and use a cool twine hang tag to close it up. Fragile packages of bliss.
Anyway, for whatever reason, this video of mine does not get many hits on youtube. Go figure. The ciabatta recipe is racking up the views, but not my sad and lonely cracker bread.
I had to make them recently for the people who won my 8-Months-Of-Bread live auction item. And as usual, I couldn't leave well-enough alone and tweaked the recipe ever so slightly. Here is my latest version: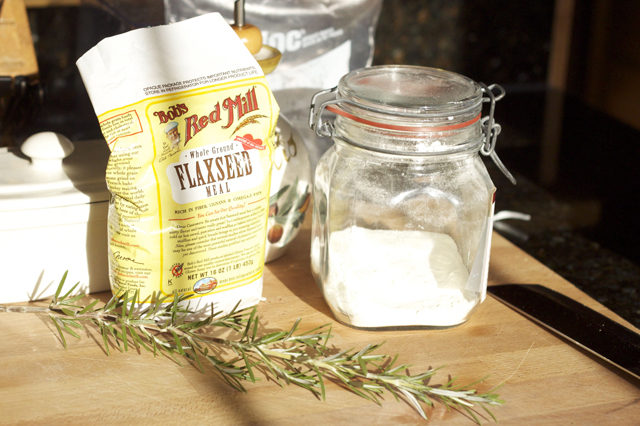 Rosemary Cracker Bread
1 1/2 cups flour
1 tsp ground flax seed (optional. but then you can say the crackers are trendy and healthy!)
1/2 cup cold water
1 tsp salt
dash of sugar
2-3 T finely chopped fresh rosemary
1/8 cup olive oil
Preheat oven to 500 with a pizza stone on a rack.
Put flour, flax, salt, sugar and rosemary in food processor. Pulse to blend. Add oil, pulse 3-4 times. Turn machine to 'on' and add water in stream till dough comes together. Run for about 20 seconds. Turn dough out and knead to smooth ball. Divide into four pieces and cover with a towel. Let rest 5 minutes.
Begin with one of the four dough pieces. Using a pasta roller, start on the widest setting and finish on the thinnest, just as you would for rolling out pasta dough. It helps to divide the dough one more time about mid way through the rolling process, so that one piece of dough results in two long (approx 4″ x 15″)  strips of rolled dough. I also dust the dough with flour on both sides before rolling at the thinnest setting. The two strips get baked at the same time, for a total of four batches of two strips from one cracker bread recipe. I do not begin rolling the second piece of dough until the first batch is cooked. Multi tasking for this recipe always results in burned crackers for me!
Spritz dough with water from a spray bottle and sprinkle with sea salt (or kosher) and fresh ground pepper. Slide parchment paper directly into oven onto baking stone. Flip crackers over and move from front to back of oven after about 1 minute. Watch closely. Your oven my vary. You want to flip after the dough bubbles, but is still pliable. I do this quickly by reaching in with tongs. Watch closely after that. Take out after no more than a minute — sometimes less. You don't want them browned. There will be light brown spots or speckles and maybe an edge or two will be darkening, but that's it. The strips will still be flexible. You can cut them into 6″ lengths at this point with a pizza cutter for uniform sizes, or wait until they are crisp and break them for a more half hazard look.
Cool completely on a rack, then package and store in festive cellophane bags to impress your friends.
If you don't have a pizza stone large enough to bake the strips on, you can use a large cookie sheet. You will need to dramatically increase the cooking time. Watch for the dough to begin to bubble, give it another 30 seconds to a minute and then flip it. You want to take them out when they are beginning to stiffen. So if you grab one out of the oven it will bend into an arc slightly when held in the middle, but won't bend in half.
My directions make it sound much more complicated than it is. I just wanted to be as helpful as I could be, having made many, many batches of these crackers and coming up with helpful tips along the way.
Of course, you can always watch the original video, which helps if you want to see the roller technique and oven set up.