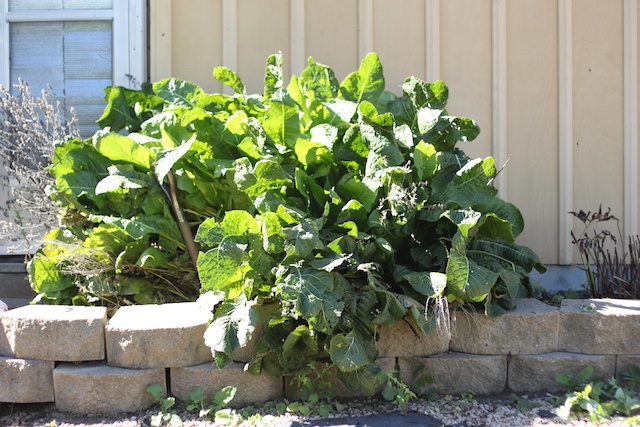 Seriously. Think twice about this one before planting.
I think it might have been just last year that I actually said something along the lines of, "I don't know why I keep reading that horseradish is so invasive. I don't seem to have a problem with it…"
Ha.
Ha.
HA!
(to quote myself from last year's post)
I get it now.
And I am freaking out.
Apparently each piece of broken off horseradish root will grow a plant. I've got it growing in the compost piles, in the weed pile, and who knows where else. Not to mention that it is completely out of control here.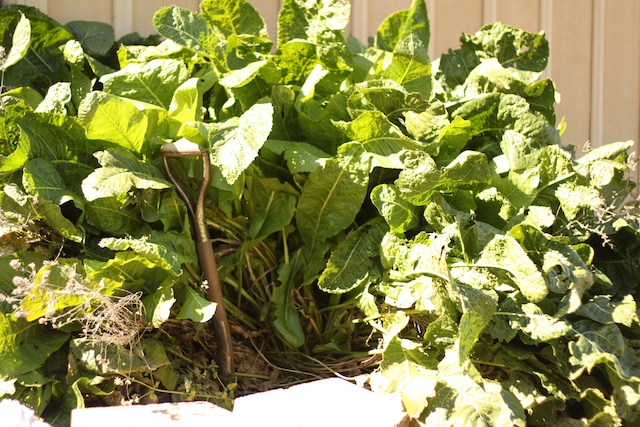 I understand mint. At least I think I do. The problem I seem to have with mint isn't its invasiveness, but the fact that I always plant it in an area where nothing could possibly grow. I figure that way, it won't be able to get a foothold.
And it doesn't. It just dies off (since I've planted it under the eaves in the rocks amongst the moss on the north side under a log).
Well, that's if you aren't counting the silly "non-invasive" mint I've been fighting in my raised beds for a few years now. I'll admit it, this one's got me. I've painstakingly dug it out twice this year so far and yet, here it is thriving again…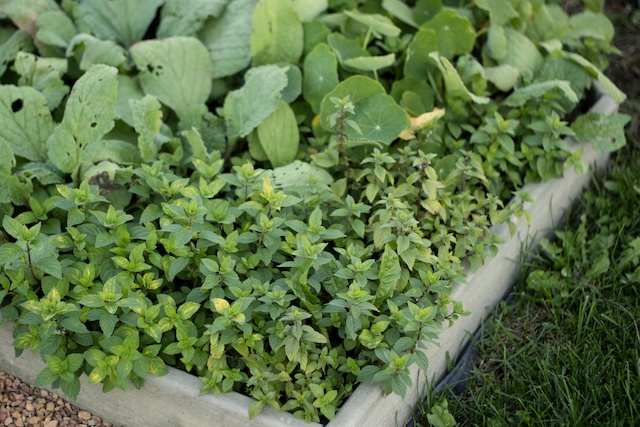 …which gives  me a whole new appreciation for the invasiveness of mint if planted in prime real estate.
Anyway, I planted the horseradish in what I considered a fairly challenged spot but not as challenged as my normal spots reserved for mint. It took a few years, but it finally got big and robust. I harvested pieces of the root for eating last year, assuming I was also paring down the plant in the process.
Not.
It was completely out of control this year. Bigger by almost twice the size of last year. And I vowed to dig it completely out before it took over my peonies and knocked the barn over.
…When the hole got deeper than than I could reach with my arm and there were still 3″ diameter roots growing straight down into the earth, I was ready to give up.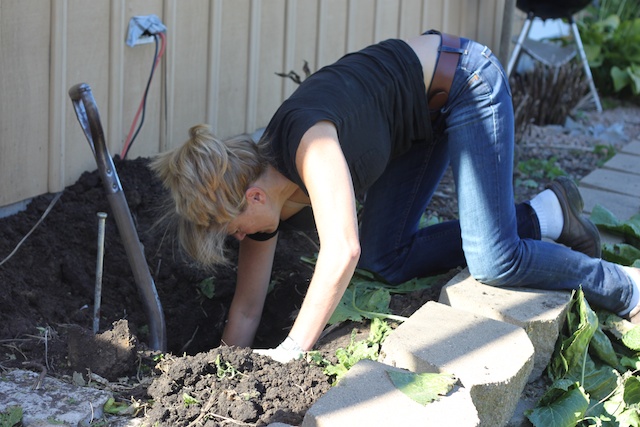 But I kept finding lateral roots and digging them out as much as I could. One of the larger roots sprawled out toward the retaining blocks. And the next thing I knew, I was involved in another rather overwhelming project. (I want you to know I am in bed typing this and a boxelder bug just crawled across Dave's pillow. Luckily, he is not here to enjoy it.)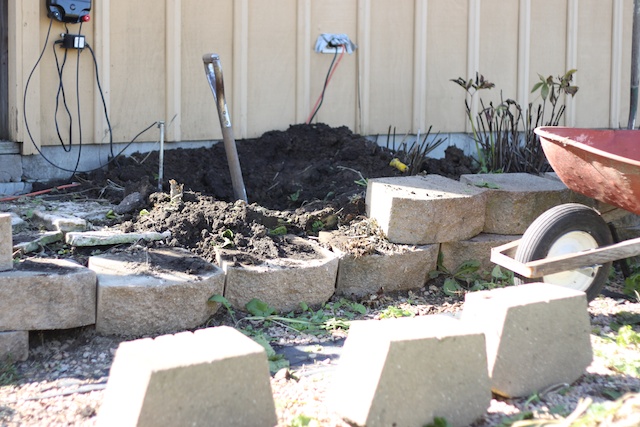 Those mothers are heavy!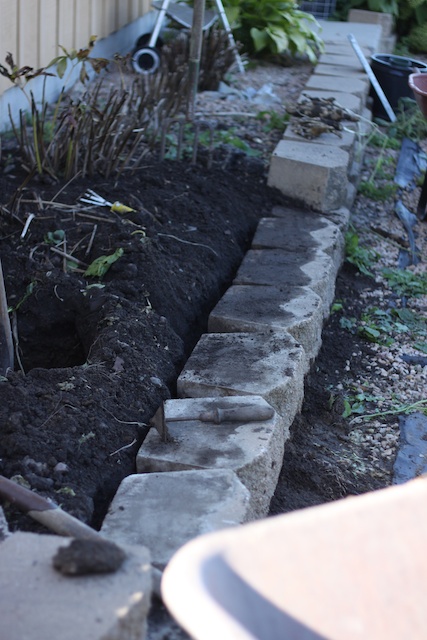 I suppose I figured if I couldn't dig the stupid horseradish roots out properly, I could at least fix the damn retaining wall that was about to tip over and prevented me from walking on.
As for the horseradish, I really did give up. I sprayed Stump Killer on the unreachable, undiggable roots and covered them back up with dirt. I am 100% sure they will sprout, unfazed by my attempt at removal.
I'm also 100% sure that the retaining wall will resume it's tilt by spring of next year.
But at least I was able to finish listening to my ridiculously good audio book. Don't tell anyone, but that was the real goal all along.