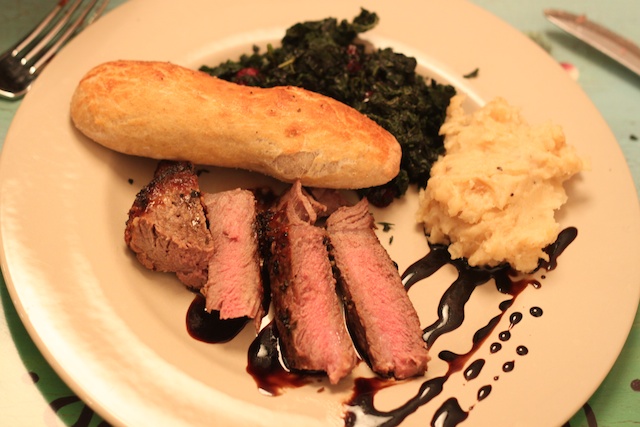 I want a MANWICH.
…Seems to be the sub-theme for the evening's menu. Charlie, on his first solo Kids Cook flight, chose STEAK, POTATOES and KALE (I may have wielded some influence in this category).
It sounded just fine to me.
So we rummaged around in the freezer and found a nice looking ribeye and a less-nice-looking top round. I took the sword and offered to eat the round steak. I actually like round steak, though this particular specimen didn't show promise.
It was yet another Monday with no school. So, he had plenty of time to ask me questions. All day, in fact.
He seemed to be looking for direction as to the actual recipes for his meal and I happily steered him in the direction of things we had on hand. (Hence the kale). For the potatoes, he made my friend Bev's "Special Potatoes" with my modifications. That is to say, half and half instead of cream, and half the butter, which is replaced with plain yogurt. (They are still special.)
Early on in the day he declared "I want a sauce."
No elaboration. Just "I want a sauce."
It was up to me to decipher what kind of sauce and for what. It was clear he wanted to make a sauce for the steak, but not clear what kind. Bernaise? Hollandaise? Butter? What?
"Just a sauce."
So I suggested a balsamic reduction. Which was fine with him.
I knew I'd have to do more directing and answering of questions. No, not because he's a boy and younger, but because he is Charlie. It's part of the M.O. since he could talk. He asks questions and I answer them. Until I can't take it anymore, snap, and start screaming at him to stop. I like to think I'm developing his character. You know — getting him ready for the real world.
But I know that's not true. I'm just basically unpredictable and mean. And Charlie being Charlie loves me anyway.
As Martha used to say (or does she still say it?): It's a Good Thing.
We found out late in the game that Dave was not going to be home, so we didn't have to use that round steak after all. But it was just as well, because I think it had already been in the freezer for well over a year. Seriously, who would ever want to eat that?
(Lola wanted to eat it. So we gave it to her.)
You might be wondering where the Sous Chef was in all this. Yes, I was wondering, too. She has the uncanny ability to make herself scarce at times like these. So I whispered some ideas to Charlie — who would never make his sister do something she didn't want to do — and he put her to work on bread sticks. I had some wheat dough in the fridge just waiting for her.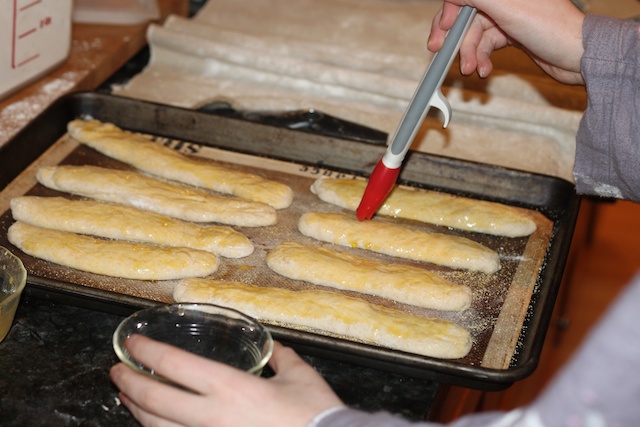 Meanwhile Charlie cooked up the kale with dried cranberries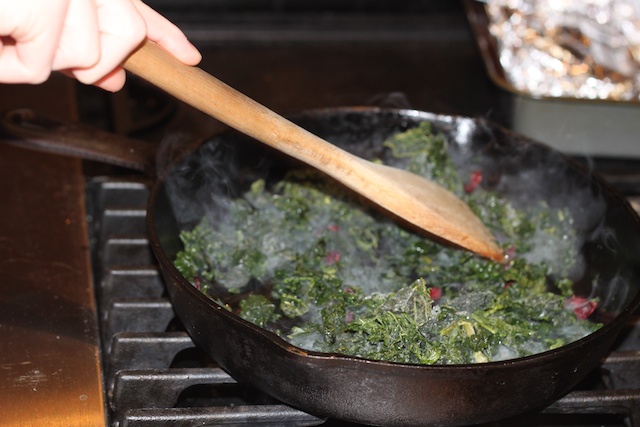 Warmed up the balsamic reduction…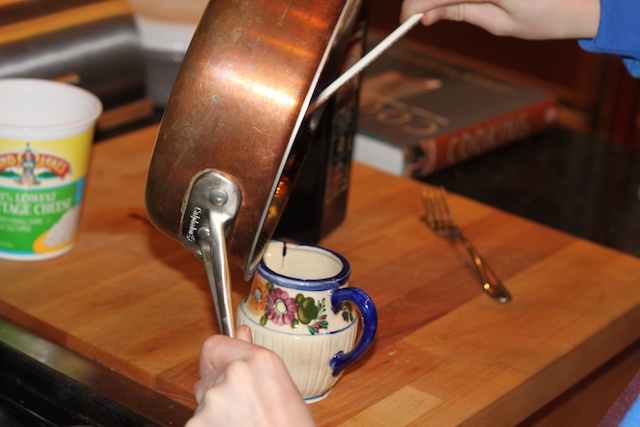 Broiled the steak (a new venture with the new oven). Worked great, but honestly, how do you clean those broiler pans? It's impossible!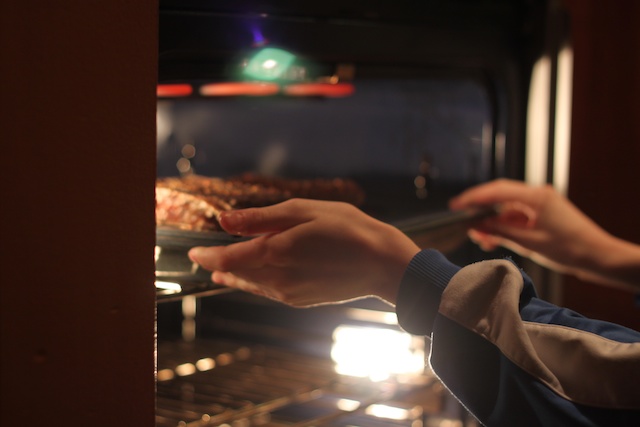 Served what was left of the potatoes… They love these potatoes and basically started eating them out of the crock pot from 3pm on. There were barely any left for me! (see recipe below)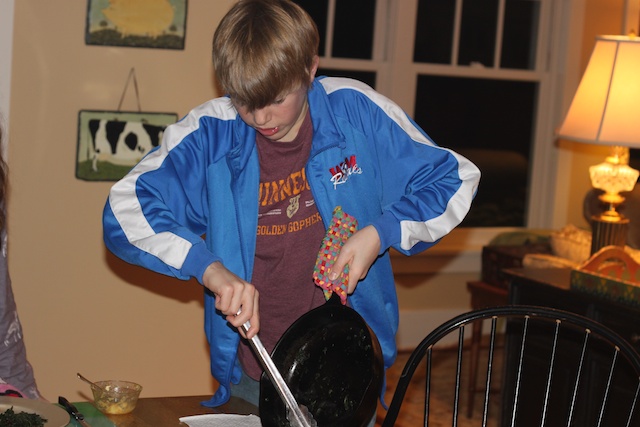 I do have a question, though, if anyone can help me: when exactly is it that boys start to be aware of clashing colors and dress accordingly?
Of course, Charlie thought this was the best meal he had had in weeks. Simply the best! And how about that balsamic reduction? Really good, isn't it? Isn't it?!
Why, he's a chip off the old block! I'm so proud of him! Fishing for compliments like that… Just like his Mom. Brings a tear to my eye.
(The bread sticks were tasty, too)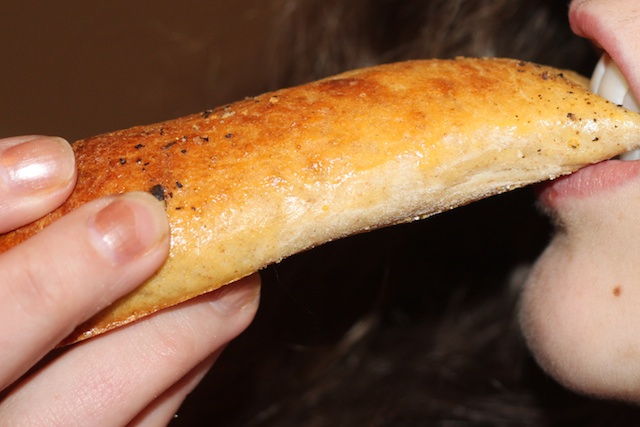 Bev's Special Potatoes
serves 10
2 bags of frozen hashbrowns (like Ore-Ida)
2 pints of heavy cream
1 stick of butter cut into pats and layered into potatoes
1 tablespoon Lawry's Garlic Salt
Put in crock pot on high for the first hour and stir. Continue to cook on low for several hours until crusty on top and cooked. You can use a baking dish and bake at 350 for an hour, but they aren't as dreamy.
Jennie's Special Potatoes
2 bags frozen hashbrowns
2 cups 1/2 and 1/2
1/2 stick butter
1 cup plain yogurt
1 T Lawry's seasoned salt (I honestly just saw now, as I type this, that it is supposed to be Lawry's Garlic salt. I had no idea…)
Same directions as above, but if things start to seem dry (they should be sort of saucy), add some milk, half and half or yogurt until you get the right consistency.