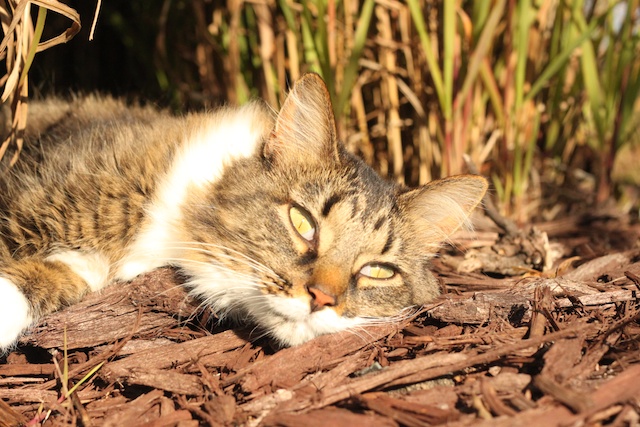 May 20-something, 2008 – June 20, 2011
I've been trying to write this post for weeks now. I can't believe it's been almost a month since she died. In some ways, this has been my hardest animal loss because it was so unexpected and final. Most of our cats just disappear. We never know if they will show up again or not. So we hope and search. Not knowing is always hard, but we've had cats go missing for a month and show up again, so it's easy to be hopeful. Not so with Pokie. We found her in the grass shortly after arriving home one evening. There were no marks on her — she looked like she was sleeping — and yet she was gone. The only thing we can guess is that she somehow was hit by the car as we came home. To say that is devastating doesn't even come close to the heartache.
Pokie was my kitty. And I don't even officially like cats. I raised this little, evil, naughty kitty from the time I unwittingly volunteered to take her into our family.
It started innocently enough. Rakel, a friend who had given me a kitty or two before from her parent's farm asked my kids (while I was conveniently not present) if we were up for a new kitty. After much nagging, I agreed. We had recently been in a bad stretch of losing cats to coyotes back in 2008 and Ollie The Black Cat needed a friend. We picked Pokie up on the last day of school in 2008. I knocked on Rakel's door and was presented with this: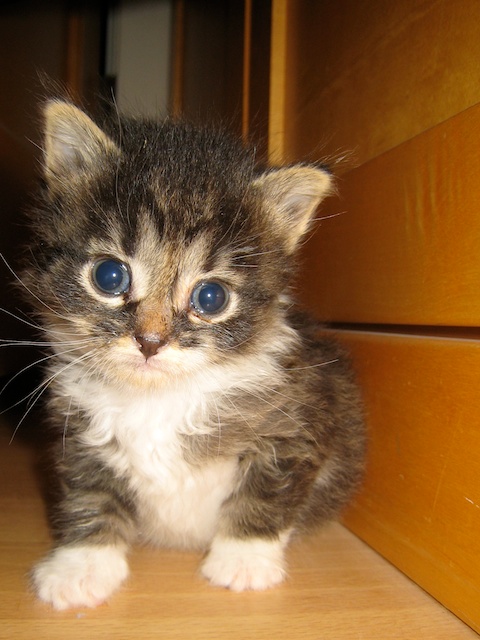 To say she was little was an understatement. She wasn't weaned. She was being fed with a bottle. And she needed to be manually pooped and peed. For those of you who don't know what that means, consider yourselves among the lucky ones. Suffice to say, you do not want to have a kitty this little. My vision of a garage kitty was quickly dashed. And, by the time Pokie was able to poop and pee on her own, I had so much time invested, she was like my own gold bouillon stash. I didn't let her outside out of my sight for almost a year. No Pokie-McNugget for the coyotes this time, no siree.
And in the meantime, I fell in love with her.
I was most worried about Lola being mean to her. As you may already know, Lola is not known for her "patience" with other animals. Her nickname is Cujo.
I shouldn't have worried.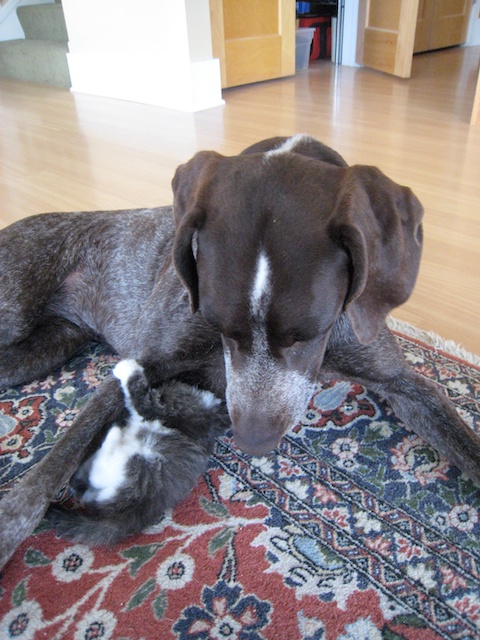 Lola became her mommy. And she stayed Lola's baby long after she was mine.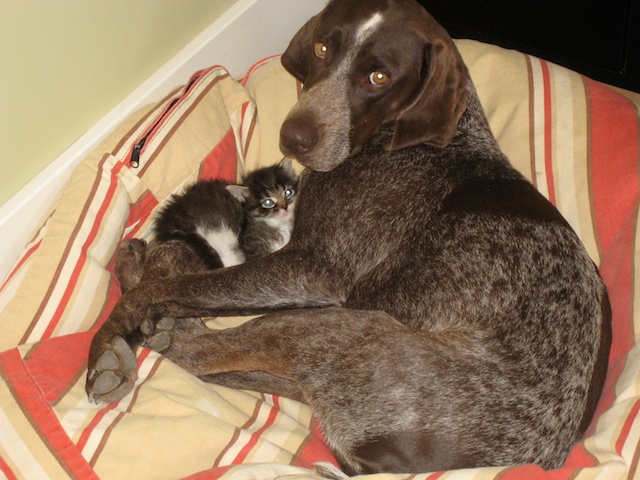 Tthey always stayed special friends, despite Pokies feisty temperament.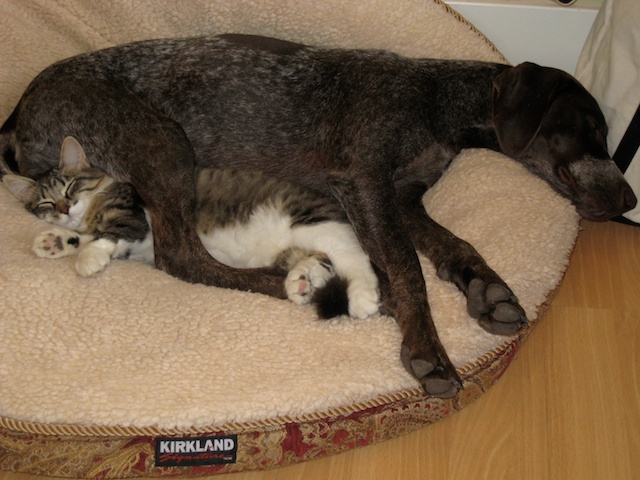 Sometimes it didn't work out so well for Pokie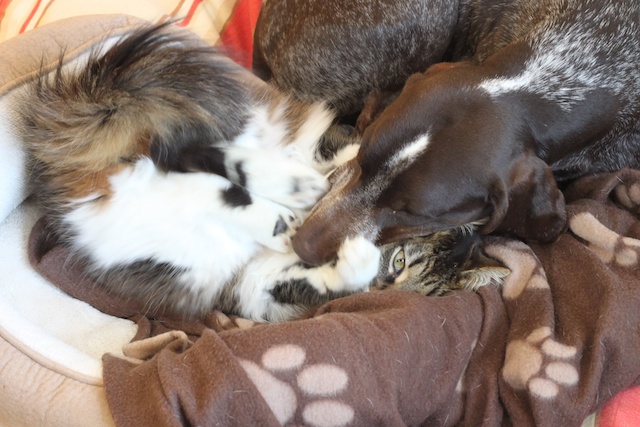 Ollie the Black Cat was never as enamored.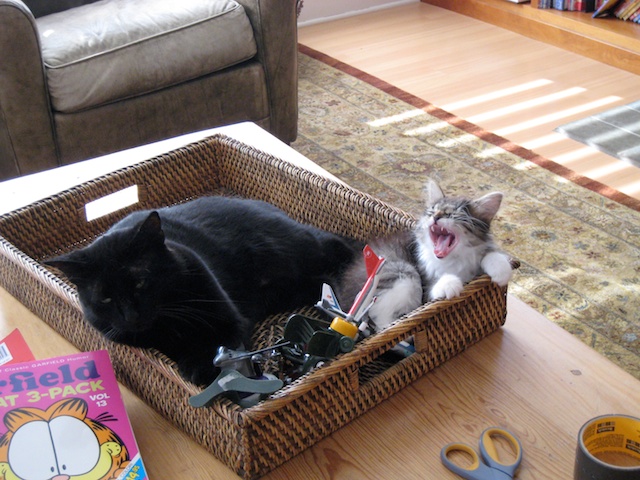 We kept trying to get them to cuddle up. But it never really stuck.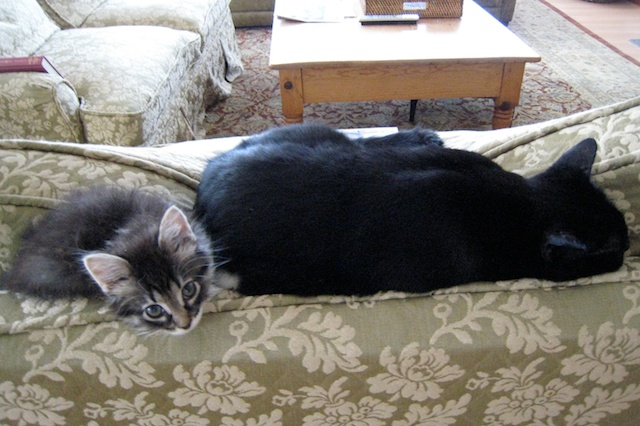 I have so, so many pictures of Pokie! Every single one makes me smile.
Pokie started as a sweety kitty who was carried around by everyone. And evolved into a sweety cat who was carried around by everyone and promptly dropped as she hissed and growled until you finally set her down.
It couldn't have been because of external circumstances.
Could it?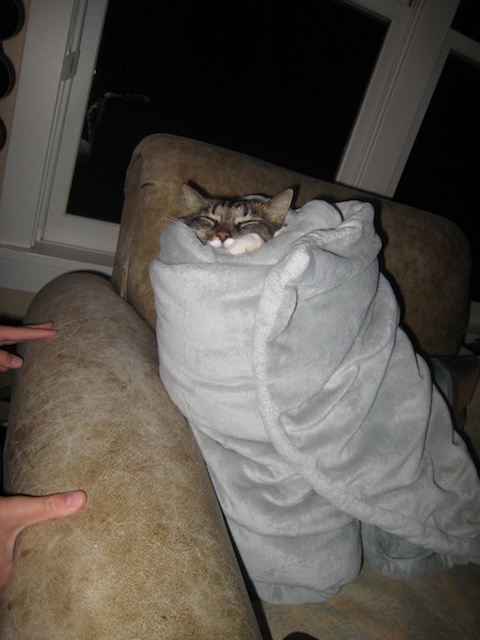 Perhaps you can't tell by this picture, but this was called the Pokie-Burrito Treatment as performed by Morgan.
The kids would chase her down, catch her and roll her up in a blanket infant-swaddlesque. Then they'd set her upright in various places around the house and take her pictures. In this one, I'm pretty sure she was growling as she stared me down, imploring me to release her.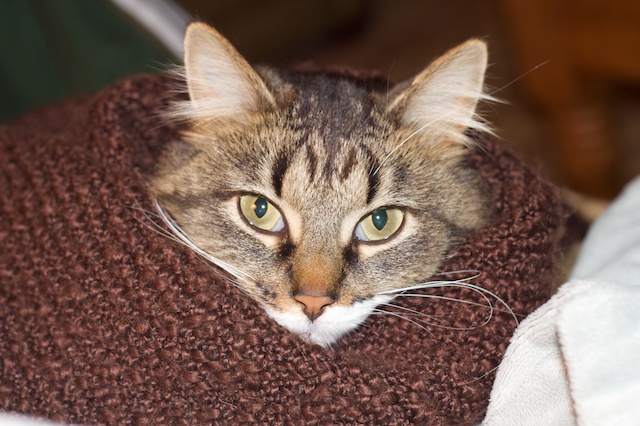 Or maybe she was just plotting our deaths.
She was loveably evil.
You never knew where you might find her.
Early on, in the absence of Lola to cuddle up with, she invented amazingly cute places to sleep.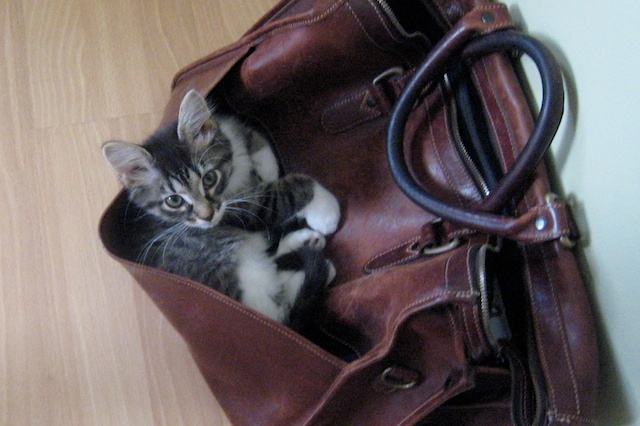 When we brought her to my parent's in Hayward we found her on a high table, drinking out of the watering can fountain.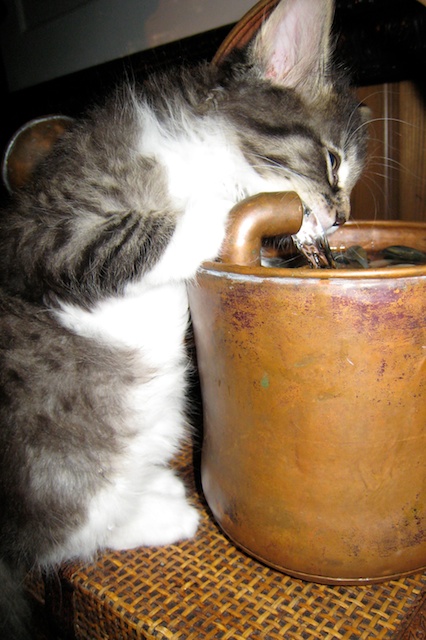 Later, as she grew older and eviler, you might be packing to go skiing, reach in to your bag to move something around and
W H A M !
A claw would come out of the dark and skewer your hand, scaring you half to death.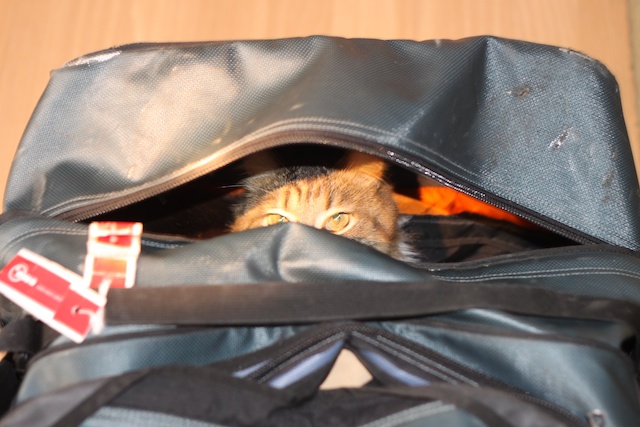 Or you might open the drawer to get out a new garbage bag and…
S C R E A M at the top of your lungs when something moved inside the drawer.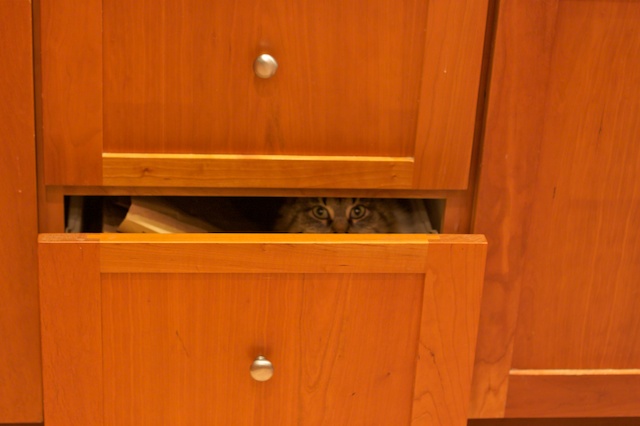 She took to stalking our old barn cats, terrorizing Fat Londa daily. I have no pictures of that. Just know that Fat Londa is our first cat. She (he) is 14 years old and has about 9 BB's in her (his) head from the time Dave accidentally shot her (him), thinking she (he) was a raccoon. At the very least, Fat Londa deserves respect from the youngens' around here and Pokie did not comply.
I do have this picture of her bugging Ollie.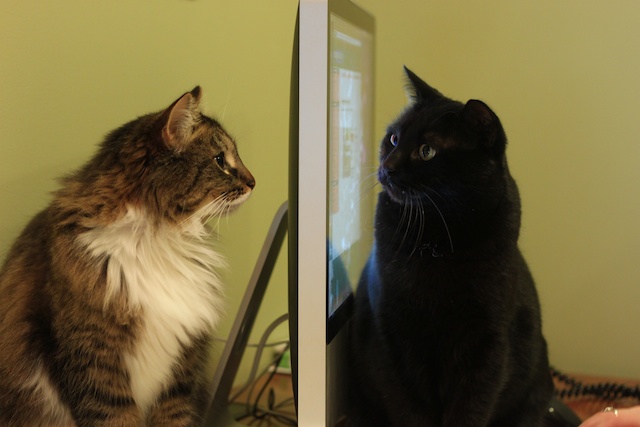 Pokie was Ollie's worst nightmare. I don't think Ollie misses her.
I do. I miss her evilness. I miss her fur balls. I miss her so much.
In the garden, in the office, even (don't tell Dave) in my bed.
Goodbye my beloved and evil Pokie Cat.