I'm only updating this from Vail because
I can. (thank you macbook air!)
my dear friend Pam's daughter asked me to, stating, she is "tired of looking the bladder thing"
i realized she is right
i got such funny photos today, I had to share.
So on with the show.
First, understand that skiing for spring break is not always an easy pill to swallow for a Minnesotan. Even harder for a 16 year old girl Minnesotan. Marginally less so for her mother and probably equally less for the younger brother.
Vail Dave, however, has no problem at all. So it is off to the airport that his little squad of ducks follow him.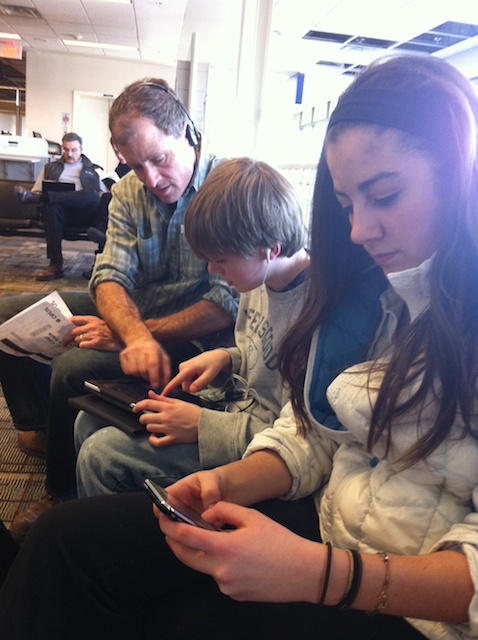 Did you know that Vail Dave actually bought a Colorado season ski pass this year? Yes, he did. That should tell you how much the man skis. It was a better deal to buy a season pass. Is it me, or is there something wrong with that?
It's usually a stretch to plan a ski vacation in early April. You just never know if there will be snow, and if there is snow, will it be good enough to make an expensive vacation worth skiing on it?
No worries this year. Colorado, and particularly Vail, is having an — to use an overused cliché — epic year. And today was no exception.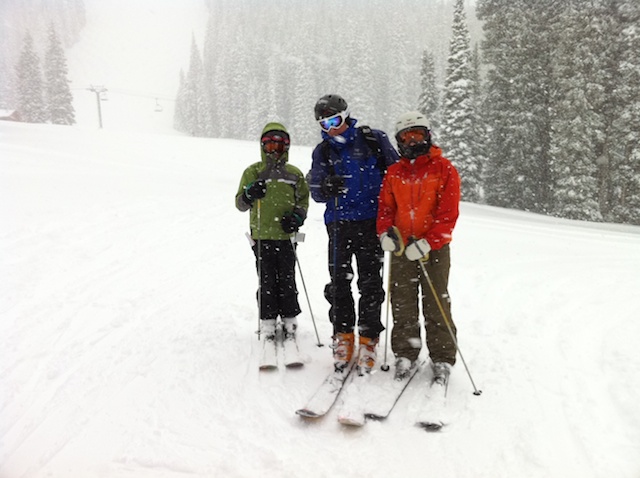 It started snowing on and off yesterday (our first day of skiing) and it never stopped. We woke up to about 10″ on the ground outside our hotel at the base. There was easily 12 or 14″ at the top.
And powder is the best, right?
Not to the uninitiated.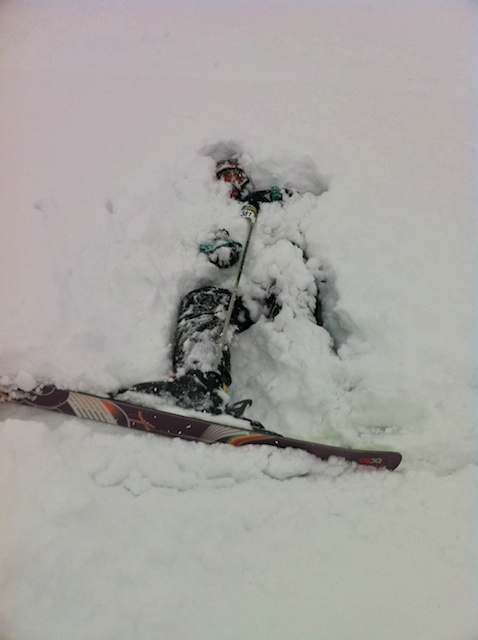 Good skiers make powder look so easy to ski in. So fun!
(Like Dave.)
His squad of ducks quickly wanted to leave the nest. After only 2 or 3 runs, the smiles were gone. Well, I'm exaggerating I guess. My smile was still there. I'd fallen two or three times, but there was so much snow it didn't hurt. My smile was vanishing quickly though, when the kids went south on us. There's nothing like a $100 lift ticket in the back of your mind to make you say to your kids,
"Get over it! This is supposed to be fun! We are spending way too much money for you not to have fun! No, you are not going in!"
Then, Charlie fell and hurt his ankle. Not too bad, but enough to be bummed. Morgan has been battling an illness. The wind picked up: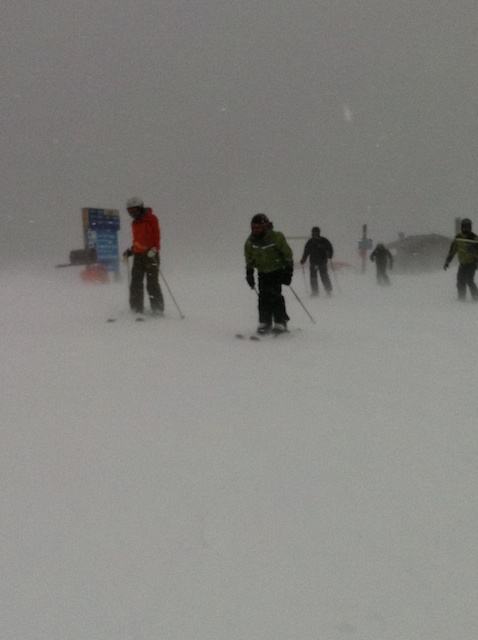 …and we decided it was time for an early lunch.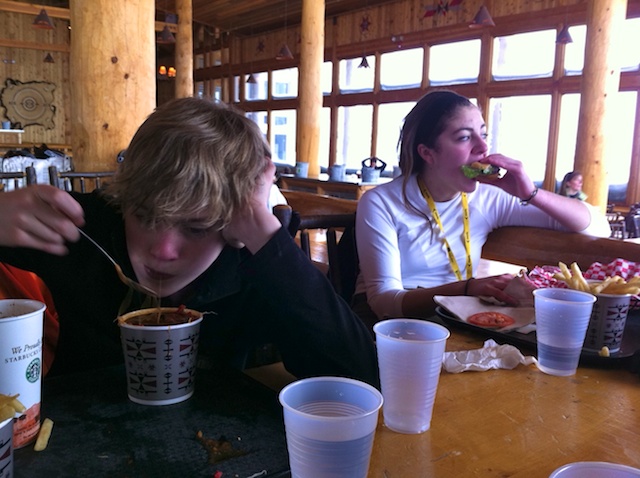 I've always loved Two Elk Chalet. (It's where I first had my beloved Posole.) But now I love it for another reason. It is like the band-aid for a tough ski morning. About $500 in lunch expenditures later (I didn't say it was cheap), all warmed up, it was like a new day!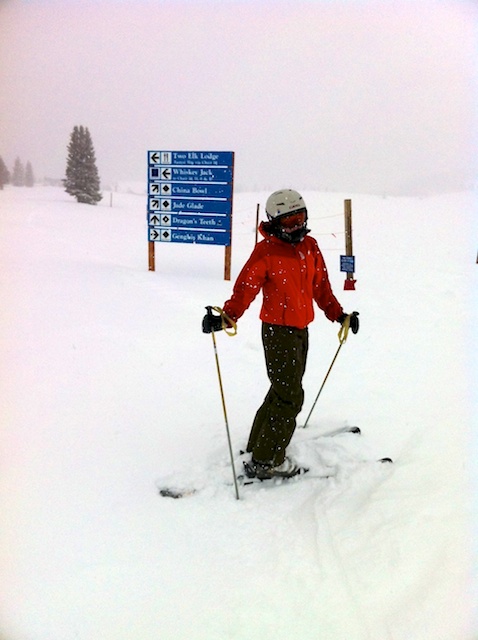 Everyone had their mojo back. We went back into Blue Sky Basin, and even though a lot of the powder was skied out, it was still unbelievably soft and light. We went on tree runs and steeps that we could never go on without all that deep snow to slow us down.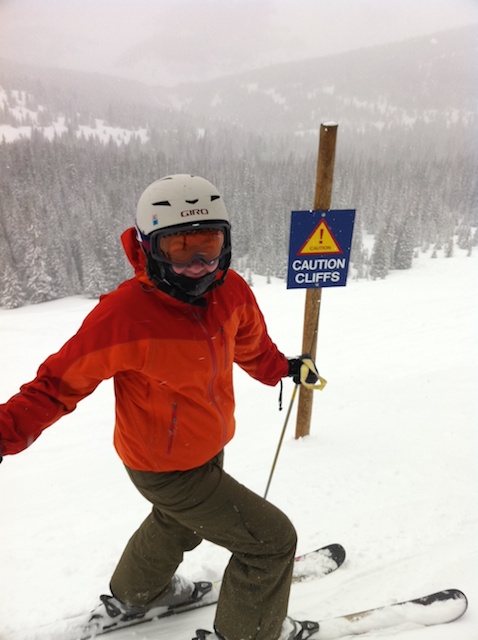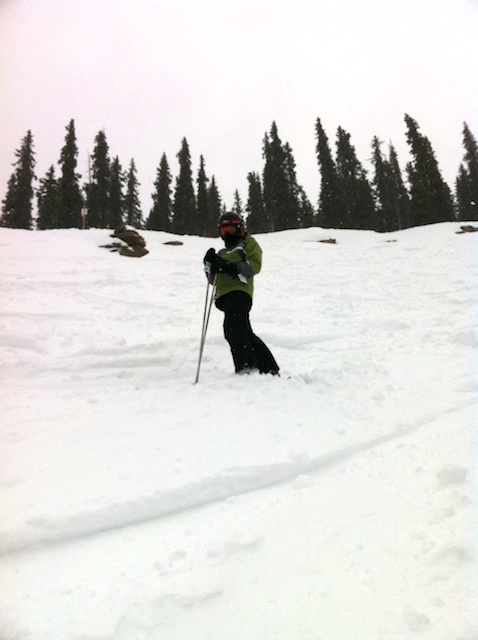 (Like this run called Skree Field with actual cliffs.)
Normally, I stay out of the trees. I fancy myself a pretty good skier (advanced, not expert) but I am a serious disaster in the trees. I also fancy myself a pretty smart person  and therefore when Vail Dave leads the other two ducks into the trees, I stick to the edges.
But today, I threw caution to the wind. And I must admit: I was a rock star.
Here a picture of one of the trails leading out of Skree Field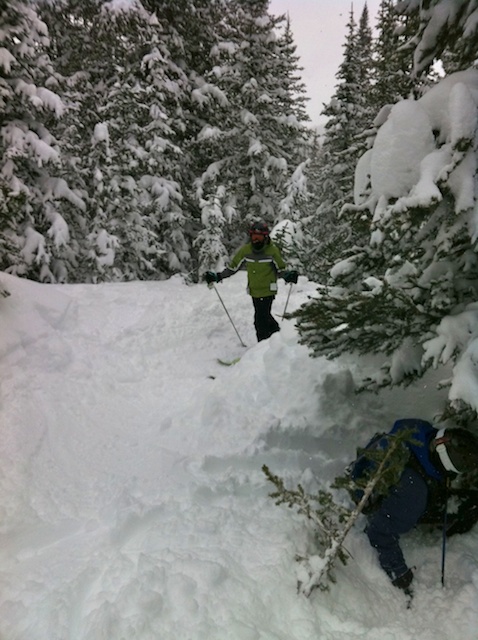 …Oh, wait… Is that Vail Dave stuck in a tree well? It just might be!
(That's the beauty of having possession of the camera: no one captured my wipe-outs.)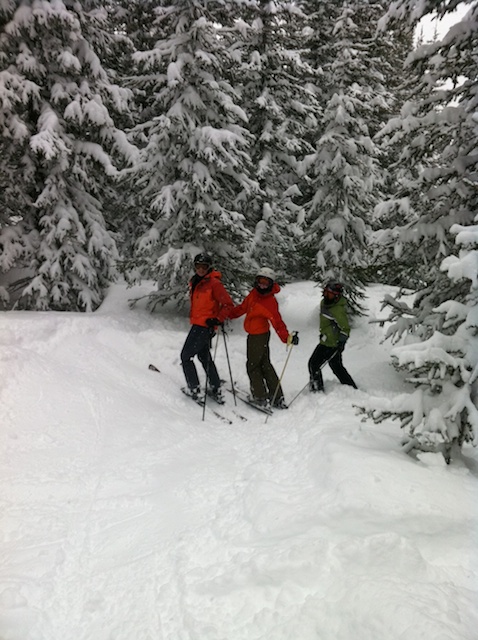 It was a great day. First chair at 8:30 am and skiing almost to the bell at 4pm. Dave insists I try fat skis tomorrow. I'm not so sure. I've got a pair of Rossignol S7's all ready to go. I just am so used to my vintage K2 T9s, I'm a wee bit scared.
But it's nothing Two Elks can't fix.
Morgan is busy planning our meals out. And she tells me it's time to go to La Bottega. But first she is doing my make-up. So I must go. We are having a blast. Just don't leave any comments about beach vacations, OK? I'm not having that much fun.