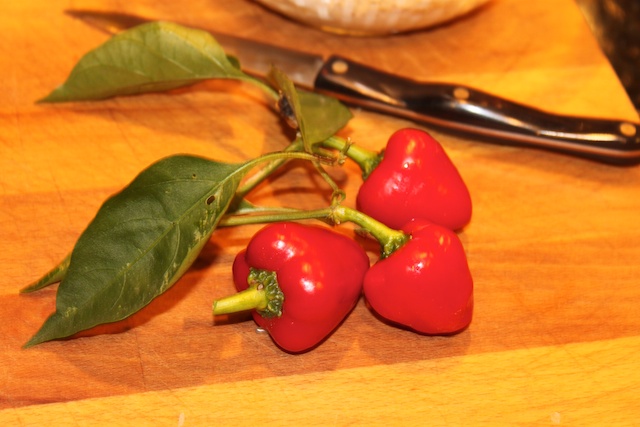 Normally this stuff just flows from my fingers without pause. But it is confirmed. I officially dread writing about Meatless Mondays.
This post has been half-finished for over a week now. And I won't let myself post anything new until I get it done. The agony… of bad pictures and uninspired writing.
But you have to give me kudos for trying. And trying I am still. The past two weeks we have had two — actually three — meatless dishes. But remember, oh yee of actual vegetarianism: I consider fish and shellfish to be meatless. So I know that negates at least one of the dishes for the truly hardcore.
And, as usual, I lack photos. The days are getting shorter here in Minnesota. A lot shorter. And we eat late. I mean really late. I'm not all that concerned about photography when I'm frantically trying to get dinner on the table before 9 pm.
I'm also not a writer dedicated to showcasing my photography to the point of making meals in the middle of the day in order to style the dish and photograph it on a sublime background in the pleasing light of the setting sun. Do you know how many people actually do that? It is truly mind boggling. You can go ooh and ahh over their posts. Here's a funny irony: my friends shake their heads at me and say "Where do you find the time…" and I shake my head at all those beautiful photos on those beautiful blogs and say "Where do they find the time…"
No, I grab the closest camera and snap. Flash and all.
Did you know that flash photography is the horror of all horrors? Seriously. Another little known fact for all you non-food-blogging types. Which, I hope for my sake, are most of you reading this.
But I have  two Meatless Monday winners that I haven't posted before, so I should at least share the basics. The first, Meatless Monday 40, is a dish I tried to replicate from the old Sidney's Restaurants here in the Twin Cities. They made this spicy sausage with peppers in tomato cream sauce which I just loved. I came up with a recipe that I thought came fairly close. Of course it wasn't quite as good, because I could never knowingly use as much cream as they did and still enjoy eating it.
That's probably why we all like to eat out so much. Because ignorance is bliss. Well, I guess I can't slap that generalization on The Pioneer Woman who starts every recipe with a pint of cream and a stick of butter, but she is a CATTLE RANCHER, for goodness sake. I sit on my butt all day doing graphic design for free. I have to live by different rules.
Anyway, I recently made this for Meatless Monday, sans the italian sausage. The sausage was sadly missed but the dish was still surprisingly good.
Spicy Penne with Tomato Cream and Sweet Red Peppers*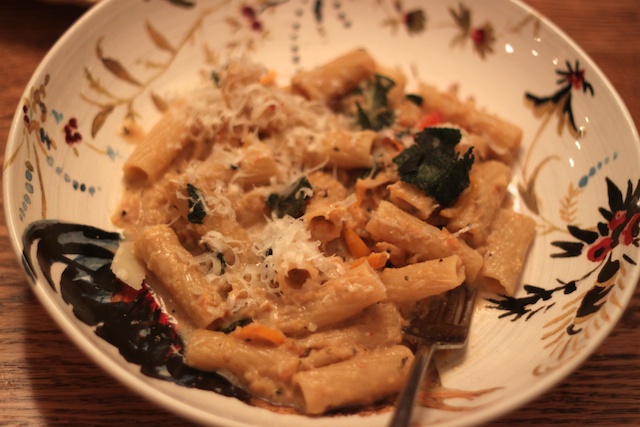 * The photo shown above does not show this incarnation of the recipe. It shows Meatless Monday 36, when I made it with sage and yellow peppers and lots of oregano. It wasn't nearly as good, though I did love those big pasta tubes! I recommend the following version of the dish. While the recipe is not precise, the herbs are more subtle and the red peppers more plentiful.
1 lb Penne or Rigatoni pasta, cooked al dente in salted water
1 small onion diced
1 clove fresh garlic minced or 3 cloves Garlic Confit mashed
1-2 cups of diced or pureed tomato — canned or fresh or combo — amount depending on your love of tomatoes
~ 1/2 cup  half and half or cream — amount and type depending on your love of a flat stomach
1 t red pepper flakes
1-2 t sugar
1 sweet red pepper sliced into skinny strips– green works if it is winter and red peppers cost as much as truffles.
1 t dried thyme (or 1T fresh)
salt and pepper to taste
1/4 cup fresh pecorino shreds — or parmigiano  if you are rich
Obviously there is no rocket science here. Saute the onion in a bit of olive oil over low to medium heat until translucent. Add the garlic and saute another minute, then add the tomatoes, thyme, salt, pepper and sugar and cook on low for a bit — maybe 10 minutes or so. About 5 minutes before serving add the peppers and cream. I like my peppers to stay firm and not be mushy. If you like them soft, add them earlier. Don't let the cream boil.
Toss the half pasta with the sauce, adding pasta until you get the consistency you like. (I use about 3/4 of the pasta usually and save the rest for eating with butter. mmm). Sprinkle pecorino over and serve hot!
*******
Something I discovered that you probably already know: heat your pasta bowl in a very low oven (250 or so) for 10 minutes before tossing your pasta in it. I was always afraid to do this with my big, pretty bowls. But as I get older, I don't care as much. Maybe it's because I have more bowls. Anyway, IT MAKES A HUGE DIFFERENCE and keeps the pasts SO FRICKEN HOT for so much LONGER. It makes me feel like I'm eating it in a restaurant where I never fail to marvel, "How the heck do they get the pasta this hot?" Now I know.