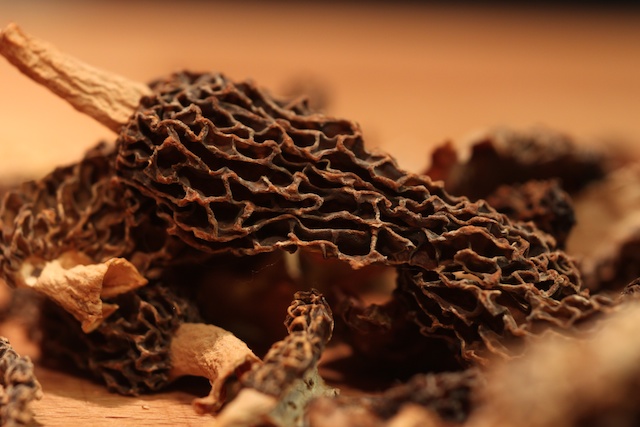 Chanterelle

Morel Mushroom with Pasta and Cream Sauce
No, we couldn't find Morgan's beloved Chanterelle mushrooms so she had to settle for *sigh* locally harvested and dried morel mushrooms that I've been saving for a special occasion.
It was a difficult sacrifice for me.
I'm all for Kid's Cook, but I'm not necessarily "all for" depleting my morel stash.
But I had to try to jolly the surly, soon-to-be-16-year-old-girl somehow. And my benevolent offer of morels seemed to bring her out of her funk.
You see, I made this amazing and totally spontaneous Chanterelle mushroom and pasta dish for our second to the last Meatless Monday of 2010. Ever since then Morgan has been swooning about a repeat. And frankly, I'm not sure I could repeat it, even if I had all the ingredients. That's the curse of a throw-and-go cook like me.
I've long given up trying to compete with any true food blogger. Those people freak me out. I imagine them with notepads and dirty pans writing every little thing down, dates, results, etc. Why don't we ever read about their cats walking across the top of their rising bread loaves? (sorry Jeanette!) And where are their kids?
Because mine are constantly yelling at me from some distant room, requiring me to stop what I'm doing and wander around the house yelling, "What?!" What??!!" "MORGAN? WHAT THE HELL ARE YOU YELLING MY NAME FOR??!!!"
…Only to walk back into the kitchen and completely forget that I was broiling the top of a potato dish. A few minutes later, I might lift my nose in the air like a dog and wonder, "what is that delicious smell?" Only to remember another minute or two later that there is something in the oven that is now blackened and smoking.
That, by the way, is also the curse of my new oven that requires the door shut to broil. That is a serious issue for me — since I can't remember anything these days. That partially open door was always a good cue for me and now, alas, I have that cue no more…
So the idea of quickly and randomly throwing ingredients together for a last minute meal being repeated on memory alone is, sadly, impossible.
Otherwise I would have posted such a brilliant success here with the recipe.
Morgan doesn't understand that about me, so it was with utter confidence that she asked me to write down the recipe for her so she could duplicate her new favorite meal, but with morels instead of chanterelles.
I tried.
She thinks she failed.
But I'm pretty sure it was the recipe.
Either that or the chorizo.
You know me, I'm always wanting to throw some tasty, fatty meat in there at the end. So I convinced her to dice up some chorizo to throw in with the mushrooms.
We loved it. She didn't.
It started out so pretty, with golden sauteed shallots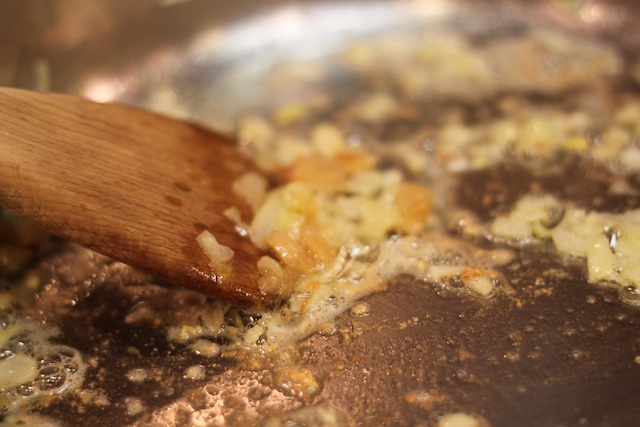 I say she added too much pecorino and that's why it got so rich and thick. (note: WE thought it was delicious.)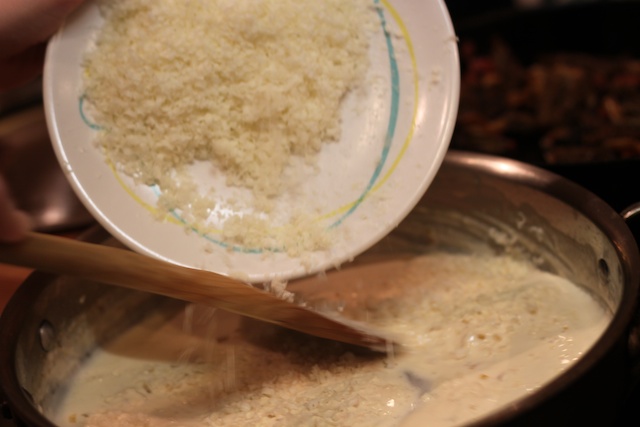 She says my chorizo ruined it for her.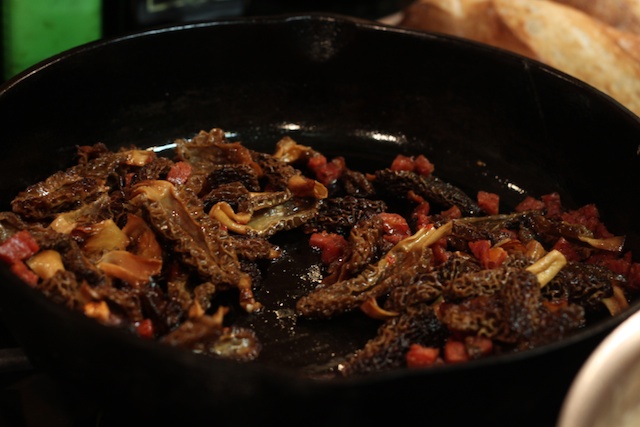 Regardless if it was the recipe, the chorizo or the cheese, she handled the many stages and steps like a pro, boiling the noodles while the sauce bubbled away and the artichokes in the pressure cooker did their thing.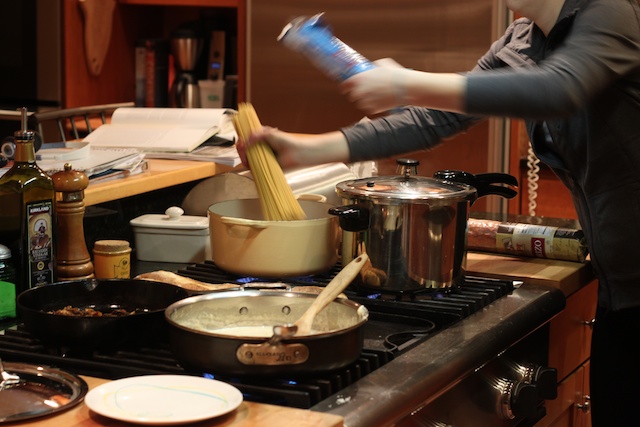 The sauce was finished a bit early, which thickened it more than she would have liked. (Again, note: WE thought it was delicious)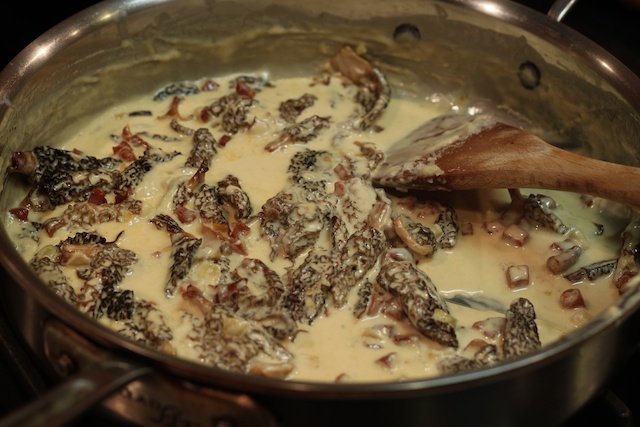 And when the artichokes were ready for the table, they made it there as mere shadows of their former selves, since the three others in the family simply can't control themselves around artichokes… Lucky I got this picture before the mayhem descended with arms reaching in and butter dripping all over.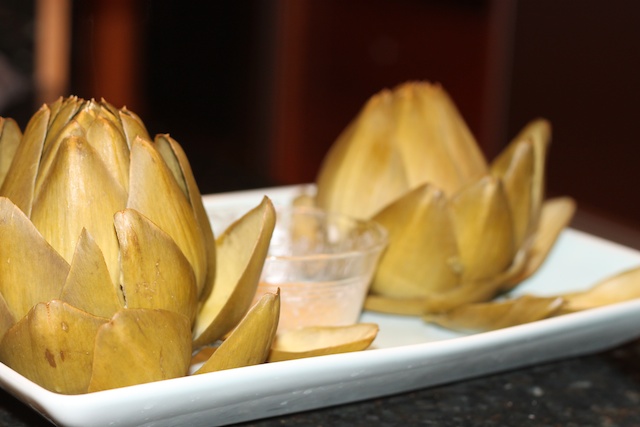 And here it is in all its glory: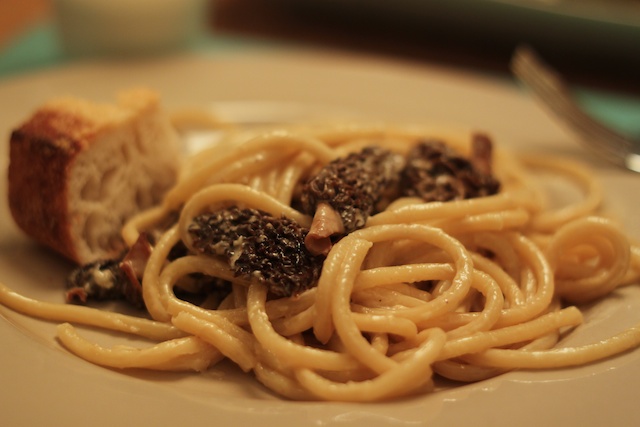 She thought it was lame.
WE thought it was delicious.
She's too critical of herself.
She obviously doesn't take after me.
The poor thing.