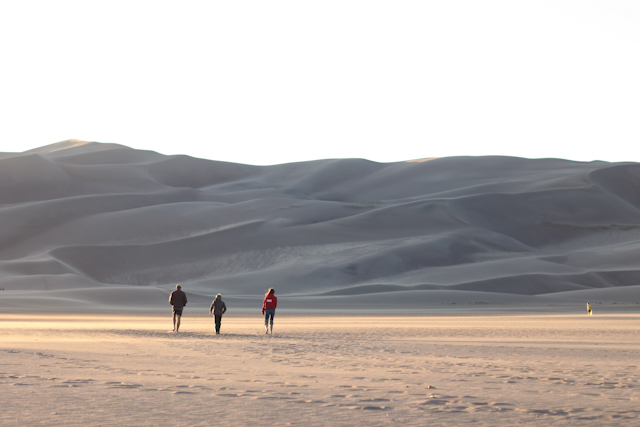 Backstory:
It's no secret that I feel I missed my calling as a writer back in 1985, midway through my second year of college when I took the much-traveled path from the University of Minnesota's Institute of Technology to… what? Well, that was the decision. I knew at that point I wasn't cut out for a career in Chemical Engineering. (Don't ask.) But what DID I want to do? My dad sent me to a career counselor, I did a lot of soul searching and what did I choose? Business school, aka Carlson School of Management. Now, don't get your undies in a bundle, I know that Carlson is considered one of the most highly regarded undergraduate business schools around, but back in 1985? Suffice to say: it wasn't. So why did I choose the Business School over the Journalism School? Because I didn't lose any credits. Simple as that, and my fate was sealed. So I graduated in business (with a big, fat crush on my Econ teacher, Wade Dyke–what a name!). And promptly got a job at an ad agency doing account work. After a rather dramatic end to that job, I started freelancing in the new field of "desktop publishing" while I looked for a sales job in the computer industry (my other big love). The late 80's were tough times to find a job, so I just plugged along doing my freelance work. Today I call myself a bona fide graphic designer. I know I'm not actually a "real" designer, but my clients seem to like what I do well enough, so it's all good.
I know what you are thinking: I digress! I know it, I do! But the background is important, because it's my rationalization for starting this next series of posts: The Road Warriors 2009. It's simply the journal I kept while on our annual camping trip this year. To be honest, my garden is a fricken mess, my chickens have turned out to be roosters, my menopausal rage is in remission and I don't have any good recipes to share. So I figured, why not? You might find it interesting and laughable. Plus, Dave and I tend toward the obsessive/compulsive when finding camping spots, so maybe you might even like to try some of the spots we picked.
Road Warriors 2009: Colorado, take 2 

August 19-27, 2009
August 19
Pre-trip: no planning at all this year. Might backpack, might not. Might balloon ride, might not. Might get a hotel room, might drive all night. You get the picture. This morning I brought the car in to have a slow leak on the front tire fixed. Turns out it wasn't fixable and now I have four brand new tires, to the tune of $940. It rained all day, 3.5″ to be exact, preventing me from popping the camper up to determine if any mice have taken up residence and packing it with sleeping bags, cleaning it up, etc. Hope all is OK!
The tentative plan was to leave around 5:30, after soccer. As usual, we were late getting started and didn't roll out until 8:15pm, turned around about 3 miles from home to get Charlie's Camelback, another backpack and what else? I've already forgotten… In Waconia, kids moaning about being hungry (15 minutes from home, mind you), so we stopped at Subway (picking up the requisite mayo packets that my kids insist is "way better than Hellman's"). Dave drove from there, and in Belle Plain (another 10 minutes from Waconia) decided he was too tired to continue. How we doin' so far?
Jen drove till about 2:30 am, being the rock-star that she is, only screwing up once outside of Mankato when she chose hwy 60 instead of 90. Oops. Road closed detours delayed about 30 minutes, which she wouldn't even had to divulge if she weren't so honest, as everyone was fast asleep at the time. Jen made it to Oakland, NE where Dave took the wheel.
Lots of construction and more detours and delays later, Dave took a sleep pit stop from 5-6 am. Potty and coffee at 6:30 in Kearny, NE. Stopped for breakfast and gas in Julesburg around 8:30. Jen drove from there, through Denver, quick stop at Walmart for new water jug (we have the hardest time finding a non leaking water jug!) and propane.
As usual, we had a very hard time finding "just the right spot" to stop for lunch (out of the cooler, of course, because we like to torture our kids with homemade food). Out of desperation and memories of eating lunch at 4pm during vacation's past, Jennie pulled over at the top of a mountain pass and we ate a loud and dusty lunch around 2:30 as semis roared past the "scenic overlook." Dave was highly critical, but at least we got to eat.
Dave drove from there to the Great Sand Dunes Campground. We took site #49. We were sure our site from the 2004 Colorado trip was right next door (#51), which is pretty funny because we drove around the whole place 1 or 2 times before settling on #49. I guess we know what we like. We ate penne pasta with roasted turkey, browned butter and sage leaves. Had a couple beers and went out to the Dunes for the sunset. But it was so WINDY! We couldn't even open our eyes! Sandstorm!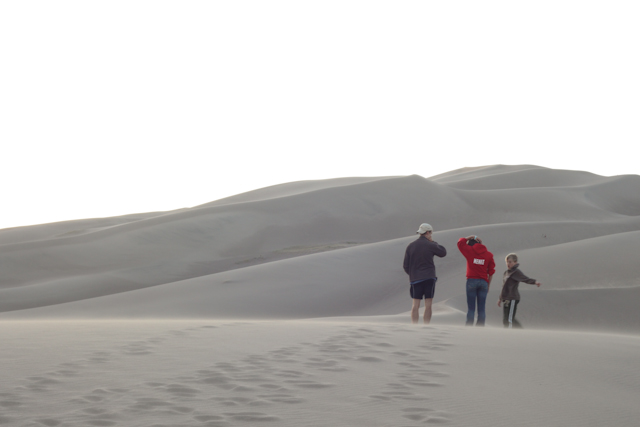 Hoofed it back to the campground. The wind was literally rocking the camper and a fire was impossible, leaving us only one real alternative: GO TO BED! The kids couldn't figure out why we were so tired… driving all night will do that to you, I guess. From their point of view, they drove all night too, so it just didn't make sense.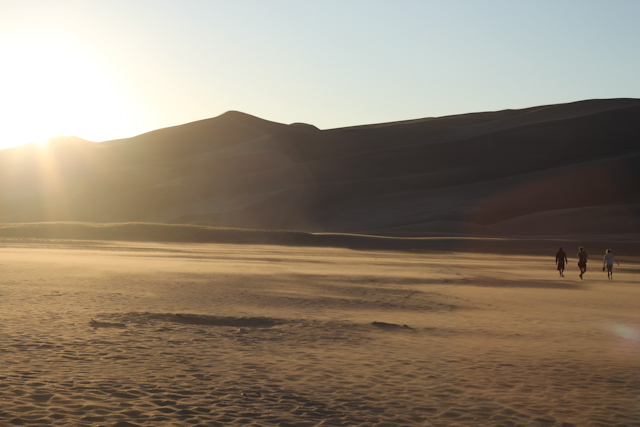 Day two: Pagosa Springs, here we come!