Day 8
8/5/2010
NEWS FLASH: Dave slept until 9am.
Never in the history of the camping world has that happened before.
I was up and sort of wandering the empty campsite wondering what to do. I haven't a CLUE how to make coffee in our camping coffee pot. I get where the water and coffee goes but don't know how much of either to use or how long to cook. Stuff like that.
There are very few things in my life that I deliberately make dumb on, but I'm entitled to at least two or three and camping coffee is one of them. Well, any coffee pot, other than my own, I guess. I'm just a bad coffee maker.
In the midst of my wandering, Charlie stuck his head out of the camper and cried, "No fire?!"
And I realized I don't do fires, either.
Not learning how to use Dave's coveted new zero-turn mower is the third. I spent 11 years mowing our yard and garden with a push mower and revel in my new role as sunbathing onlooker.
And I think that's about it. I think I pretty much can do anything else. Test me. I dare you.
I did get to work on blueberry pancakes with those amazing local blueberries, only to be told by the emerging sleepers that it was "a little too early for pancakes."
What?
We leisured our way through the morning, eventually making sandwiches and packing up for a day in the car and on the road.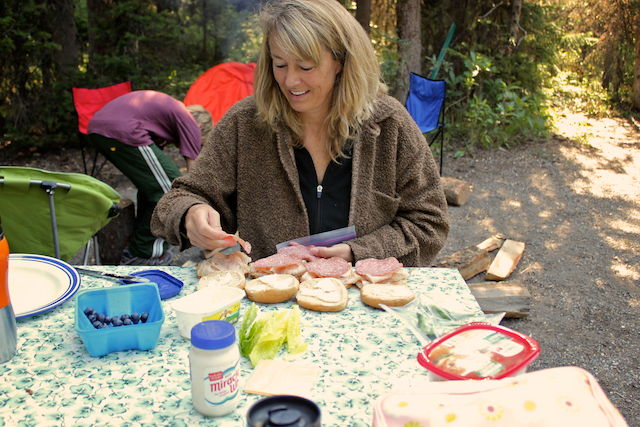 You see, Dave wanted to see the Columbia Ice Fields, located midway between Banff and Jasper. Being the most experienced Banff traveller from my many forays to the park with my family growing up starting in the 70s and ending in 1981, it was natural for Dave and the kids to know if I had been to the ice field.
Yes and no.
Here's what I remember:
I remember driving in the car with my family on the way to the ice field with the idea of possibly going even further to Jasper. I remember at some point, a mutiny occurred. Whether it was my mom, brother and I against my dad or if it was us against my mom (highly unlikely, as it was always my dad who was the idea-man back then), I can't be certain. But I remember that we had all had it. And started begging my dad to turn the car around.
I do know that we got to the ice field — which in my opinion is a total misnomer since you can't actually SEE the ice field. Instead, you see one or two fingers of the ice field (glaciers).
I remember getting out, walking on the glacier and overwhelmingly vetoing the option to ride in a Sno-Cat on the glacier.
And mostly I remember that we all thought it was a waste of a day in the car.
After all, four or five hours roundtrip (depending on stops and traffic) is a lot of driving for a Minnesotan to see snow.
However, that was somewhere between 30 and 35 years ago. Now I had the chance to torture my own kids with the experience. Who was I to deprive them of this opportunity? Plus, Dave was throwing down the gauntlet. It didn't matter how much I dug my heels in. He was determined to go to the ice field whether I came or not.
But that didn't mean I had to be pleasant about it.
So I wasn't.
I still say it's a long stinkin' drive to see some snow. But, to be fair, I have to admit that parts of the drive itself are pretty impressive. The vistas are huge. Not craggy and steep, so much as long and unbroken continuous slabs of rock; tilted and touching the sky. Nice.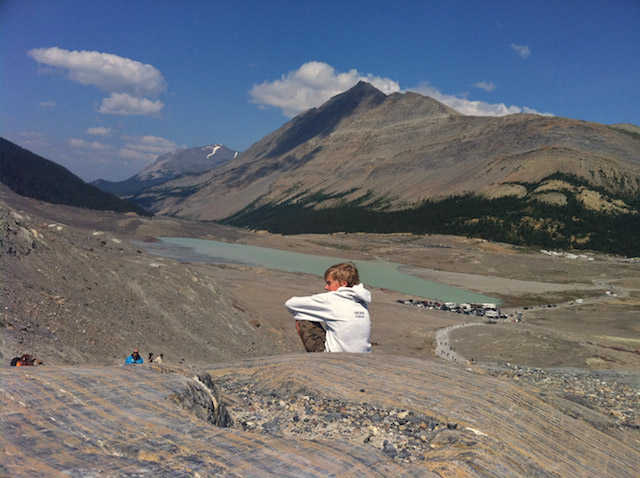 The Columbia Ice Field — Athabasca Glacier to be more precise — is the destination stop for the ice field and it was crawling with people. We aren't used to camping during "high season" so we aren't the most patient (or kind) carload of people. Sadly for our immortal souls, some of our best laughs and fondest memories come at the expense of the colorful or interesting travelers that we meet along the way. People are just too funny not to make some fun. I suppose I shouldn't admit that, but it's true.
From the parking lot, the people walking up to the glacier looked like ants in my kitchen. After pounding our sandwiches out of the back of our car (who needs a picnic site?!) standing in the parking lot, we joined the pilgrimage . It was pretty interesting to see the year markers denoting where the glacier had been — going all the way back 150 years.
I wondered if I had been remembering it wrong that — when I was there years ago — the glacier had been almost to the parking lot. But no, the recession has been that dramatic. From the marker closest to the time I was there, you couldn't even see the glacier.
The other big change was that you couldn't walk on the glacier any more. Actually, that only changed a couple years ago. Due to the rapid melting, there is now a river and a lake under the toe of the glacier that makes it too dangerous. Most of the signs on the walking paths were — not about the history — but about the hysterical danger warnings and deaths that have occurred.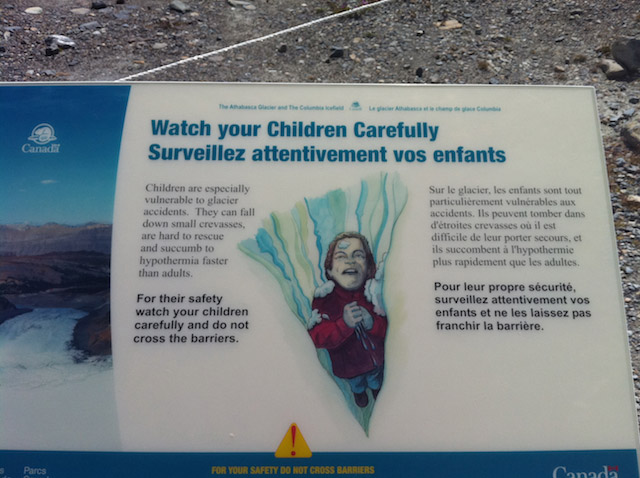 The interpretive center (also new since I had been there) was very cool. It had historical videos, displays and other stuff to help you grasp the immensity of the ice field that you don't ever get to see. And it had an evergreen with purple pine cones. I'm not kidding. This photo was not retouched at all: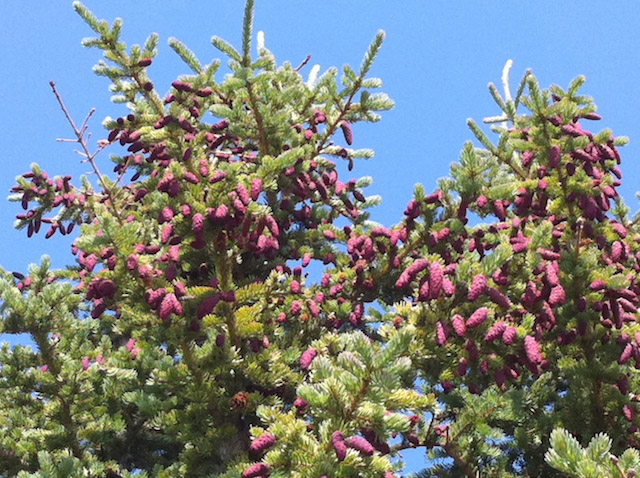 Worth the trip?
No.
Can't say I didn't tell him so.
A long drive "home" with another late-in-the-day side trip to Yoho to see Takakaw Falls and Emerald Lake. We missed the turn for the falls, so went to Emerald Lake first instead.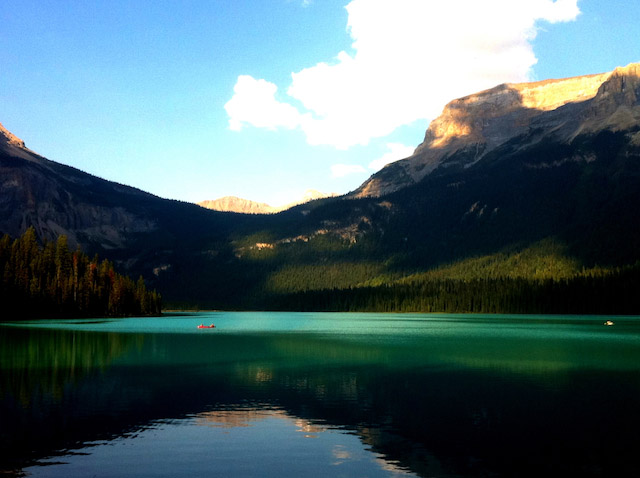 Rather than a hike, the Boss Man made an impulse decision that we would canoe instead.  Charlie was ecstatic, having been on a continuous loop during our time at Lake Louise:
"We should rent a canoe. Dad. We should rent a canoe. Hey Mom. We should rent a canoe."
Repeat.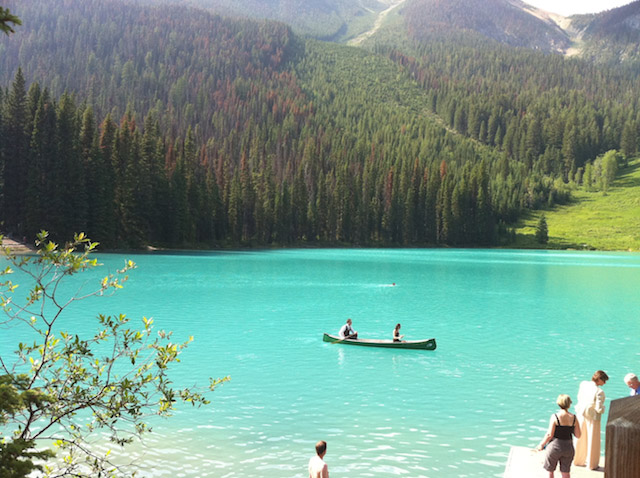 I'm not sure , but I think The Reluctant Hiker was elated too — though she hid it well underneath the crabby facade we are becoming used to in her 15th year…
I canoed with Charlie…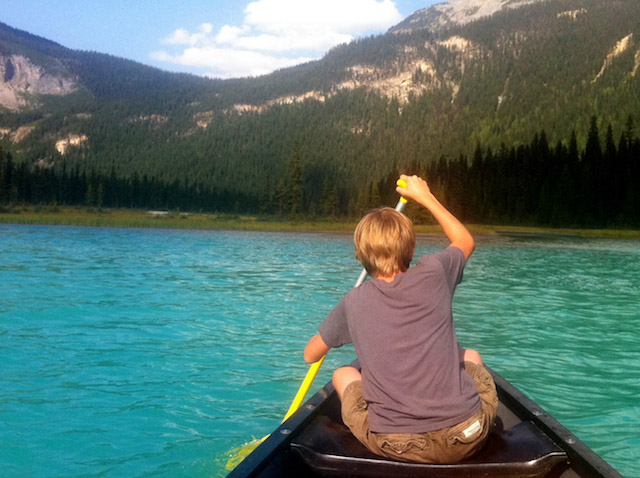 and Dave with Morgan.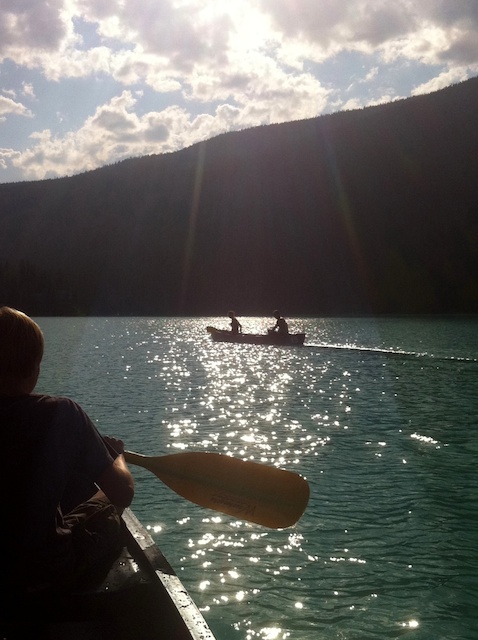 It was really fun, I have to admit. (So long as I made an effort to forget how much the hour was costing us…)
We left to hit Takakaw (which I insisted on saying loud like a crow's caw every time I said it) Falls on the way back. There was a view of the fall on the road in that was spectacular. I wish we had stopped to get a picture. We parked and after the obligatory feeding of the Ground Squirrels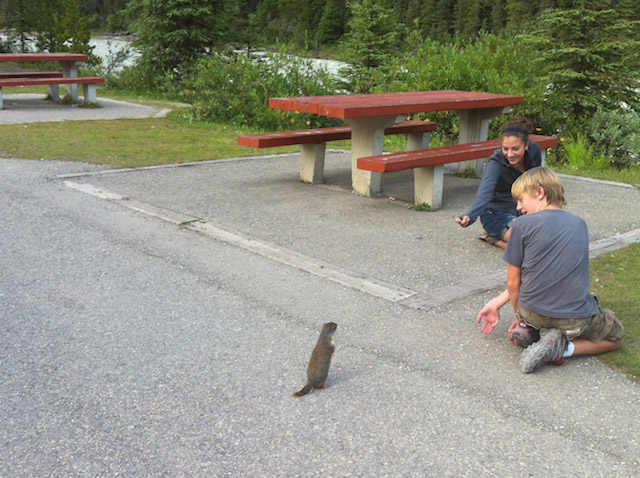 we started on a short walk to the base of the falls which I had to keep assuring Morgan was not a "hike."
The falls were ridiculous. Truly unbelievable. Huge and cool. It slays me that the guide book treats it like any other site. This one should at least say something like "A must see" or "Don't miss!"
It helped that a brilliant rainbow highlighted the bottom of the falls.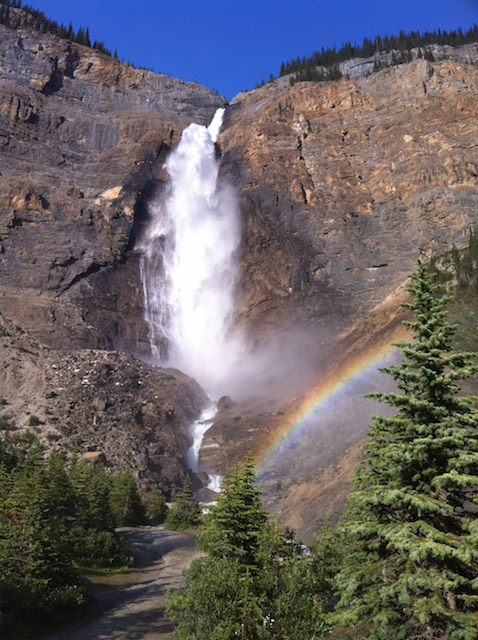 It didn't even seem real. Unfortunately, we missed the perfect Christmas card photo by seconds. Just as we realized the "magic hour" color of the sunlight with the rainbow behind it was captured perfectly on camera…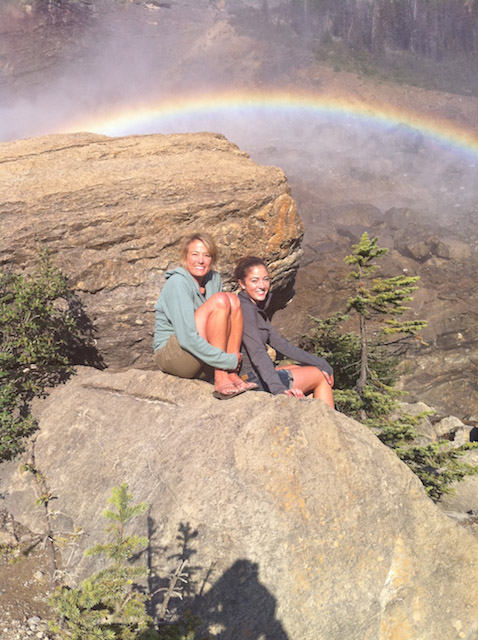 the sun sunk behind the mountain. We were in the process of frantically trying to get someone to take the picture for us.
But no one spoke english.
That is the truly crazy thing about these Canadian Parks. Everyone is from Europe or Asia.
Damn them all!
I had to talk Dave out of stopping at Lake Louise for some chicken to cook with the Tastefully Simple White Chili on the menu for our last camping dinner. "We don't need it! Don't stop! Let's just get back! It's late!" — I hate grocery shopping as much on vacation as I do at home, it seems.
We got back to camp around 8:30pm and quickly made the white chili, corn on the cob and fire-toasted flour tortillas (a great idea!). It was great, even without the chicken.
Everyone was dog-tired, and headed off to bed, one by one, leaving me to toil over this very journal late into the night with my headlamp.