Day 9, The Conclusion
8/6/2010
Everyone was up by 8 am and we puttered around not too enthused for either packing up for home or heading out for a last hike on the Marble Canyon trail.
Lethargy.
We finally got to the trail about 9:30 and scurried along the well-signed interpretive trail without pause, since the sky had suddenly started to threaten rain.
No WAY was I packing the trailer up in the rain!
Or so I thought.
The trail wove along the ever-deepening canyon, through the most recent fire.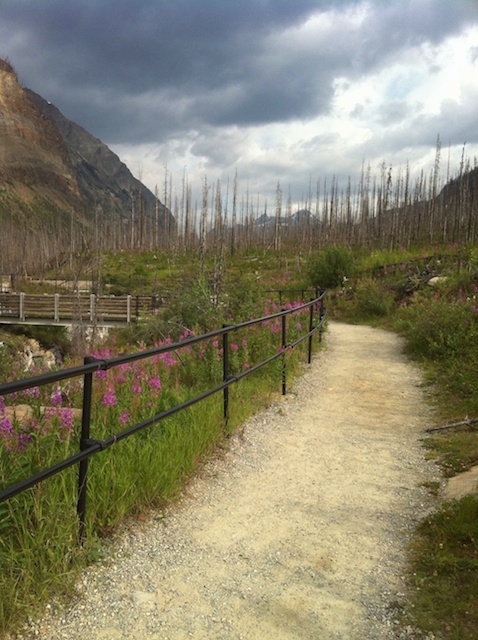 In the beginning, the river is level with the path. By the end, the water was so far below, deep in the canyon and brilliant blue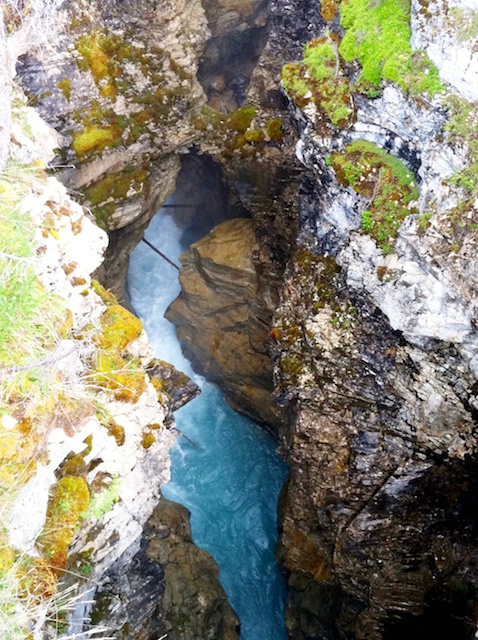 The trail ends with this beautiful waterfall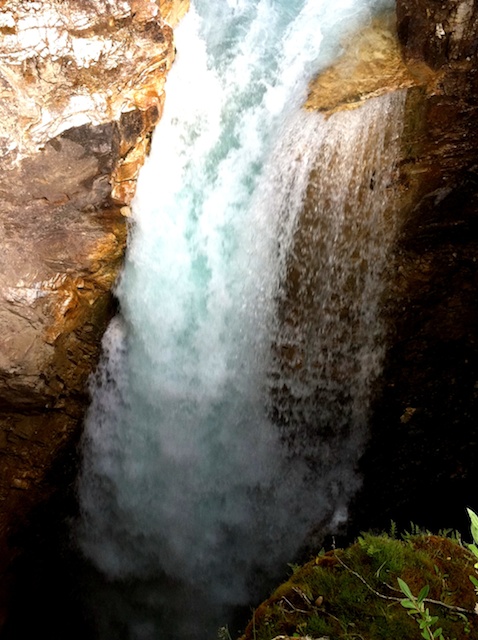 This is the growth of a lodge pole in just four years!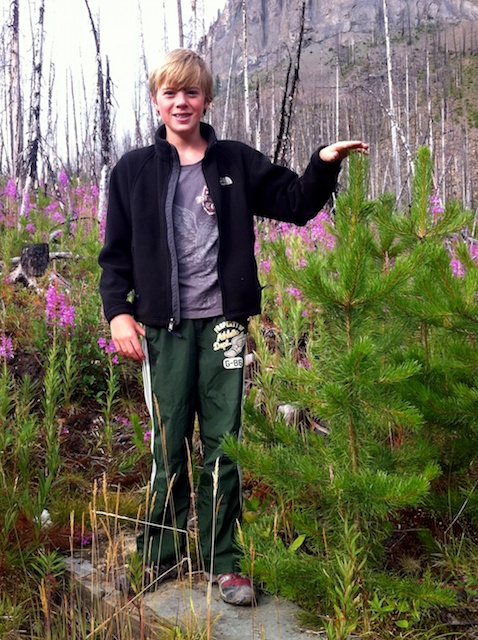 We raced back after completing the hike in probable record time, but the rain had already come through the campground. Everything we'd taken out to pack up for home and left out was soaking wet. Towels, chairs, shoes, backpacks, rugs…
ARRGH.
What could I do?
I packed it up in the rain.
We headed back to Banff for — surprise! — another dip (and shower) in the Banff Hot Springs. (note the luxurious and clean golden waves in the photo below. That's hair I'm talking about and not water. My hair to be more specific.)
We also had a delightfully delicious lunch at the Coyote Cafe — the place we were going to eat originally on the ill-fated Pierre-The-Waiter day, but it was too busy. I would have happily eaten there twice.
And… we also successfully exchanged the bad geode (turns out they were "guaranteed") and got another round of bubble teas.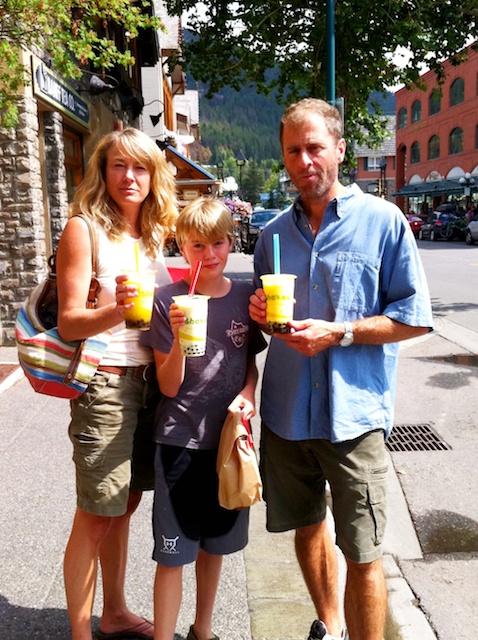 As I write this, I can't even remember why Morgan was sulking, but — as usual — I was trying to jolly her out of her mood. This time, by sucking a bubble from the tea into my straw and shooting it at her. Those babies can fly! This, as you might suspect, erupted into a truly horrible spectacle with all of us (except, of course, Mr-No-Fun) shooting black tapioca bubbles at each other. Not only do they travel remarkably far, but they also stick to anything they hit. Hence the fact that the next day, I found a desiccated bubble stuck to the top of my flip flop. It gave me quite a scare until I realized it was not a leech, but a shriveled ball of gelatin.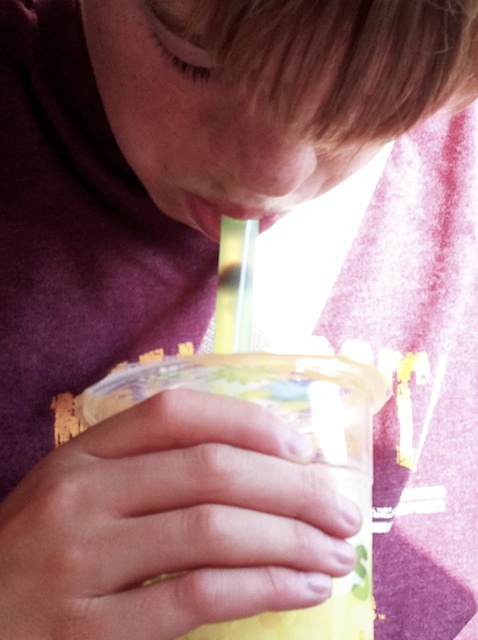 So we were headed for home, via the ultra un-extraordinary  Canadian Highway 1 and approximately 22 hours of non-stop driving.
We left Banff at about 3pm. We hoped to get home in time to pick up Lola at the kennel on Saturday. That was really our only timeline-induced goal. And not a goal worthy of resisting a stop to sleep if we wanted, in my opinion. If it were up to me, we'd have stayed another week. I'm not ready to head back to the grind. [editor's note: I am now more than two weeks into the grind as of this posting and it really does stink as much as I thought it would.]
There is not much to relate on the drive home across the Canadian plains as it pertains to scenery, so I had to focus on events in the car.
I had finished my book the night before and with no internet (due entirely to my cheapness at not wanting to pay international AT&T data charges) to download a new one. I thought I would work on my laptop, as there is always some work waiting for me there. But no, the kids had comandeered that and were watching all the old episodes of Top Chef. And, because Dave was driving, I (generously) gave him the use of my iPhone to listen to an audiobook.
What did I do, pray tell?
I read Discover, National Geographic and finishing those, The Road Atlas. I swear it is true. Six hours of nothing to do!
It was almost with relief, then, that I was set to take over the "early late" shift in Swift Current, where we stopped for gas and some dinner.
And I'm here to tell you, there's nothing swift about Swift Current. We waited a loooong time to pay for gas (no credit cards at pump). We waited for the bathrooms ("you can use it in 10 minutes after I'm done cleaning it.") and we waited and waited and waited at the drive through for our KFC Twisters. I'm pretty sure the dynamic duo working that Friday night were high. There's no other explanation for their sloth-like movements, moronic smiles and the fact that the manager called Dave "dude" and "bud" and "man" all in the same sentence.
When crabby, and ever-more-bold, Dave tried to finagle an extra milk (really? milk?) out of the guy for our patience, we received — to Morgan's initial delight — cellophane wrapped "brownies" instead. It is a testament to their inedibility that even Morgan did not have more than one. We threw the other three away. [editor's note: typing this, I realize there should be a good marijuana joke in here somewhere, but alas, it is not to be.]
I settled in to the driver seat with my Coke, eager to resume listening to The Devil in the Junior League audio book on the iPhone. Dave, meanwhile, settled into the passenger seat with all his shit, and commenced switching power cords around to his liking. When he took the iPhone charger out of the outlet nearest me and moved it toward him, I tensed up and asked "What are you doing?"
"I'm listening to an audio book," he said with an air of impatience and disdain.
The nerve!
"The driver gets the phone. You know that."
He seriously didn't know what I was talking about. How can that be? 3000 miles under our belt and he hasn't picked up on the fact that the driver gets the iPhone?
Then I relented because he looked so bummed. And really, I want him to love my iPhone as much as I do. Plus, I knew I had a long night ahead of me. I could share.
He listened for about 30 minutes before nodding off to sleep. Well, not nodding really, since he wears his lime green neck pillow. But his head still falls forward at an awkward angle. I extracted the phone and settled in for the night.
We crossed the border into the US at Portal (an appropriate name, don't you think?) in North Dakota at — I don't even know when. 3:30 am? You'd think a Suburban towing a cute tiny pop-up with sleeping kids in the back at the ungodly hour of 3-something in the morning would garner at least a sympathetic smile out of the border patrol. Nope. They must take classes in stoicism. He made me roll the windows down, wake the kids and answer a whole lot of really stupid questions.
I had a marathon drive, stopping only to clean a truly sick amount of bugs off the windshield so that I could see. There was lots of lightning that was fun to watch, and eventually lots of rain and wind to complete the storm. We changed time zones ahead one hour and taking that into account, I drove 10:45 to 4:30. Almost 6 hours.
When I handed the baton to Dave in Minot, ND, I even fell asleep for an hour or two.
Dave struggled on in his "late late" shift and I re-took the wheel at 8am, rather than try to sleep at a rest stop, since Dave couldn't keep his eyes open any longer.
My stint at the wheel was brief, however, as we blew yet another camper tire in Alexandria on I-94. I do believe this was our first-ever tire change on a full-blown highway with semis blowing past us at 80 MPH only feet away. Not cool.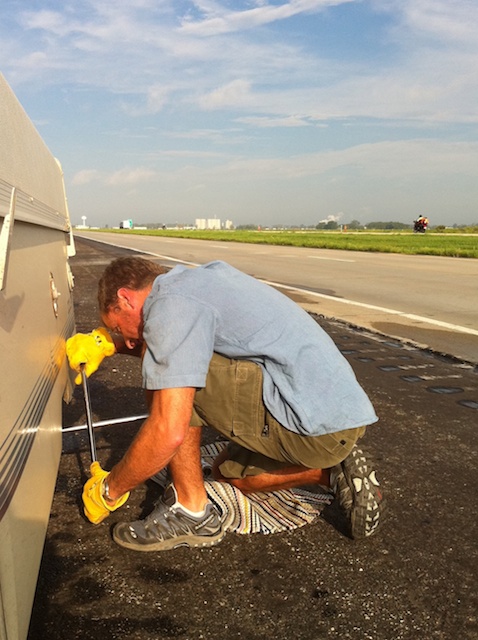 That woke Dave up!
And he drove the rest of the way home.
And I had nothing to do. Because he took the damn phone again.
[
editor's note, and conclusion
:
We ate a Perkins in Alex, which was yuck-o, and made it to pick up Lola at the kennel. Much cleaning, unpacking and chaos ensued when we arrived home around 1pm. It was 90 degrees and humid, which was the start of an insufferable 7-day humidity/heat wave which we Minnesotans are not too fond of. I even turned the air on, which is a rare event indeed.
In retrospect, the trip was a great one. I savor these days of waning summer with my kids getting older as much as I am capable. I'm not the blubbering type, but I love my kids and we are so lucky and fortunate to both be able to take trips like this, and also have kids that want to go on them. I know that may change, but for now, today, at this moment, I don't even mind The Reluctant Hiker's sulky attitude or the incessant robotics chatter (that I have banned) spewing forth from Charlie's mouth, making little sense to me.
Just don't hold me to this reverie, because I think it might just be hormones.