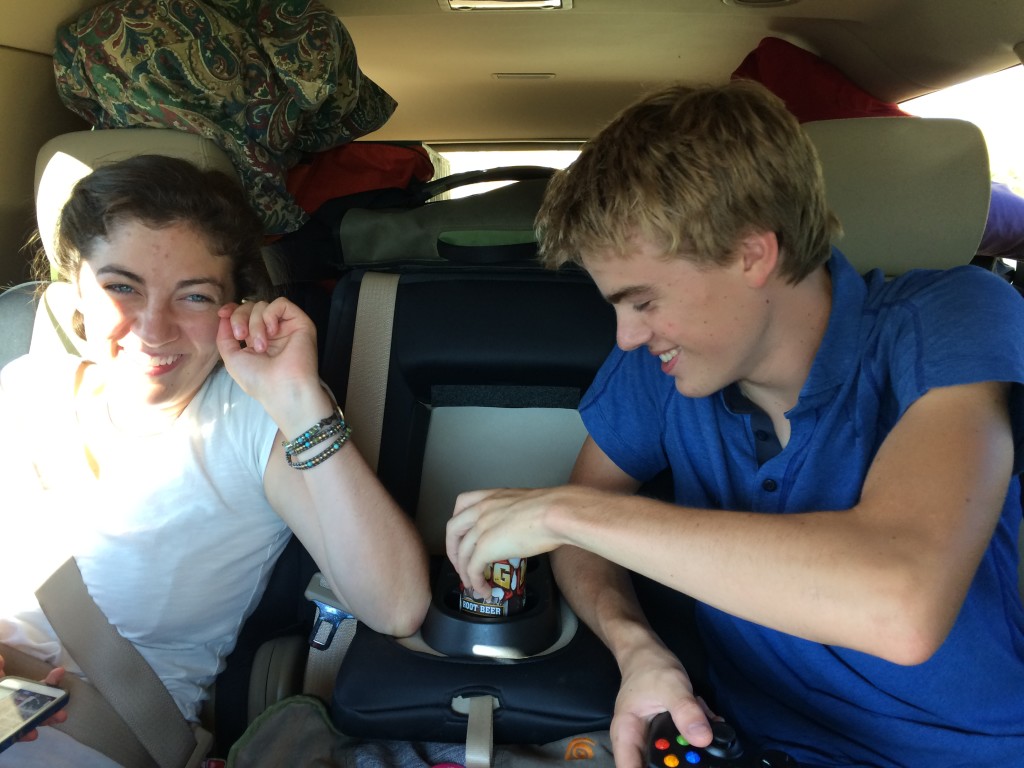 It is with bittersweet feelings that I am taking the step of abandoning my beloved hand-written journal for this: the cold world of electronic documentation. A tear rolls down my face as I type directly into my computer.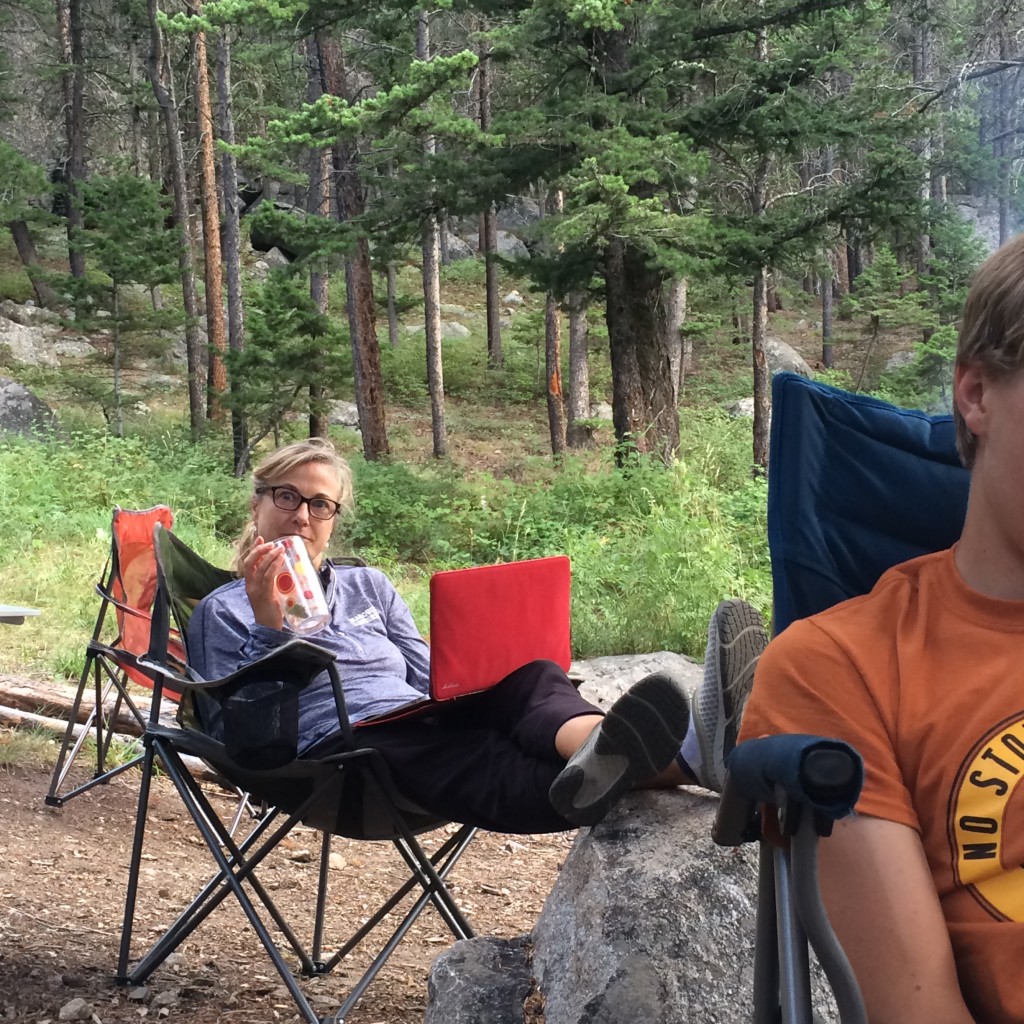 I cannot stress enough how much I love looking at, and touching, and feeling my journals. I used to feel the same way about my calendar. But, sadly, I did move to an online calendar several years ago in order to save my sanity with Dave and two busy kids. We all share the online calendar and – in theory – it works great. There is apparently a very long learning curve though, because both Dave and Charlie still seem to have problems with it. As in: they don't add events to the calendar, they never look at it, and continually ask me whether they are available to do A, B or C –and then can't seem to figure out why things break down.
But I miss looking back on my paper calendars. I loved to page through them, reliving how busy I was, or reading little notes I jotted down. I even still have my weekly planners from college — they are like mini journals …basically reminding me what a total screw up I was.
Anyway. This is just a really sad process for me. This is progress, people. And we must adapt.
So I am abandoning the handwriting. I figure, since I plan to post it online, I'm really just doubling my work. Looking at it that way, my sadness is actually your fault.
Plus: handwriting is so damn slow. I usually only write when we are in the car and I just hate giving up my precious passenger-riding time to anything other than total self-absorption.
I know what my brother is thinking right now: what is more self-absorbing than a Road Warriors journal?
Touché Bennett.
Anyway, here I sit on my macbook air in the Woodbine Campground, drinking my first vodka tonic after pulling an all-nighter drive with Dave. I. Love. Camping!!
HERE WE GO!
We are in Montana this year. Dave said, "We've never really camped around the Billings/Bozeman/Red Cloud area." As long as we get up into some elevation, I don't really care where we go. I told him, "Just make sure I can wear sweatpants and a fleece at night and I'm good."
But as we neared our destination, he's like "We stayed there, remember that? …Oh, we've been there; we didn't like it. …No, that was the campground that had all the burn-down; I don't want to go there."
???
But I am getting ahead of myself.
The real story starts about 3 weeks ago. When I decided to refurbish our old mountain bikes from – and this took me quite a while to determine – 1986. Though, I actually think we bought them in 1988. We got them during the tent sale at the old Hoigaard's Roseville store. A Marin Palisades and a Marin Muirwoods. We've had them ever since – haven't rode them or done a thing to them since the kids were super little.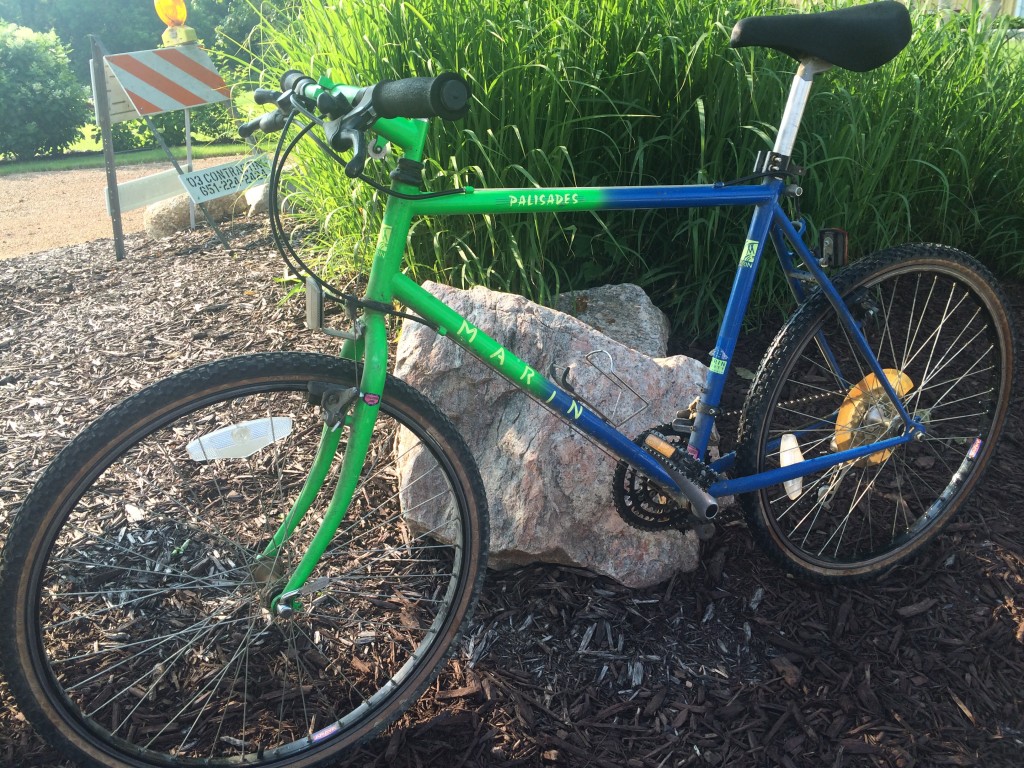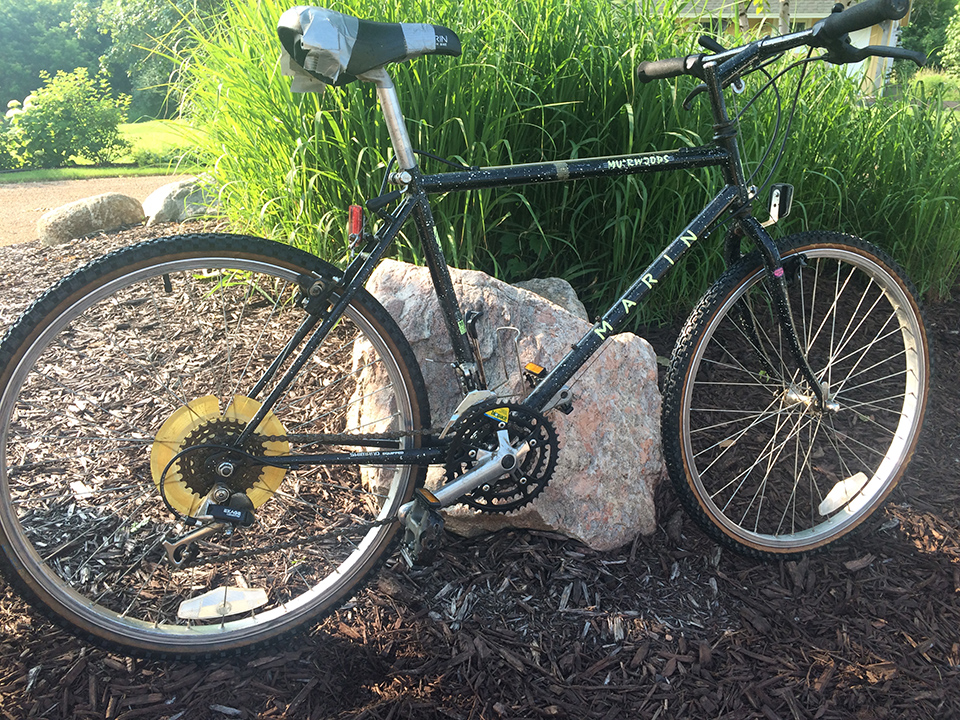 I cleaned them up. Accidently found myself in a situation requiring re-packing the wheel bearings (hello internet). Ordered new wheels and viola!
Which got us talking about bringing four bikes on our camping trip. And how would we do that.
Hundreds of hours of online research later, we settled on a dual hitch receiver because the pros far outweighed the cons:
The Pros of a Dual Hitch Receiver for using a bike rack with a pop-up camper:
It's cheap
Bikes can be easily transported to trailhead from campsite (vs if bikes were mounted on camper)
Bikes will not be sheared off by driving underneath a fast food awning (vs if bikes were mounted on car roof.)
The Cons of a Dual Hitch Receiver for using a bike rack with a pop-up camper*:
Bikes wiggled a bit much.
Solution: use a hitch tightener or anti-rattle hitch pin.
Several hundred hours of online research and several Amazon Prime and eTrailer returns later, I found a combo that worked. We tested the borrowed bike rack (that would hold all four bikes) and it fit! We were good to go.
We planned to leave at 5pm on Sunday and spent the normal frantic 10 hours of prepping and packing to leave. At about 4:30pm Dave started hitching up the camper and loading the bikes while I shut everything up in the house.
Two hours later we left.
Without the bikes.
It was very sad. It was very frustrating.
Basically, what we forgot when we tested it and determined that it would work was that, as opposed to driving in a perfectly straight line for 1500 miles, we needed to occasionally turn the car. Which pinched the bikes against the camper. We probably could have hauled ass to WalMart and found a hitch extender to push the camper back, but we weren't sure we'd find one. Or that it would work. We cut bait and left the bikes behind.
This is what it should have looked like. I neglected to take a picture during the tense and stressful time. I guess I'm out of practice of documenting our family at its worst — always the best material for Road Warriors posts…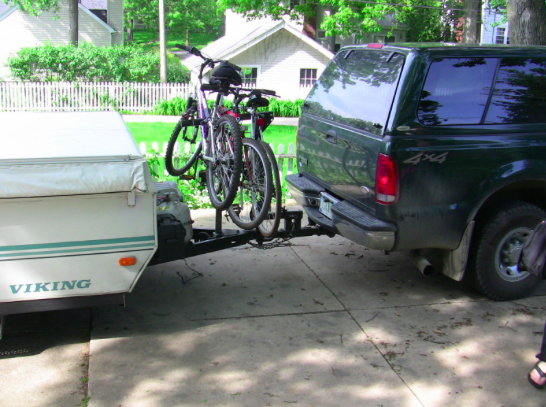 The victory was in the fact that we never yelled at each other. Or the kids. I didn't cry. This is real camping progress, people.
So we left at 6:30. And arrived in Custer National Forest about 9am.
And the only thing that died was the poor bunny I mowed down as my eyes crossed at about 4am near Miles City.
I hate Miles City. Did I ever tell you that story?
*Updated Cons List:
Bikes wiggled a lot
It doesn't work
Back to the drawing board…. Someday.